NFC Super Bowl 2016 Odds: Chances Cardinals, Packers, Panthers, Seahawks Reach Title Game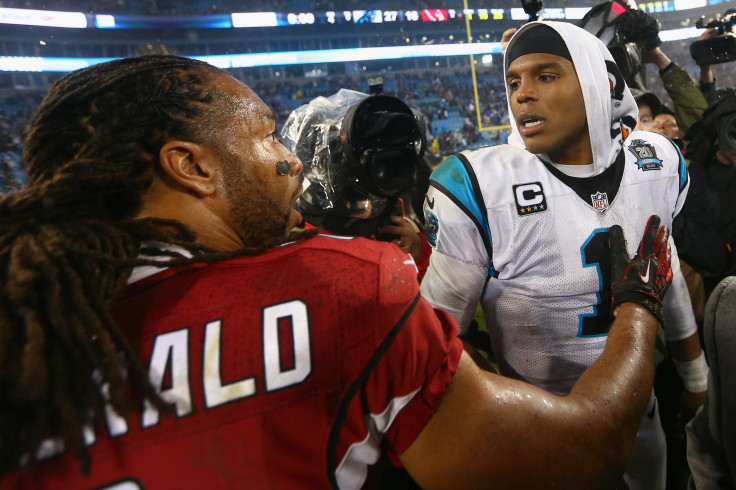 Four NFC teams are in the hunt to reach Super Bowl 50, and it might not be much of a shock to see any of them make a championship run. The conference's top three teams are among the favorites to win the title, while the other is led by arguably the best quarterback of the last five years.
The Arizona Cardinals didn't play on Wild Card Weekend, but they saw their odds to win the NFC improve, making them the favorite in the conference, via Bovada.lv. Arizona has +170 odds to reach Super Bowl 50, looking to make their first trip to the title game in seven years.
Arizona's odds improved because it's more likely that they will have home-field advantage in the NFC Championship Game. Arizona is a seven-point favorite in the divisional playoffs over the Green Bay Packers, who are the biggest longshot of any NFC team to play in Super Bowl 50. The No.1 seed Carolina Panthers are just 2.5-point favorites over the Seattle Seahawks in the second round.
Carolina has the second-best odds to win the NFC, despite going 15-1 in the regular season. The Panthers haven't lost at home this year, and they already have a win against the Seahawks on the road.
The Panthers' odds are nearly two-times better than the Seahawks' to win the NFC, but the two teams almost have the same Super Bowl odds. If Seattle upsets Carolina, they'd be underdogs in Arizona for the NFC title game. However, they might be favored over any AFC team in Super Bowl 50.
Green Bay's Super Bowl odds are significantly worse than the other NFC teams. The Pittsburgh Steelers are the only playoff team that's been given worse odds to win it all.
The Packers are headed to Arizona, where they lost by 30 points less than three weeks ago. But if they do upset the Cardinals, they have a chance to host the NFC Championship Game. If the NFC is decided between Green Bay and Seattle, it will be a rematch of the Week 2 matchup from Lambeau Field. The Packers defeated the Seahawks by 10 points on Sept. 20.
Using 20,000 simulations to calculate the chance each playoff team has to win make Super Bowl 50, FiveThirtyEight gives the Panthers the best chance to win the NFC. The same calculations make Carolina a slight favorite over Arizona to win Super Bowl 50.
Arizona Cardinals +170/+425 (30 percent/16 percent)
Carolina Panthers +190/+500 (34 percent/18 percent)
Seattle Seahawks +350/+550 (22 percent/13 percent)
Green Bay Packers +650/+1200 (14 percent/seven percent)
© Copyright IBTimes 2023. All rights reserved.