NFL Free Agency 2016: Top 5 Free Agents Include Von Miller, Josh Norman Among Others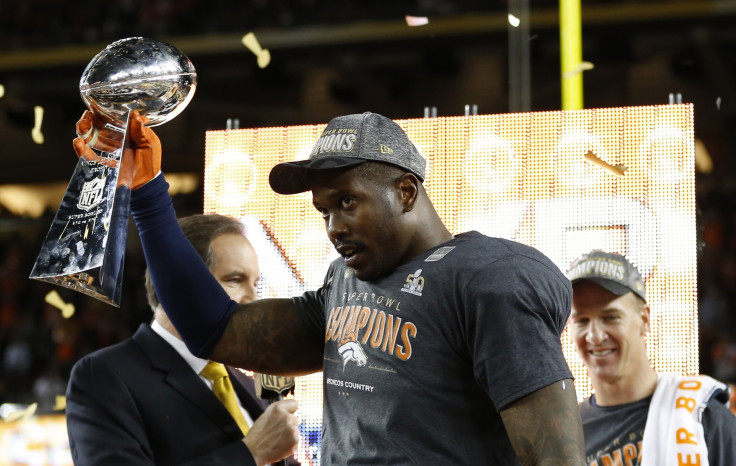 With Super Bowl 50 having come and gone, NFL teams are looking toward the 2016 season. Free agency is quickly approaching, officially beginning March 7.
Teams have less than a month to re-sign players with contracts that are coming to an end. Many players will never reach free agency after being hit with the franchise tag that will pay them a guaranteed one-year contract, but others will cash in by hitting the open market.
Kirk Cousins is the best quarterback that is set to become a free agent, while Brock Osweiler is also looking for a new deal. Doug Martin is headed for the open market after finishing second in total rushing yards, and Jason Pierre-Paul will be one of the most sought-after free agents, despite his hand injury.
Five players that are set to become free agents stand out above the rest.
Von Miller
In case it wasn't established at the end of the regular season, Miller solidified himself as the best free agent with a dominant playoff performance that culminated in him winning the Super Bowl Most Valuable Player award. The linebacker recorded five sacks, two forced fumbles and one interception in the postseason after leading the Denver Broncos with 11 sacks in 16 games. Aside from the 2013 season, which was marred by an injury and a suspension, Miller is averaging nearly 14 sacks per season.
At just 26 years old and one of the best players at his position, Miller could command a $100 million contract if he hits the open market. NFL Media's Ian Rapoport reports the team will use the franchise tag on Miller, while trying to work out a long-term deal. The franchise tag will pay Miller approximately $14.1 million next season, but he reportedly wants to be the NFL's highest-paid defensive player. That honor currently belongs to Miami Dolphins defensive lineman Ndamukong Suh, who signed a six-year, $114 million contract last year.
Josh Norman
Norman's Carolina Panthers lost to the Broncos in Super Bowl 50, but much like Miller, Norman is headed for a big payday this offseason. Coming off his best season in the NFL, Norman emerged as a top defensive player in 2015. With four interceptions while helping the Panthers hold opposing quarterbacks to the worst passer rating in the league, Norman was named to the All-Pro first team. An argument can be made that he's the best cornerback in the NFL.
The Panthers don't want to lose one of their top players, and Carolina general manager Dave Gettleman has said the team will look at using the franchise tag on Norman. Exercising that option could pay Norman between $13.5 million and $14 million next year. If Norman signs a long-term deal it could look similar to Patrick Peterson's five-year deal, worth $70 million, or Richard Sherman's four-year, $56-million extension.
Alshon Jeffery
A few of the league's best wide receivers ended last season in the final year of their contracts, but that isn't the case this time around. That makes Jeffery the No. 1 playmaker on the market, and he's eager to sign a lucrative new contract. The Chicago Bears could tag Jeffery for close to $14 million, though general manager Ryan Pace is hoping the team doesn't have to exercise that option.
Jeffery has been Chicago's leading receiver for the last three years, posting his best numbers when he caught 89 passes for 1,421 yards in 2013. He's a consistent performer when he's on the field, averaging 82 receiving yards per game in the last three seasons, but Jeffery has had trouble staying healthy. He missed six games as a rookie in 2012, and leg injuries limited him to nine games this past season.
Muhammad Wilkerson
After the defensive lineman broke off contract negotiations when he and the New York Jets couldn't agree upon a new deal in the preseason, Wilkerson had the best season of his career. Playing in all 16 games, Wilkerson set a career-high with 12 sacks, recording 64 tackles and making the All-Pro second team for the second time in three years. It was the fourth time in his five seasons in which he didn't miss a game, and he helped the Jets rank fourth in total defense.
Wilkerson, however, did suffer a broken leg in Week 17, and the injury will sideline him for six months. But he's expected to be ready for the start of the 2016 season, and he isn't likely to sign elsewhere. ESPN's Rich Cimini reports there's "virtually no chance" Wilkerson will make it to free agency, and the Jets are likely to pay him between $15 million and $16 million next season after using the franchise tag.
Eric Berry
In Dec. 2014, Berry saw his season cut short when he was diagnosed with Hodgkin's lymphoma. A little more than a year later, he is one of the most-coveted free agents in the NFL. Berry was declared cancer-free in the summer, and he was a key part of the Kansas City Chiefs' 10-game winning streak that ended the regular season. The safety made the Pro Bowl for the fourth time since 2010, helping the Chiefs give up the third-fewest points in football.
Berry is one of a few of Kansas City's top defensive players that are without contracts, with Tamba Hali and Derrick Johnson both headed for free agency. Just days before the Super Bowl, Rapoport reported that talks regarding a contract extension between Berry and Kansas City were progressing. Seattle's Earl Thomas is the league's highest-paid safety at $10 million per season.
© Copyright IBTimes 2023. All rights reserved.