NFL Hot Seat 2016: 5 Head Coaches Who Could Be Fired After, During Upcoming Season
Los Angeles Rams head coach Jeff Fisher has assuredly heard all the criticism and tongue-in-cheek jokes about the number of times his squads have finished an NFL season either 7-9 or 8-8, smack in the middle of the league and barely sniffing the postseason. Between the Rams and his former Tennessee Titans, it's occurred 10 times in 21 seasons.
There are even Internet memes devoted to the 58-year-old coach and his propensity to such an average record. But Fisher, along with Rams general manager Les Snead, is reportedly close to finalizing a contract extension as the franchise begins its new season in the City of Angels after 22 years away.
So for that reason, it's difficult to really say Fisher, despite the mediocre records and lack of a postseason appearance over four seasons with the Rams, is truly on the coaching hot seat. Fisher's current deal pays him an estimated $7 million per season and has one year remaining, and his next deal will likely have a similar figure. Even if the Rams only extend Fisher one or two more seasons, team owner Stan Kroenke will increase the amount he'll have to pay Fisher if he fires him during or after the upcoming 2016 season. It's certainly not unprecedented for teams to fire coaches with several years left on their deals, but it does act as a costly deterrent.
The same could also be said for a number of head coaches around the league who inked lengthy extensions during the offseason or are in the middle of expensive deals: the Saints Sean Payton, the Colts Chuck Pagano, and the Bills Rex Ryan (who's entering just the second season of a five-year $30 million contract he signed before the 2015 season).
But there are at least five head coaches who may have to produce significant results this season in order to keep their jobs.
Jim Caldwell, Detroit Lions
The Lions instituted a massive front office regime change, but Caldwell was the last man standing after a 7-9 run in 2015, four wins less than Detroit's playoff season two years ago. Caldwell is smack in the middle of his four-year deal, but even if the team tanks Caldwell only has one year left so his buyout won't be too costly. The 61-year-old does face some challenges this season, especially on offense after All-Pro receiver Calvin Johnson retired, but the Lions new management still likely expects Caldwell to produce with quarterback Matthew Stafford and a defense that includes top defensive end Ezekiel Ansah.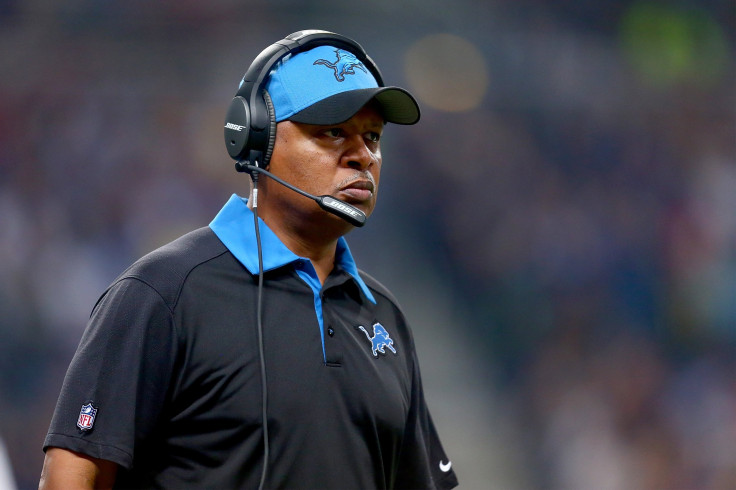 Jason Garrett, Dallas Cowboys
Yes, Cowboys owner and general manager Jerry Jones handed Garrett a fresh five-year deal following the 12-win 2014 season, currently leaving four years and roughly $24 million left on the deal. Jones has also said he loathes firing coaches, but with quarterback Tony Romo and receiver Dez Bryant seemingly healthy, and one of the league's best offensive lines it's reasonable to assume another 4-12 season might be the end of Garrett in Dallas. Garrett's lone saving grace might be that few have much faith in the Cowboys' defense heading into 2016.
Marvin Lewis, Cincinnati Bengals
Lewis signed an extension four months ago that will run until the end of the 2017 season. However, the NFL's second-longest tenured coach cannot afford to miss the postseason and some could argue Lewis needs at least one playoff win to justify that final year of his contract. The 57-year-old starts his 15th season in Cincinnati and he's posted an impressive 112-94 overall mark with only three seasons below .500. But another disastrous finish like the Bengals had in the postseason last year, a game they likely could and should've won against rival Pittsburgh, might be the last straw.
Gus Bradley, Jacksonville Jaguars
A 12-36 record over three seasons is dismal and the reason many believed Gus Bradley was on the hot seat after a 5-11 mark in 2015. But Jacksonville seemingly resigned to remove any notion Bradley is a lame duck coach and extended his contract through the 2017 season. The Jaguars have become a bit of a "bandwagon" squad before this season, with many believing the AFC South is no longer the Indianapolis Colts and everyone else. But Bradley will need to help quarterback Blake Bortles raise his game, and the defense must improve as well. The Jaguars have ranked no higher than 26th in points allowed since Bradley took over in 2013.
Mike McCoy, San Diego Chargers
Like Bradley and Lewis, the Chargers tacked on one extra year to McCoy's contract but he also fired six assistants, including offensive coordinator Frank Reich after the offense ranked No. 26 in points scored and a poor 4-12 record last season. San Diego had gone 9-7 in McCoy's first two seasons, and last year eight of those 12 losses were by a touchdown or less, something the 44-year-old McCoy can't allow to happen again. The bottom-dwelling season could also be attributed to an offensive line that was always hurt. McCoy does have quarterback Phillip Rivers to rely on, but will need growth from second-year running back Melvin Gordon and receiver Keenan Allen to stay healthy to avoid the hot seat.
© Copyright IBTimes 2023. All rights reserved.