NFL: Kaepernick Opens Up, Reveals Reason Behind Civil Rights Activism
In the eyes of most, the civil rights activism being carried out by Colin Kaepernick leaves a lot to be desired. But until now, not all truly know the story on why the 30-year-old started kneeling during NFL games.
In an exclusive by Paper Magazine, the 36th pick of the 2011 NFL Draft finally provided details on where it all began. He was deeply affected by a shooting incident back in 2015 where a black man named Mario Woods was shot 21 times by San Francisco PD officers. The victim was holding a knife at the time and was confronted by police. There was a stabbing incident reported at that time.
Officers allegedly used non-lethal bean bag rounds on Woods while at the same time ordering him to drop the knife. Instead, the cops reportedly opened fire on him with live ammo. Police claimed that Woods became aggressive and a threat.
Cellphone footage of the whole incident shows otherwise, contradicting the statements made by the police. It showed how woods was up against a wall and holding the knife at his side but in a non-threatening manner. Of the 21 shots he took, 6 bullets struck him in the back.
The whole incident started a controversy with citizens outraged by the whole unjust ordeal. And according to Kaepernick's girlfriend Nessa, the whole incident just began feeding his brain thereafter.
"If Colin wasn't reviewing a playbook, he was reading a history book," said Nessa to Paper Magazine.
After eight months, Kaepernick took a knee and began his Know Your Rights Campaign. He used the Black Panther campaign as inspiration. It has since radiated with several personalities like Ava DuVernay, Taraji P. Henson and another NFL player in Eric Reid taking part in the protests.
As TMZ Sports mentioned, the Woods family got a $400,000 settlement for the wrongful death. The officers involved in the shooting never got arrested and that Woods posing as a credible threat remained.
As for Kaepernick, it appears his movement is not yet done. In fact, the 31-year-old seemed to be taking a swipe at rapper Jay-Z who said recently that "we've moved past kneeling." But it appears that this does not follow to the former NFL player, the Los Angeles Times reported.
Kaepernick used a couple of Jay-Z's words in a tweet.
"My Brothers @E_Reid35 @KSTiLLS @iThinkIsee12 continue to fight for the people, even in the face of death threats," Kaepernick wrote in a tweet that also included photos of the three men kneeling. "They have never moved past the people and continue to put their beliefs into action. Stay strong Brothers!!!"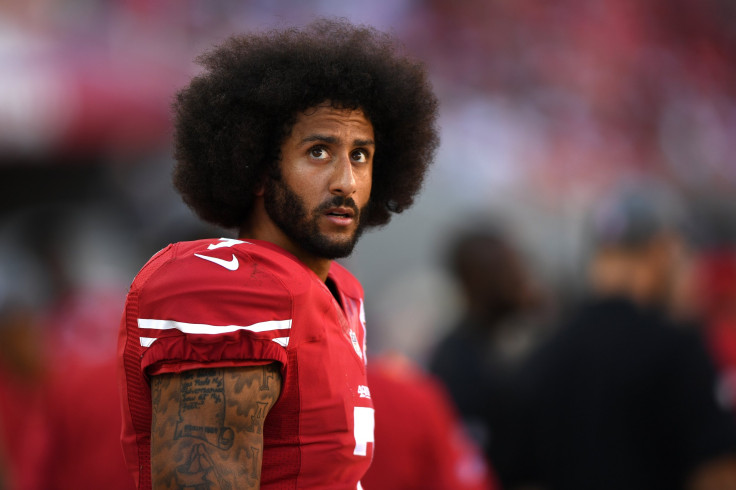 © Copyright IBTimes 2023. All rights reserved.