NFL Los Angeles: Rams Relocation Good News For St. Louis Economy?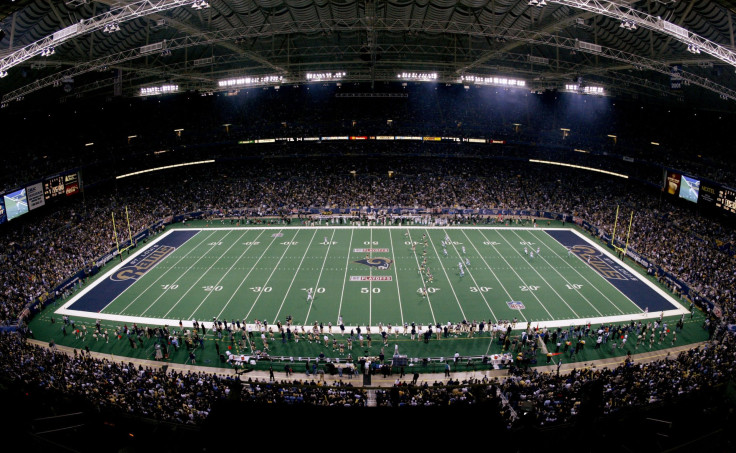 It was an unspectacular but heartbreaking end for fans of the NBA's Seattle SuperSonics when the team officially left for Oklahoma City to become the Thunder in 2008 after calling Washington state home for 41 years. Fans mourned the loss of their favorite professional franchise across the state, and city officials warned about a predicted $188 million per year loss to the local economy.
"For the many thousands of Sonics fans who have been deeply committed to the future of this team in Seattle, this is not a happy day," said Richard Conlin, then-City Council president. "This is a sad day for them."
But since the Sonics left Seattle ahead of the 2008-09 NBA season, the opposite has proven true — the team's old arena became more profitable than ever, and the city has thrived thanks to robust retail, real estate and tourism markets. Seattle's eventually happy ending could mean good news for St. Louis Rams fans, who were peeved Tuesday after NFL owners announced the team would leave Missouri for the sunny skies of Los Angeles. While football fans in St. Louis might miss their team, the city itself won't suffer from a negative economic impact from the Rams' departure, research shows. Families who used to go to games will likely still spend the same amount of money, just on different entertainment options. And critics noted that St. Louis would no longer be on the hook for a new stadium that would eat up massive amounts of public dollars while returning little to the community in terms of economic gain.
In fact, considering the proposed hundreds of millions of dollars in public investment to keep the Rams in St. Louis, from a purely economic standpoint, the city likely lucked out, said Robert Baade, a professor of economics who specializes in sports at Lake Forest College in Illinois. "If we're talking purely the economic dimension, St. Louis is better off not catering to the St. Louis Rams," he said.
Spending Elsewhere
Three NFL teams — the Rams, the San Diego Chargers and the Oakland Raiders — had proposed plans to move to Los Angeles. After months of speculation and planning, owners Tuesday approved the Rams to move to a planned stadium in Inglewood, California, and gave the Chargers a one-year option to join at the venue. Should San Diego decline a move to Inglewood, it would open up to the Raiders.
St. Louis fans were hurt by the move but also somewhat unfazed. "I'll just spend more of my money with the [MLB's] Cardinals and the [NHL's] Blues," a local man said in a video posted to NFL.com. Others fans left their Rams jerseys at the team's stadium in a huff. Such reactions hint at one reason why franchises have such a small effect on local economies.
Most of the money flowing to a NFL team is discretionary spending that will simply move elsewhere in the city, various studies show. Dollars spent on tickets and beers will likely instead go toward things like movies or shopping. And while some may argue that spending for NFL games spills over to local businesses, it's usually highly concentrated in a very small area as teams increasingly work to keep spending within their confines, Baade said.
"These stadiums are becoming little walled cities and the spending is captured within the walls," he said.
Studies have shown that relocations don't particularly hamper the abandoned city because franchises aren't worth what many imagine them to be. One study that looked at data surrounding the U.S.' four major sports from 1980-2000 put it bluntly. "[We] find that a professional sport team does not have a positive economic impact on the local community," the authors wrote in the study titled "An Event Study of the Economic Impact of Professional Sport Teams on Local Incomes."
"The results indicate that a professional sport team negatively affects the local income. Thus, our results imply that professional sport teams do not justify the abatements, concessions and incentives that are used to attract them."
"You Haven't Seen Any City Implode"
Walk into a packed stadium, fans screaming, and you imagine bringing all these people together would be a boost for jobs and spending as vendors rush to grab fans concessions and merchandise. But the attention sports team draw provide outsized expectations for financial performance, economists argue. Consider the Sonics. While the city might have argued the team boosted Seattle's financial standing, even an expert for the franchise claimed during a legal battle over the Sonics departure that leaving the state would have "no detectable economic impact," according to the Seattle Times at the time. He was largely proven correct.
Since the Sonics left, the arena that the defecting owners deemed unsuitable has gone from losing more than $1 million per year for the city to making more than $1 million per year because it had more free dates, collecting fees from musical acts and less high-profile sports teams. Seattle has also become one of the fastest growing cities in the country and saw a year-over-year jobs growth of more than 3 percent in 2015, according to Forbes.
"You haven't seen any city implode at the result of losing a sports team," said Michael Leeds, an economics professor with a focus on sports at Temple University in Philadelphia.
The jobs franchises do create tend to be low-wage, part-time and low-skill. And most of the money associated with the team largely makes it way to the owners and players, many of whom live outside the region. That takes the spending elsewhere.
Leeds said he found while studying the NHL lockout, which essentially amounted to every franchise temporarily relocating, that economic activity in the cities actually picked up rather than fall off because more people were exploring their cities looking for something to do. Even if an entire city's professional sports presence packed up in a single day, the economic impact would be minimal, he said, referencing "back of the envelope" calculations he did while working on a book.
"When you add up the revenue generated by all five sports team located in Chicago, it adds up to a fraction of one percent if all five disappeared," Leeds said.
In St. Louis, the Rams played a handful of games per year, providing a small window for the city to collect financially. So while the team's departure is crushing for fans, it won't exactly empty the city's wallet.
"It would be as if a mid-sized department store – maybe a mid-sized department store – picked up and left town," Leeds said of the Ram's departure.
FOR FREE to continue reading
✔️ Unlock the full content of International Business Times UK for free
offer available for a limited time only
✔️ Easily manage your Newsletters subscriptions and save your favourite articles
✔️ No payment method required
Already have an account?
Log in
© Copyright IBTimes 2023. All rights reserved.