NFL Player Arrests, Charges And Citations: By The Numbers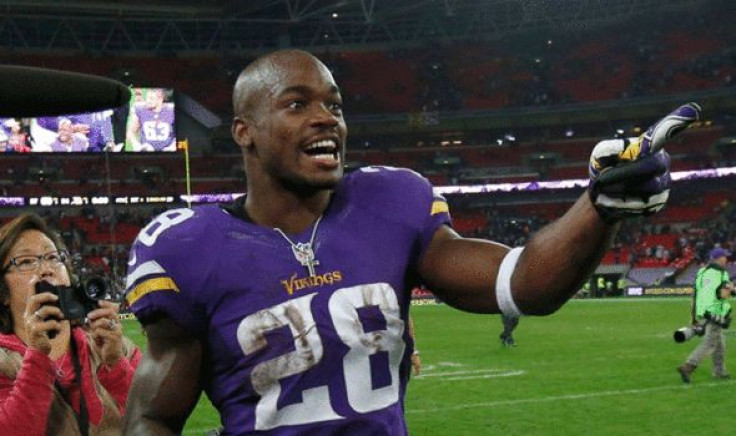 The Minnesota Vikings' Adrian Peterson is an NFL player of bona fide superstar status, which, in terms of attention getting, has its upside and its downside. On the upside, he tops the list of players with the most rushing yards gained in a single game (296, against the San Diego Chargers Nov. 4, 2007), according to NFL.com. On the downside, he tops the list of players with the most recent indictments for crimes more serious than common traffic violations (Sept. 11, on a child-abuse charge), per USA Today.
The 29-year-old Peterson surrendered to authorities in Montgomery County, Texas, Saturday after being indicted by a grand jury Friday on a charge of reckless or negligent injury to a child. The indictment came as a result of his allegedly employing a so-called switch in spanking his 4-year-old son in May. His attorney reportedly said, "He used the same kind of discipline with his child that he experienced as a child growing up in East Texas." The player was booked and released after posting $15,000 bail.
Peterson's case thus is atop the "NFL Player Arrests" database maintained by sports writer Brent Schrotenboer at USA Today. However, he is not alone on the list of arrests, charges and citations: Spanning the years from 2000 to 2014, the current database encompasses 730 records.
"The data comes from media reports and public records," USA Today reported. "It cannot be considered fully complete because records of some player arrests might not have been found for various reasons, including lack of media coverage or accessible public records." To put it another way, the database is imperfect -- like most databases.
However, the New York Times employed it nicely in its own computer-assisted reporting. According to the database, the Times said on an annual basis 2006 had the most reported arrests of professional football players (67) and 2014 is on track to have the fewest reported arrests since at least 2000.
Some NFL teams have had significantly more players arrested than other teams during all the years covered by the database, the Times reported. Peterson's Minnesota Vikings have had the most, 44, and the Arizona Cardinals, St. Louis Rams and Houston Texans have had the fewest, 11 each. Of course, Houston gets an asterisk because it is an expansion franchise that began play in 2002.
The NFL has received more brickbats than bouquets on multiple fronts in recent days -- and understandably so -- but the league can take a bit of comfort in at least one comparison made by the Times in its parsing of the USA Today data: During the relevant period, it found 2.53 percent of all players had serious brushes with the law each year, but their arrest rate was lower than the national average for men in the same age range.
© Copyright IBTimes 2023. All rights reserved.