NFL Playoffs 2016: Denver, Charlotte Weather To Affect AFC, NFC Championship Games?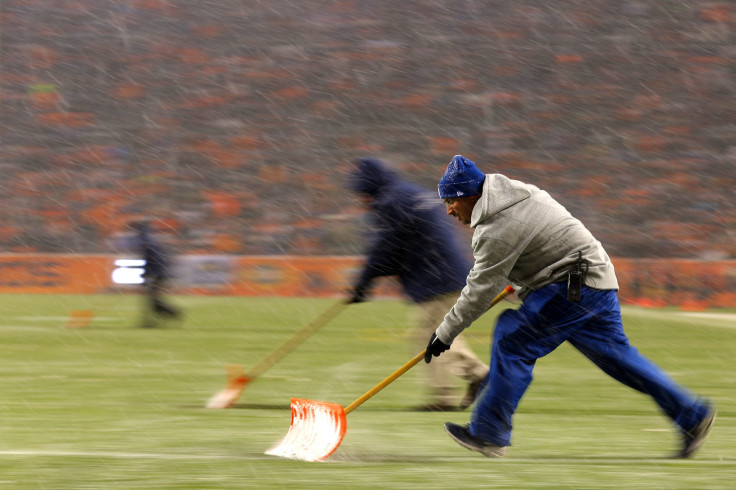 At least one of the NFL's conference title games could be affected by blizzard-level conditions as the Carolina Panthers prepare to host the Arizona Cardinals and the Denver Broncos welcome the defending champion New England Patriots on Sunday.
Due to a heavy winter storm expected to crash all along the East Coast, the Panthers could be playing in snowy conditions at their Bank of America Stadium as they seek their first trip to the Super Bowl since 2004.
North Carolina governor Pat McCrory declared a state emergency on Thursday as the state prepares for ice and snow across its roads and highways ahead of Carolina's battle with the Cardinals.
A winter storm warning will be in effect beginning from midnight Thursday until 7 p.m. Saturday, when most weather forecasts predict the blizzard will do its worst damage. According to the Charlotte Observer, ice as thick as 0.41 inches is predicted to hit parts of North Carolina, while Charlotte may see 2.5 to 3.5 inches of snow on the ground and other areas could expect 10.5 to 11.5 inches.
Still, the temperature is forecast to rise from a low of 23 degrees Fahrenheit on Saturday to as high as 44 degrees on Sunday with mostly sunny skies ahead of the 6:40 p.m. ET kickoff.
The conditions will be a bit more frigid than last year's NFC championship, when the host Seattle Seahawks turned back the Green Bay Packers in overtime amidst 52-degree weather in Seattle's outdoor stadium.
The visiting Patriots might also experience some snowy and windy conditions at Denver's Sports Authority Field at Mile High, according to CBS Denver, but the forecast could change in the coming days.
A storm is expected to hit the Central Rocky Mountains late on Saturday, and may strike eastern Colorado and Denver. However, while wind and clouds will pick up, the temperatures may instead turn into a cold front but it's unclear if that will hit Denver and affect the game.
Denver's five-day forecast calls for a high of 48 degrees and low of 25 degrees for Sunday, with showers in the evening, though the Patriots and Broncos could already be off the field after their 3:05 p.m. ET kickoff.
© Copyright IBTimes 2023. All rights reserved.