NFL Rumors: Insider Details Why 49ers Are Likely To Keep Starting Quarterback
KEY POINTS
The 49ers are likely to keep quarterback Jimmy Garoppolo for next season
San Francisco gave up multiple picks to move up and select Trey Lance in the 2021 NFL Draft
Adam Schefter bares that Lance is progressing well but is greener than the 49ers management expected
The San Francisco 49ers are in a tough spot when it comes to determining their future in the quarterback position, but a well-regarded NFL insider thinks the team has a plan moving forward.
In an appearance on the "NFL Show" hosted by Ari Meirov, Adam Schefter explained why the 49ers are likely to keep starting quarterback Jimmy Garoppolo instead of trading him.
"I'm just telling you [Ari Meirov] that Trey Lance was probably further behind than people realized. Trey Lance is greener than people realize, Trey Lance is going to need more work than people realize, and they have a roster that can win now," said Schefter.
Schefter then explained to Meirov in a hypothetical scenario the options that the 49ers have in terms of Garoppolo, stating that he is well-liked enough in the locker room while being on a "team-friendly $25 million cap number".
Should the 49ers stick with Garoppolo and lose him after next season, the 49ers will be getting a third-round compensatory pick in the 2023 NFL draft while also giving Trey Lance the mentorship that he needs.
However, Schefter presents a counterpoint in that the 49ers can hypothetically get a second, fourth and sixth-rounder for Garoppolo if a team offers it, kicking off a dilemma that will have the 49ers at a crossroad.
The 49ers, similar to the Green Bay Packers back in the 2020 NFL draft, traded multiple picks to move up to the third overall spot in order to secure Lance–a move that suggested that San Francisco was willing to move Garoppolo.
San Francisco's apparent unwillingness to move on from Garoppolo has onlookers questioning whether they are worried about Lance's development, but Schefter shoots down that notion and explained that management still sees him as the team's future, though he needs to have that veteran mentorship.
Rumors of a Garoppolo trade had been circulating as early as mid-November after NFL Media's Ian Rapoport revealed that unless Garoppolo and the 49ers make a Super Bowl run, the new plan would be to have Lance as their starter under center.
To Garoppolo's credit, they were just three points away from making it past the eventual Super Bowl champions Los Angeles Rams in the NFC Championship, which now forces 49ers management to reevaluate their plan for next season.
With Garoppolo "not a lock" to be traded, San Francisco fans will be eager to see what their franchise does ahead of the NFL draft set to happen on April 28–30.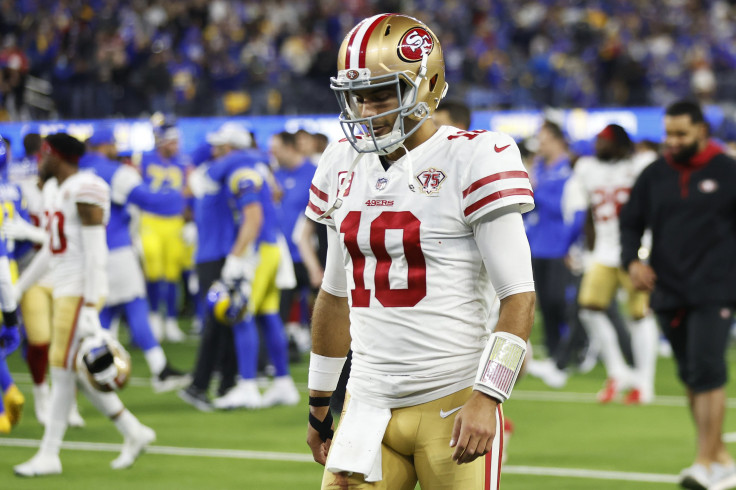 © Copyright IBTimes 2023. All rights reserved.