NFL Rumors: Mark Sanchez To Be Traded? Colin Kaepernick To Be Released? Quarterbacks Are In Demand Before Week 1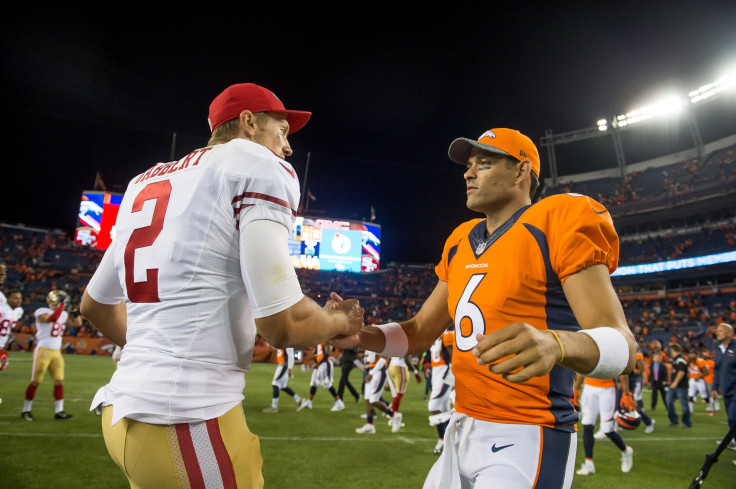 With the 2016 NFL regular season set to start in less than two weeks, a few prominent quarterbacks could soon be on the move. The defending Super Bowl champions are reportedly looking to trade the quarterback that many thought would take over for Peyton Manning as the starter, and the most controversial figure in football at the moment might not be on a roster in the not-too-distant future.
According to Pro Football Talk, the Denver Broncos are trying to trade Mark Sanchez. The news comes shortly after the team announced that Trevor Siemian will be under center when the team kicks off the season against the Carolina Panthers a week from Thursday.
Siemian is in his second season out of Northwestern after being drafted in the seventh round by Denver last year. He's never attempted a pass in a regular-season game, but he outplayed Sanchez this preseason. The Broncos acquired Sanchez from the Philadelphia Eagles for a conditional 2017 draft pick, and they'd have to pay him $4.5 million if they don't cut him.
It wouldn't make much sense for Denver to keep Sanchez at his current salary. He didn't play in Denver's third preseason game, going a combined 20-of-30 for 219 yards with one touchdown and one interception in Week 1 and Week 2. Rookie quarterback Paxton Lynch is second on the depth chart and in line to eventually take over as the starter. The Broncos will likely have trouble finding a team that will trade anything of value for Sanchez, forcing them to release him.
Colin Kaepernick could be joining Sanchez in free agency. While the San Francisco 49ers quarterback has dominated the headlines over the past few days for his refusal to stand during the National Anthem, his struggles on the field have not been overlooked by the organization. FOX Sports' Jay Glazer noted on Sunday that the quarterback likely won't finish the season with San Francisco.
Few quarterbacks in recent memory have regressed the way Kaepernick has. After leading the 49ers to the Super Bowl and the NFC Championship Game in back-to-back seasons, Kaepernick signed a $114 million contract with $61 million guaranteed. But after struggling in 2014, he averaged just 202 passing yards per game last season and he only started eight games.
Kaepernick underwent multiple surgeries this offseason, and he was unable to play in the first two preseason games because of a "dead arm." He completed just two of six passes for 14 yards last week, and it looks like Blaine Gabbert will be San Francisco's starting quarterback.
Kaepernick was at the center of trade rumors that involved the Broncos in the offseason, but no deal was ever completed. Denver reportedly wanted Kaepernick to take a $7 million pay cut.
The 49ers have been projected to be among the NFL's worst teams, but a few teams that are expected to contend will start the season with shaky quarterback situations. The Broncos will start a quarterback that's never thrown a pass beyond the preseason, as will the Dallas Cowboys. Tony Romo's back injury could sideline him for close to half of the regular season, making rookie Dak Prescott the starter. Jimmy Garoppolo, who has no regular-season starts, will start the first four games for the New England Patriots because of Tom Brady's Deflategate suspension.
Prescott will likely be the only rookie quarterback to start in Week 1. Jared Goff and Carson Wentz, who were drafted first and second overall by the Los Angeles Rams and Philadelphia Eagles, respectively, are expected to begin their careers on the bench.
There has been a growing need to find quality reserve quarterbacks. In 2015, 71 quarterbacks threw five passes or more. Matt Flynn, Josh Freeman, Tarvaris Jackson, Josh McCown are among some emergency quarterbacks who could be available before Week 1.
The NFL season starts on Thursday, Sept. 8.
© Copyright IBTimes 2022. All rights reserved.
FOLLOW MORE IBT NEWS ON THE BELOW CHANNELS