NFL Rumors: Miami Dolphins Reveal Possible Target Start For Tua Tagovailoa
KEY POINTS
Tua Tagovailoa could start for the Dolphins as early as Week One in the upcoming NFL Season
Ryan Fitzpatrick is willing to give up the starting spot for the rookie quarterback
Tagovailoa was selected fifth overall by the Dolphins in the last NFL Draft
The Miami Dolphins might not waste precious time for Tua Tagovailoa. The fifth-overall draft pick of the last NFL Draft could get the green light to start for the Dolphins sooner than later as Miami's coaching staff reportedly is keen on tapping the rookie quarterback over Ryan Fitzpatrick.
Bleacher Report's Mike Freeman bared he has gathered an inside scoop that says Tagovailoa could get the starting nod over the 37-year-old veteran quarterback as early as Week One.
Appearing to be at variance with Miami Herald's Barry Jackson, who reported a "conditional plan" from coaches before playing Tagovailoa, Freeman responded on Wednesday and stated the 22-year-old starting in the upcoming season is already cast in stone.
"Well, yeah, of course. He's the fifth overall pick, so the Dolphins should try to find out what they have as soon as they can," Freeman wrote. "The more compelling question isn't whether Tagovailoa starts at some point this year; it's whether he will start at the beginning of it. And according to every coach I've spoken to, it's a forgone conclusion that he will beat out veteran journeyman Ryan Fitzpatrick and start Week 1 against the Patriots on Sept. 13."
In his report on Monday, Jackson wrote that Miami's coaching staff is indeed planning to play the Hawaii-born player, but only "if he earns the opportunity."
"The expectation of Fitzpatrick starting the opener and beyond is based on the fact he has not only infinitely more experience than Tagovailoa, but five years of experience in offensive coordinator Chan Gailey's system, and also the fact that Tagovailoa cannot do on-field work with Dolphins coaches because of the lack of an offseason program," he wrote. "But if Tagovailoa impresses coaches, they're not at all opposed to playing him this season."
But regardless of the plans, it seems Fitzpatrick is now willing to give the starting license to the former Alabama standout should the quick change on the driver's seat pan out.
"I'm an open book and try to make sure that [other quarterbacks] know and are comfortable with coming to me with questions. I'm also going to express my opinions and thoughts on plays that we are watching and two-minute drives. We've been going over some of that stuff, and my mind and the process and how I think through it, right or wrong, just to provide some perspective," the 15-year veteran said in a virtual press conference.
"I'm excited for (Tagovailoa) to be here. I loved watching him play in college. I think he's going to be an awesome addition to the team for a long time."
Tagovailoa was a highly touted talent entering the NFL Draft in April. Albeit marred by injuries, he had made waves as the star quarterback of the Crimson Tide in college, registering 7,442 passing yards, 87 touchdowns, and 11 interceptions, before getting selected to the pros by the Dolphins.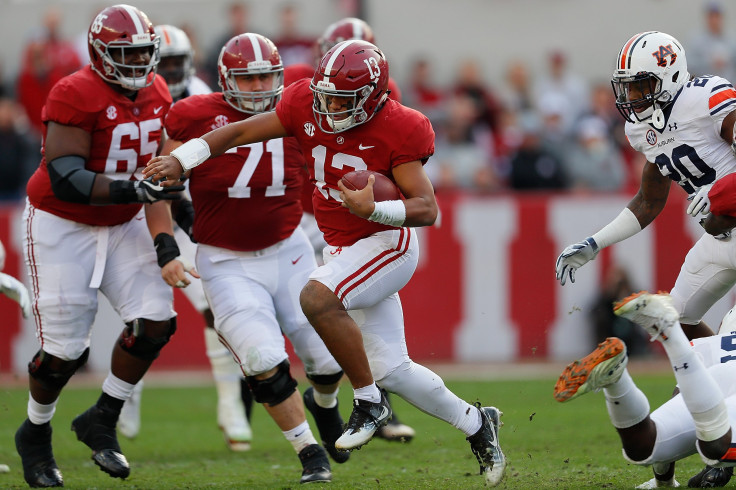 © Copyright IBTimes 2023. All rights reserved.