NFL Rumors: Tagovailoa Shares Unusual Update, Dolphins Passing?
KEY POINTS
Dolphins could be passing up Tagovailoa
Tagovailoa is still willing to play for Miami
Justin Herbert is not exactly impressing due to lack of confidence
The Miami Dolphins are bent on adding a young quarterback and it appeared Tau Tagovialoa was the logical choice. Joe Burrow would have been a no-brainer but selecting at no. 5 places the Heisman Trophy winner beyond reach. The Samoan-American loomed as the second-best option until concerns on his recent injury got in the way.
Tagovailoa and the Dolphins did meet recently according to the 21-year-old quarterback, there was something oddly off. An unidentified source mentioned how the meeting ended with lots of uncertainty in mind, no energy and no one was excited, the South Florida Sun-Sentinel reported.
"No one was excited. They didn't give any indication of 'he's their guy.' He felt weird like is this a joke? ... He's not turned off, but it was just weird," the source said.
The answer to that will only be known by the 2020 NFL Draft. And despite the cloud of uncertainty, Tagovailoa still wants to play for the Dolphins if he were to be selected at no. 5. A fracture in his hip is most likely the reason behind the unusual atmosphere with Miami wanting to wisely take in a young quarterback with a clean bill of health. Aside from his hip, Tagovailoa has dealt with an ankle injury too.
If those are the reasons behind the odd meeting, the Dolphins will likely turn their attention on the next best available quarterback, Justin Herbert of Oregon. But while 21-year-old does have a better bill of health, his confidence level is now in question. During the NFL Combine, Herbert seemed pretty cautious, realistic about what he can do, NBC Sports reported.
"I couldn't tell you what the speed of the game is like. I've watched as much as I could and I feel confident with my abilities but I've never played in the NFL before, so to give you an answer whether I could play right now, I don't think that would be in my best interest," Herbert said.
If the Dolphins do pass up on Tagovailoa, several teams would heave a big sigh of relief. There are plenty of NFL teams expected to draft a young quarterback, particularly the ones in rebuilding mode. Among the teams who could get one include the Los Angeles Chargers, Carolina Panthers, Jacksonville Jaguars, Las Vegas Raiders, Indianapolis Colts, and Tampa Bay Buccaneers.
The Dolphins will have to make a decision sooner or later. The 2020 NFL Draft is scheduled to kick off on April 23. Miami is picking 5th but moving up is a possibility if they pull off a trade with the teams ahead of them.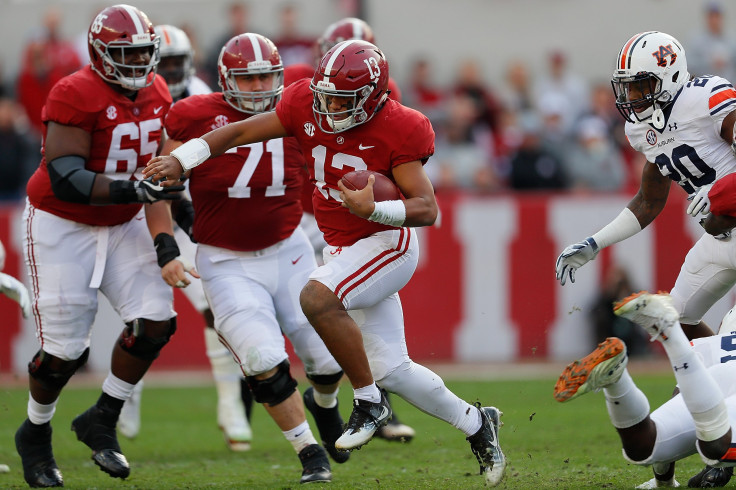 © Copyright IBTimes 2023. All rights reserved.