NFL: Three-Time Super Bowl Champion Reveals How He Got His Nickname
A three-time Super Bowl champion revealed the story behind his unique nickname.
Former Denver Broncos offensive lineman Mark Schlereth is "notoriously" known for peeing in his pants while in the middle of a football game. While he is widely known in NFL as "Stink" which literally has something to do with his peeing antics, Schlereth finally unveiled the real story behind it.
In an exclusive interview with Fair Game, Schlereth recalled vividly how he got the nickname "Stink." According to Schleret, it happened during a pre-season game against the Cleveland Browns back 1990.
Back then, the Superbowl champ apparently was the first back-up should any center or guard gets hurt. At some point during the game, Schlereth was sitting on the bench when he suddenly felt peeing badly.
Despite the advice of his teammates to just hold it for a little longer, Schlereth did not care and "literally emptied his bladder" while sitting with his teammates on the bench.
"So I'm sittin' in the game, 3rd quarter, I'm out of the game but I gotta get my shoulder pads on. And I have got to pee. And I'm like 'I gotta go! I really gotta go'. So I literally emptied my bladder. Completely on the bench," Schlereth revealed.
Disgusted by his shocking act, Schlereth's teammates freaked out and started yelling at him.
"They're getting up there like, 'Oh you're disgusting!'," Schlereth recalled.
However, Schlereth admitted that he was already being regarded as "Stink" by some of his teammates which was derived from the rotten fishheads in Alaska called "stinkheads." But he did not deny that the peeing incident really put the Stink trademark in his name.
Things got worse when he was finally asked to play in the field after the incident. Schlereth described what happened to a teammate who got splashed in the face with his urine when he snapped the ball out of his hands during a play.
"There was just this gigantic splash and he was like 'Oh God it's in my eyes, give me a towel!'," Schlereth said.
His teammate thought that he was soaking wet with sweat but in reality, it was Schlereth's urine.
Schlereth admitted that since that incident happened, he just peed in his uniform whenever he feels like going during game.
"That's how the nickname stuck with me, the "Stink" nickname. From that point forward I was just like, If I had to go (pee) during game, I'll just go!," Schlereth admitted.
Back in NFL, the Broncos are viewed by ESPN's Bill Barnwell to have the 24th best shot at winning it all . The Denver Post reported.
"A deep Broncos playoff run probably involves a game or two in Colorado. The league's fifth-ranked defense by DVOA returns its key pass-rush duo of Bradley Chubb and Von Miller; and while nobody is enthused by Joe Flacco under center, we all know what he has done in the playoffs in years past," Barnwell explained.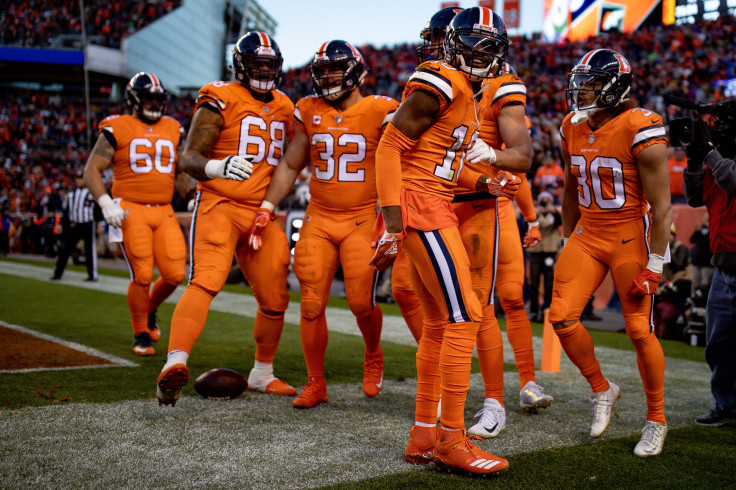 © Copyright IBTimes 2023. All rights reserved.