NFL Trade Rumors: Texans' Chances Of Keeping Star Quarterback Dwindling, 49ers Lurking, Reports Say
KEY POINTS
Deshaun Watson is determined to exit Houston Texans, a report says
The 49ers could resolve their QB problem if they acquire Watson
Texas is unlikely to find solution for Watson problem
The Houston Texans' chances of keeping Deshaun Watson are fading, and an NFL trade could be the only choice. The 25-year-old is unhappy and appears determined to move out, a report says.
Several teams could take advantage of the situation, and two have been identified so far. The Miami Dolphins could explore a potential deal, while the San Francisco 49ers could also be in play.
Watson has reportedly had enough of the Texans, which was made even worse when they hired new general manager Nick Caserio. The Pro Bowler wanted to have an active role in the selection process but never got that chance. When the Caserio hiring was announced, his social media reaction needed no explanation.
"Some things never change…" Watson tweeted.
Now, one unnamed source close to the quarterback told Sports Illustrated's Jenny Vrentas and Greg Bishop that Watson just wants out. McNair did issue an apology and allegedly sent a text to Watson. However, it appears the wounds have become deeper and the relationship will be hard to repair.
Watson also made his anger clear through another tweet he wrote Friday in which he said, "I was on 2 then I took it to 10."
With all these in consideration, NFL trade rumors are starting to swirl. The 49ers are seen as an ideal landing spot, spurred even more with an Instagram photo from the Niners fan page where Watson responded with a comment.
Other than that, it may also address the Niners' quarterback woes. Kyle Shanahan continues to bat for Jimmy Garoppolo, but his injury spells have been hurting the team.
However, the 41-year-old was noncommittal to sticking with Garoppolo as their starter for the next NFL season. Hence, a move for Watson would make sense and potentially resolve their quarterbacking problems.
Another team that makes sense is the Miami Dolphins. Miami could offer rookie Tua Tagovailoa and Laremy Tunsil in a package for Watson, NBC Sports reported. The level of interest of the Dolphins is unknown, although the deal makes sense.
With things not looking good, the chances of seeing Watson move on to a new team next NFL season may be high. The Texans may need to accept that fact but are expected to want something big in return.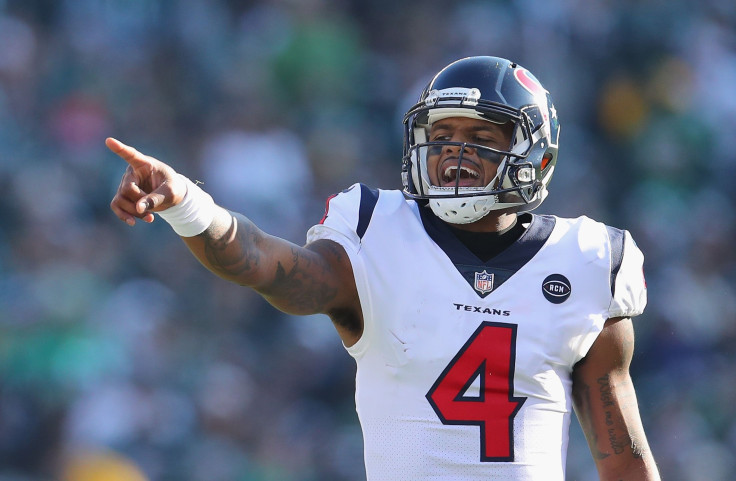 © Copyright IBTimes 2023. All rights reserved.