NFL Week 4 Picks Against The Spread 2022: Predictions ATS, Betting Odds
Underdogs have outperformed favorites against the spread through the first three weeks of the 2022 NFL season. Ten games on the Week 4 schedule feature a point spread of a field goal or less.
Here are picks against the spread for every game in Week 4 and updated betting odds from FanDuel and DraftKings Sportsbook.
Miami Dolphins (+3.5) at Cincinnati Bengals
Miami's luck might finally run out after a perfect 3-0 start. Tua Tagovailoa has a sore back and ankle with just three full days off in between games. Joe Burrow could put up big numbers against a defense that's surrendered the second-most passing yards.
Prediction ATS: Cincinnati
Minnesota Vikings (-2.5) vs. New Orleans Saints (London)
A banged-up Jameis Winston has been one of the NFL's worst quarterback in the last two weeks. Winston has five interceptions in back-to-back losses. The Saints' only touchdowns in those contests have come in the fourth quarter when they were already down by multiple scores. The Vikings have only lost to the 3-0 Eagles.
Prediction ATS: Minnesota
Cleveland Browns (-2.5) at Atlanta Falcons
Cleveland's No. 1 ranked rushing attack should control this game and give the Browns another victory. Nick Chubb is averaging 5.5 yards per attempt with a league-high 341 yards. Atlanta is 25th in opponents' yards per play.
Prediction ATS: Cleveland
Washington Commanders (+3) at Dallas Cowboys
Washington's Week 1 victory over Jacksonville feels like it happened a long time ago. The Commanders have been outscored 60-35 in their last two games. Carson Wentz has been sacked 14 times in those losses. Dallas should have Michael Gallup back in the lineup, providing a much-needed boost to the offense.
Prediction ATS: Dallas
Seattle Seahawks (+6) at Detroit Lions
As impressive as the Lions have been, the point spread might be a little too high. Detroit is 1-2 with the league's worst scoring defense. D'Andre Swift could miss multiple games because of a shoulder pain.
Prediction ATS: Seattle
Tennessee Titans (+3) at Indianapolis Colts
In a divisional game between two mediocre teams, it might be best to pick the underdog. Matt Ryan and the Colts' offense have struggled in every game. Indianapolis hasn't put up more than 20 points in any contest. The Titans have beat the Colts in three straight games.
Prediction ATS: Tennessee
Chicago Bears (+3) at New York Giants
The Bears are dead last in yards per game. Justin Fields hasn't thrown for more than 121 yards in any of Chicago's three contests. It's going to be difficult for the Bears to win on the road against an improved Giants' team.
Prediction ATS: New York
Jacksonville Jaguars (+7) at Philadelphia Eagles
Philadelphia might be on its way to earning the No. 1 seed in the NFC. The Eagles have built big leads in all three of their games. It was only a few weeks ago that Jacksonville lost by a touchdown in Washington.
Prediction ATS: Philadelphia
New York Jets (+3.5) at Pittsburgh Steelers
For 99% of the early season, the Jets have arguably been the worst team in the league. New York has given up at least 24 points in every game. Without their comeback in the final two minutes of Week 2, the Jets would have scored 17 points or fewer in each contest.
Prediction ATS: Pittsburgh
Buffalo Bills (-3.5) at Baltimore Ravens
Buffalo's last 20 regular-season wins have all come by double digits. The Bills had 285 more yards than the Dolphins in their loss against Miami. Josh Allen should put up big numbers against the defense that's allowed the most passing yards, by far, in the entire league.
Prediction ATS: Buffalo
Los Angeles Chargers (-6) at Houston Texans
Nothing has gone right for the Chargers since they won the season opener. Left tackle Rashawn Slater is done for the season. Joey Bosa is dealing with a groin injury. Los Angeles scored 10 points in Justin Herbert's first game since fracturing rib cartilage.
Prediction ATS: Houston
Arizona Cardinals (+1.5) at Carolina Panthers
The Panthers have gone 1-2 against a trio of mediocre quarterbacks. Carolina's pass defense is due to have its worst game of the season when Kyler Murray visits the Panthers. Arizona defeated Carolina 34-10 last season in a game that neither Murray not DeAndre Hopkins played.
Prediction ATS: Arizona
New England Patriots (+10.5) at Green Bay Packers
The Patriots probably won't be competitive with Brian Hoyer under center. New England totaled 24 points in its first two games. Green Bay has a top-seven defense. The Packers have won 14 straight regular-season games at Lambeau Field.
Prediction ATS: Green Bay
Denver Broncos (+1.5) at Las Vegas Raiders
The Josh McDaniels Era in Las Vegas is off to a 0-3 start, already prompting a closed-door meeting between the head coach and owner Mark Davis. The teams that have beaten the Raiders are a combined 0-6 in their games when they haven't played Las Vegas. Denver is second in scoring defense.
Prediction ATS: Denver
Kansas City Chiefs (-2.5) at Tampa Bay Buccaneers
Through three weeks, the best unit in this game has been Tampa Bay's defense. The Buccaneers have given up the fewest points in football after facing Aaron Rodgers and Dak Prescott. Tom Brady will be getting his No. 1 receiver back. Patrick Mahomes could use more help from his supporting cast. Kansas City's offense has been responsible for only 37 points in the last two games.
Prediction ATS: Tampa Bay
Los Angeles Rams (+2.5) at San Francisco 49ers
San Francisco's offense has struggled with both Trey Lance and Jimmy Garoppolo under center. Left tackle Trent Williams is expected to miss time. In three games against the 49ers last season, Cooper Kupp had 29 receptions for 382 yards and three touchdowns.
Prediction ATS: Los Angeles
Season Record: 22-24-2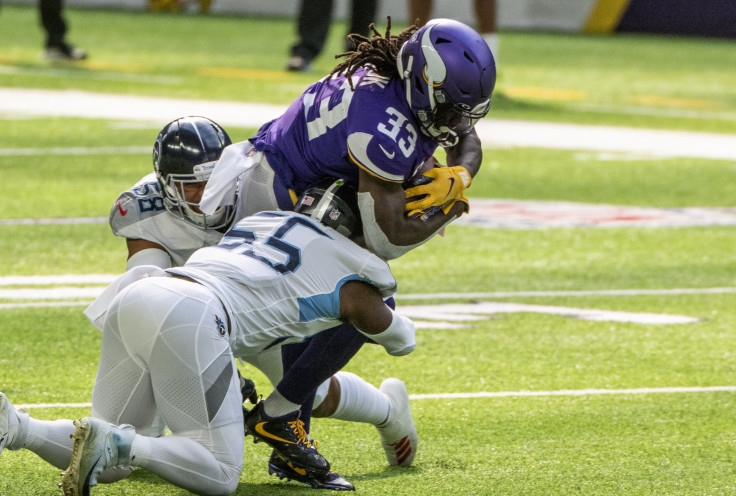 © Copyright IBTimes 2022. All rights reserved.
FOLLOW MORE IBT NEWS ON THE BELOW CHANNELS