Nicolás Maduro And Daniel Ortega Meet To Strengthen Bilateral Relations; Nicaragua And Venezuela Get Closer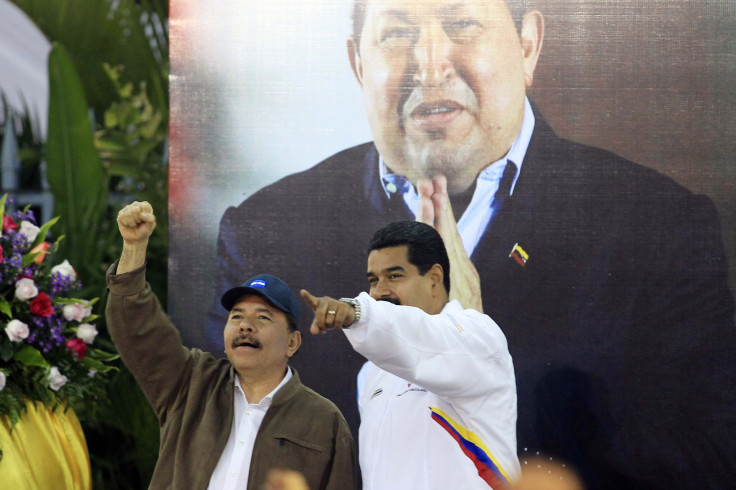 In the six weeks since his election win in Venezuela, President Nicolás Maduro has faced rivalry from both inside and outside his borders, from opposition leader Henrique Capriles to international rejection of his government. Therefore, Hugo Chávez's heir has turned to his allies in the region for support, starting with other members of the trade bloc Bolivarian Alliance for the Americas (Alianza Bolivariana de las Americas, or ALBA), like Nicaragua.
Maduro met with his Nicaraguan counterpart, Daniel Ortega, on Tuesday to discuss their bond, both political and economic. "There is going to be more cooperation from now on," assured Maduro in an impromptu press conference at Salvador Allende Harbor on Lake Managua. Ortega did not comment, reported Spanish newspaper El País.
The two countries agreed to increase trade, particularly of milk and agricultural goods. Venezuelan Foreign Minister Elías Jaua emphasized the use of sucres, the regional currency used in commercial exchanges among the ALBA countries, instead of dollars, reported Venezuelan state TV. "We want to show that another world is possible, including the commercial transactions once dominated by capitalism," said the minister.
Nicaragua also sent in late May the first 15,000 tons of sugar from an agreed 45,000.
Venezuela also announced the construction of three tourist ports similar to Salvador Allende, named for the leftist Chilean president who was overthrown in a 1973 coup, which is currently the most visited sight in Managua. These ports, which will be built in the towns of Maracaibo, Valencia and Carabobo, aim to increase travel in the country.
The two socialist-leaning countries also agreed to join forces in terms of security and safety, reported Caracas newspaper El Universal. The agreement was made with the background of Colombia's surprise announcement of an intention to join NATO, which Ortega said was a "stabbing in the back of the people of the Americas, and we cannot make heads or tails of it." It is an admittedly unusual path; only European nations besides the U.S. and Canada have ever been NATO members.
Maduro joined in in the speech, channeling the late Chávez when he said that Latin America cannot open to governments and armies of other continents: "It would be madness, it would be a betrayal to Bolívar and the other freedom fighters of the region."
This inflammatory rhetoric invoking South America's independence hero of 200 years ago, which characterized so many of Chávez's addresses to the public, has been criticized by other regional leaders. Brazil's former President Luis Lula da Silva recently said in a speech in Lima that he used to tell Chávez off: "I told him to stop talking about Simón Bolívar so much. Integration is not achieved by sword anymore, but by development, funding and interest rates."
Maduro's interest in fellow socialist Nicaragua is "nothing new," argued journalist Alfredo Crespo Alcázar in Hispanic website Atenea Digital. "Venezuela sees Nicaragua as a mere provider of produce… And Venezuela is feeding Nicaragua with ideology," he wrote, detailing how the Central American country is one of the poorest and most dangerous in the region.
Crespo Alcázar argued that Maduro's foreign policy is based on strengthening bonds with the remaining leftist goverments in the region, and inflaming passions with "a language that combines feeling victimized with verbal aggression. However, for Venezuela to solve its problems, Maduro will have to leave aside demagogic policies for more concrete ones."
Follow me on Twitter: @PReyMallen
© Copyright IBTimes 2023. All rights reserved.
FOLLOW MORE IBT NEWS ON THE BELOW CHANNELS