Nigeria Senate President Corruption Scandal: Abubakar Bukola Saraki Appears In Court Over False Declaration Of Assets Charges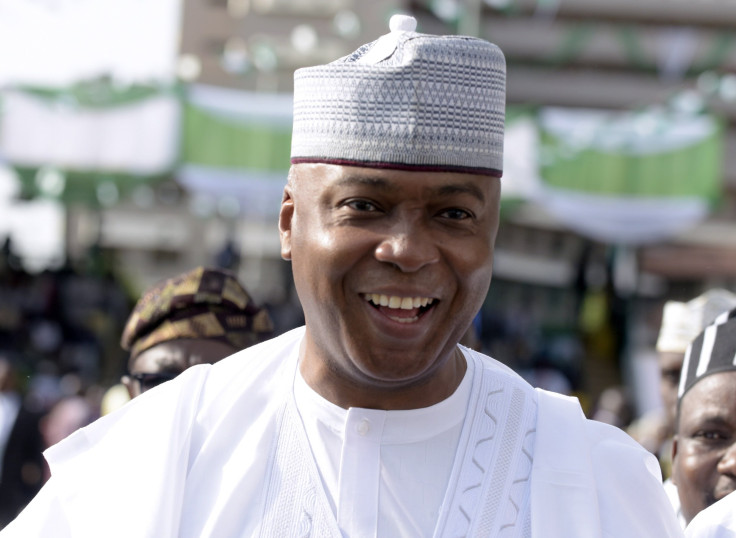 Nigeria's Senate President Abubakar Bukola Saraki appeared in court Tuesday morning in Abuja on criminal charges of corruption and false declaration of assets after he failed to attend trial last week. Saraki, who arrived at the Code of Conduct Tribunal with "about 50 senators and some members of the House of Representatives," is facing a 13-count corruption charge, according to Nigerian newspaper Premium Times.
The tribunal ordered Saraki to appear before the court at 10 a.m. local time Tuesday after the embattled senate president did not show up for trial Friday, claiming his attorneys had filed an appeal against the warrant of arrest. But the tribunal argued that filing an appeal could not constitute a stay of execution of the initial order.
"While the Senate President Dr. Abubakar Bukola Saraki had stated and maintained that he is ready to submit himself to due process of the law on any issue concerning him, he also believes that he has an inalienable right to resort to the same judiciary for protection when he feels his fundamental rights are about to be infringed upon," read a statement posted on the senate president's official Facebook page Monday. "The Senate president is a law abiding citizen, and his absence from tribunal was based on legal advice he received from his counsel that it is not necessary for him to appear before the tribunal at this stage since the jurisdiction of the tribunal and the process of initiating the matter are being challenged before the federal High Court [of] Abuja. "
The 13 charges against Saraki brought by Nigeria's Code of Conduct Bureau mostly relate to his ownership of land. Other charges refer to his transfer of $3.4 million to a bank account outside Nigeria while he was governor of Kwara state and sending 1.5 million pounds to a European account to pay for a mortgage on a London property. Saraki's press team has fiercely dismissed the allegations of corruption and false declaration of assets as "false, incorrect and untrue." They also said the senator did not hold any foreign bank accounts while he was governor, Reuters reported.
Nigeria's senate president holds the third most powerful position in the West African country. Saraki, a former member of the once-ruling People's Democratic Party, easily secured the nomination in June with support from the opposition. Saraki, 52, and several other People's Democratic Party members defected to the All Progressives Congress last November as support for the then-opposition party was growing.
Former Nigerian President Goodluck Jonathan and his People's Democratic Party lost re-election to opposition candidate Muhammadu Buhari of the All Progressives Congress by a couple million votes. It was the first time an incumbent lost the presidential poll in Nigeria, Africa's richest and most populous nation. The People's Democratic Party has lost popularity in recent years largely because of corruption allegations and the Boko Haram insurgency.
© Copyright IBTimes 2023. All rights reserved.