Non-Islamic Terror Groups: Militant Organizations Without Radical Islamist Ideology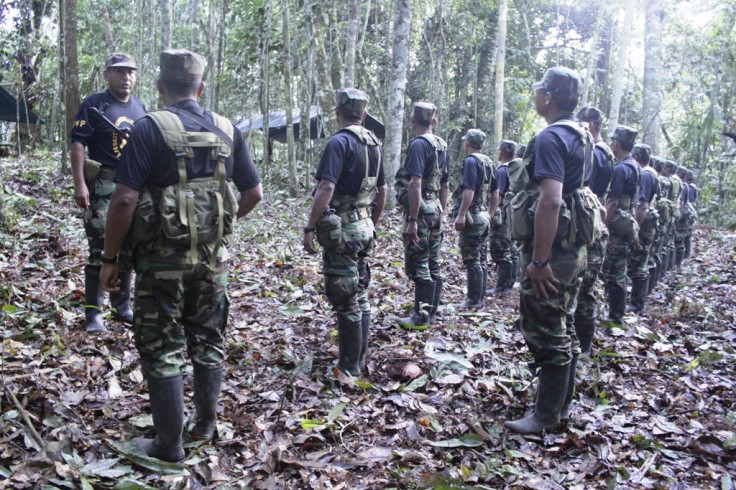 For years, terrorism often has been blamed on radical Islamic organizations. While most of the terror organizations follow a fundamental Islamist ideology, there are several other militant groups that are non-Islamic.
The non-Islamic terrorism may not be as prevalent as the Islamic State (ISIS) group and al Qaeda, however, they are equally aggressive.
Read: Islam To Overtake Christianity As Most Popular Religion
Following are the U.S.-designated terror groups that have nothing to do with radical Islamist ideology.
Aum Shinrikyo: This is a Japanese doomsday cult founded by Shoko Asahara in 1984 and has some elements from Buddhism and Hinduism. The group is known for an obsession with the apocalypse. In 1995, the group gained notoriety after it carried out the deadly Tokyo subway sarin attack killing 12 people and critically injuring more than 50 others. The group was also involved in a smaller sarin attack the previous year.
The group's founder Asahara preached the world will end soon and only the followers of Aum will be able to survive the apocalypse. He predicted that the world would end in 1996 or between 1999 and 2003. He also claimed the U.S. would rush the Armageddon by starting World War III with Japan.
Basque Fatherland and Liberty: Also known as Basque Fatherland and Freedom, Basque Homeland and Freedom, Euskadi Ta Askatasuna, Euskadi Ta Askatasun was founded by Basque Marxist rebels in 1959. The Basques are a culturally different Christian group settled in the mountainous regions of Spain and France.
The militant group was formed following Spanish military dictator Francisco Franco's attempts to suppress the Basque language and its culture. Under Franco's rule, Spain witnessed banning of the language, intellectuals imprisoned and tortured over their political and cultural beliefs.
The group's first known killing was in 1968 when its members shot dead a secret police chief Meliton Manzanas in the Basque city of San Sebastian. In its over 40 years of violence, the group killed over 800 people and injured thousands.
Kach, Kahane Chai: These two are extremist Israeli groups. Kach and Kahane Chai are often used interchangeably for both the organizations.
Rabbi Meir Kahane, a U.S.-born extremist formed Kach in 1971. It followed Kahane's Jewish nationalist-Orthodox ideology and advocated the removal of Arabs from the biblical lands of Israel. After entering the Knesset following the 1984 elections, Kahane Chai was not allowed to participate in the next election in 1988 due to revised Knesset Elections Law banning parties that spread racism.
Kahane Chai gained notoriety for threatening and harassing Arabs, Palestinians, and Israeli government officials. In November 1990, Kahane was assassinated following his speech in New York.
His son Binyamin Kahane formed an offshoot of Kach named Kahane Chai. He, along with his wife, was killed in a drive-by shooting in the West Bank in December 2000.
In 1994, a Kach supporter shot dead 29 Muslim worshippers at a West Bank mosque. While the group has not been involved in a large terrorist attack since the shooting, several supporters of the group have reportedly been arrested for "low-level attacks" since 2000.
Read: Man Mistaken For Muslim Is Threatened With Racist, Anti-Islam Vandalism
Liberation Tigers of Tamil Eelam: Also known as the Tamil Tigers, LTTE was a militant group founded in the 1970s by Velupillai Prabhakaran to fight for an independent homeland for Sri Lanka's minority Tamil-speaking community. Several attacks and high-profile assassinations in the island country have been attributed to LTTE.
The group comprised of a highly developed military wing and a secondary political wing. The military wing consisted of a naval group, an air wing, an intelligence wing, and also a specialized suicide terrorist unit. The group also had women and children as its members and took part in combat.
The group's notorious suicide mission was in May 1991 against then Indian Prime Minister Rajiv Gandhi. It was disbanded in 2009 following its military defeat by the Sri Lankan government. About 6,000 LTTE members were rehabilitated and reintegrated into society.
National Liberation Army Colombia: This is Colombia's second largest leftist guerrilla group. It was formed in 1964 and initially garnered several Catholics who supported liberation theology. The group focused on urban areas and represented the poor against the wealthy section. It was also against the U.S. involvement in Colombia.
The group advocates for the establishment of a Christian communist regime to solve the socioeconomic problems of political corruption, poverty, and political exclusion in the South American nation. The group has been blamed for carrying out kidnappings for ransom, narco-trafficking, and extortion in a bid to raise financial support.
Shining Path: The Peruvian guerrilla rebel organization was formed in 1970 by Abimael Guzman, also known as Comrade Gonzalo. The group's goal was to replace the bourgeois democracy with "New Democracy."
A philosophy teacher by profession, Guzman was inspired by the writings of Peruvian Marxist Jose Carlos Mariategui. He hired intellectuals and idealists hired to Shining Path at the San Cristobal de Huamanga National University in Ayacucho.
The year 1980 witnessed the group's first act of violence in which it destroyed ballot boxes on the eve of the country's first national elections in over a decade.
Revolutionary Struggle: It is a Greek group notorious for its attacks on Greek government buildings and the U.S. embassy in Athens. Emerged in 2003, the group is known for extremist political action in Greece. The Greek government, the European Union and the U.S. have listed the group under terrorist organizations.
© Copyright IBTimes 2022. All rights reserved.
FOLLOW MORE IBT NEWS ON THE BELOW CHANNELS