North Korea Acknowledges Existence of Labor Camps But Denied They're Prisons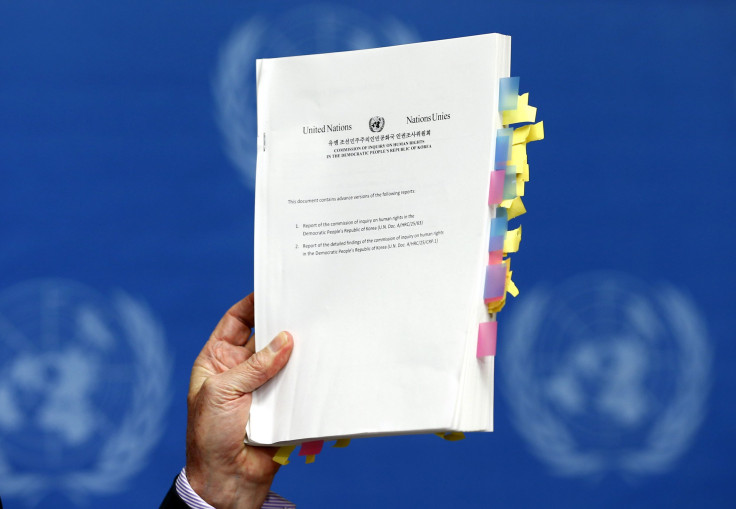 North Korean officials Tuesday acknowledged publicly for the first time the existence of labor camps, one of the subjects of a highly critical 372-page U.N. report on the country's human rights violations. The move comes after a ministerial-level meeting to discuss the report at the U.N. General Assembly on Sept. 23 and U.S. Secretary of State John Kerry's call for North Korea to shut down its "evil system" of prison camps.
Speaking to reporters at the United Nations Tuesday, North Korean foreign ministry official Choe Myong Nam said: "There is no prison camps in our country. Even in practice, there's no things [sic] like that." But, he added, the country does run centers for "reform through labor."
"In law and practice, we have detention centers whereby people improve their mentality, wrongdoings and they are reformed through labor. That's the center. That's what we call 'reform through labor' detention center," he said.
North Korean Deputy U.N. Ambassador Ri Tong Il cited a 109-page report commissioned by North Korea's Association for Human Rights Studies that lauded North Korea for having "the world's most advantageous human rights system."
"People enjoy rights ranging from political freedom, freedom of speech and assembly, protection of the rights of the disabled, the full range,"Ri said.
But the U.N.'s February report had an entirely different message, outlining "extermination, murder, enslavement, torture, imprisonment, rape [and] forced abortions" among North Korea's worst violations. "We dare say that the case of human rights in the DPRK exceeds all others in duration, intensity and horror," U.N. commission head Michael Kirby told the U.N. Security Council in April.
Separately, Ri said a top North Korean offical had visited the European Union's headquarters this year, adding, "We are expecting end of this year to open political dialog between the two sides."
© Copyright IBTimes 2023. All rights reserved.