Where Is Kim Jong Un? North Korean Leader Reportedly Not In Pyongyang Amid Coup, Health Rumors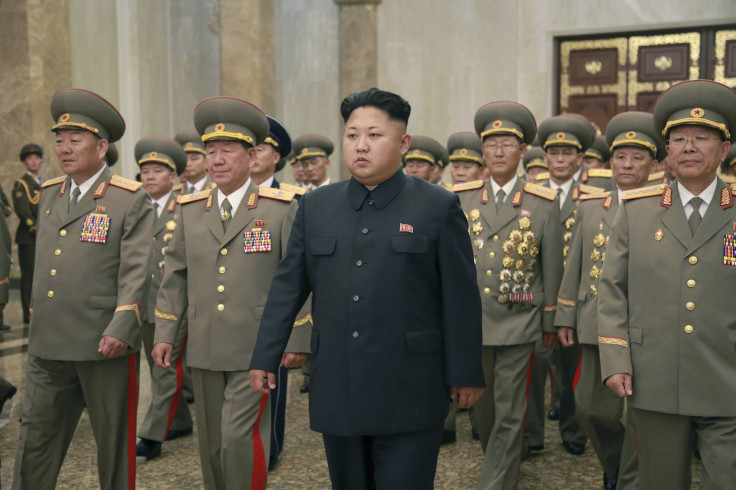 North Korean leader Kim Jong Un isn't in his country's capital city as rumors swirl about his health and a possible coup attempt as Kim hasn't been seen publicly in more than a month. At least that's the belief of South Korea's defense minister.
"As far as I know, [Kim] is staying at a certain place north of Pyongyang," South Korea Defense Minister Han Min-Koo told the Yonhap News Agency on Tuesday, according to Agence France-Presse. "I have received reliable information from our defense intelligence headquarters."
Kim's whereabouts have been the subject of intense speculation. Reports surfaced last week that Pyongyang was under lockdown, either due to a coup attempt against Kim or possible defections by top North Korean leaders.
"This sort of action suggests there has either been an attempted coup or that the authorities there have uncovered some sort of plot against the leadership," North Korean expert Toshimitsu Shigemura, a professor at Waseda University in Tokyo, said last week about the reported lockdown. "If it is a military-backed coup, then the situation in Pyongyang will be very dangerous, and I have heard reports that Kim has been moved out of the capital."
Kim's long public absence has also sparked rumors about his health. Pyongyang denied that the 31-year-old North Korean leader had health problems, according to South Korea's unification minister. Kim is a heavy smoker and recent pictures showed that he had gained weight. Video footage that showed him walking with a limp fueled speculation that Kim was suffering from gout.
"I said to [North Korean] Secretary Kim Yang Gon while in a car there was a report that [Kim] was in 'discomfort' and asked him how was his health, and Secretary Kim said there was no problem at all," Unification Minister Ryoo Kihl-jae told South Korean television station KBS, according to Reuters.
North Korea hasn't explained why Kim hasn't been seen in public for more than a month. Kim's younger sister, Kim Yo-jong, reportedly is running the country in place of Kim as he battles health problems, according to the Tokyo-based magazine the Diplomat.
© Copyright IBTimes 2023. All rights reserved.