North Korea On 'Aggressive Schedule' To Build Ballistic Missile Submarine: Report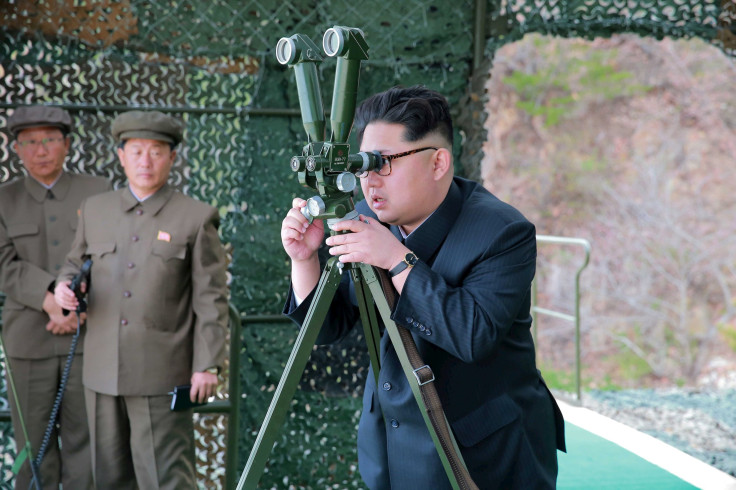 Satellite images taken of the Sinpo South Shipyard on North Korea's east coast on Nov. 5 suggested that North Korean leader Kim Jong Un's regime is focused on rapidly constructing the country's first operational ballistic missile submarine.
The images corroborated the fact that the U.S. military intelligence was suspecting since the end of October — that a new diesel-electric submarine under construction in North Korea's shipyard. At the time, they had estimated that the latest submerged displacement was in excess of 2,000 tons with a beam measurement of 11 meters, according to the Diplomat.
Also, they added, that the submarine which has been dubbed "SINPO-C" was likely a successor to North Korea's Gorae-class ballistic missile submarine (SSB) and if successfully completed, it would be the largest underwater military vessel ever to be built for the Korean People's Navy since Najin-class frigates.
According to the images released and analyzed by 38 North – a program from the U.S Korea Institute at Johns Hopkins School of Advanced International Studies — a continued movement of submarine parts in and out of the shipyard, suggesting that it is on an "aggressive schedule" to construct its SINPO-C ballistic missile submarine.
A closer look at the two circular objects believed to be sections of the submarine's hull suggests that SINPO-C could have broader beam than the ROMEO-class attack submarine which was 21.9 feet. The diameter of the first object was 23.2 feet (approximately) while the diameter of the second one appeared to be 23.2 feet (approximately) and reduces to 20.01 (approximately) feet.
Sections of a submarine's pressure hull have been spotted in the yards adjacent to construction halls in addition to probable launch canister support within the service tower at the missile test stand. The latter could suggest ongoing testing of submarine launch ballistic missiles (SLBM), in order to perfect its ejection technique. Ejection tests are expected in the near future for submarine-launched ballistic missiles Pukguksong-1, a possible Pukguksong-3, and other missiles, Newsweek reported.
The Sinpo South Shipyard has been historically used to manufacture some of the largest submarines for the Korean People's Navy (KPN). North Korea conducted submarine-launched ballistic missile ejection tests near this shipyard in the summer of 2016.
The submersible missile test stand barge that has been developing a current SINPO-class experimental ballistic missile submarine has remained docked in the same location for the last four months. In the same secure boat, the basin was seen a new maintenance hall of the Sinpo Peninsula being constructed.
It was not immediately clear as to the estimated time the current project is expected to be completed. North Korea began testing its intercontinental ballistic missiles (ICBMs) in July. David Wright, co-director of the Global Security Program at the Union of Concerned Scientists, told Korea Times in October that the ICBM during North Korea's first testing, which flew to an altitude of 1,739 miles before landing in the East Sea, could have flown up to 4,163 miles if it had been launched on a standard trajectory, not at a steep angle.
At his second full Cabinet meeting, President Donald Trump told reporters that his administration was working on a plan to take care of North Korea's escalating missile program, although he chose to share no details of the supposed plan with the press.
"We will handle North Korea. We are gonna be able to handle them. It will be handled. We handle everything," Trump said, CNN reported
© Copyright IBTimes 2023. All rights reserved.