North Korea Courts Trump For 2nd Summit With Kim, Restates Denuclearization Commitment
As officials from both the United States and North Korea try to set up a second summit between President Donald Trump and Kim Jong Un, the East Asian country once again reaffirmed its commitment to denuclearize the Korean Peninsula. An article published Wednesday by a North Korean propaganda outlet said removal of nuclear weapons from the region was "intended, among other things, to prevent a fearful nuclear disaster before it can happen on our land."
However, according to the North Korean regime, denuclearization isn't simply ridding the peninsula of all nuclear weapons, but instead, it includes the both nuclear weapons owned by the United States, as well as U.S. military presence in the region. In an article published in December, the North Korea's state-run Korean Central News Agency said denuclearization meant the removal of all nuclear threats, both to and from the Korean peninsula.
"The denuclearization of the Korean Peninsula should be defined as 'completely eliminating the U.S. nuclear threat to Korea' before it can eliminate our nuclear deterrent," the commentary read.
In its article Wednesday, propaganda website Meari said: "Our republic's pro-peace stance and willingness for complete denuclearization of the Korean Peninsula should not be seen with colored glasses," and added, "(North Korea) has done all it can do to realize denuclearization."
"Denuclearization of the Korean Peninsula is intended, among other things, to prevent a fearful nuclear disaster before it can happen on our land by removing a root cause of nuclear war that threatens the fate of our people," Meari said, South Korea's Yonhap News Agency reported.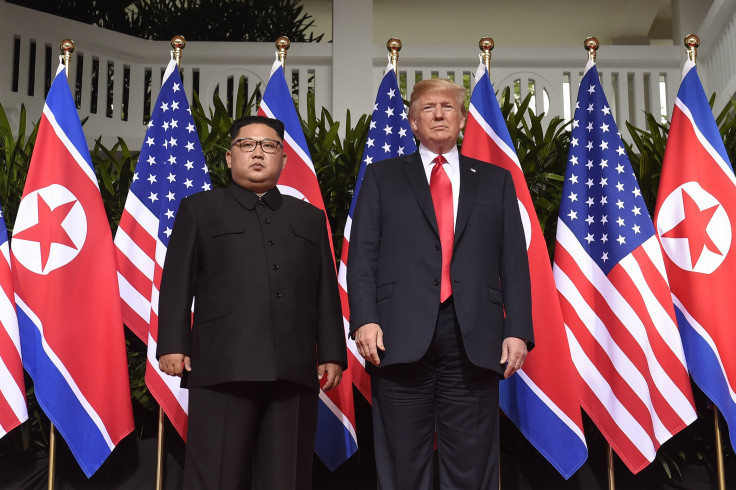 North Korea's stated willingness to denuclearize the peninsula is not new, and has been spoken about it in the past too. However, very little has been done in terms of actual work.
Following a meeting between Trump and Kim in Singapore in June, satellite images obtained in July showed the isolated country dismantling parts of Sohae Satellite Launching Station, a key rocket launching site. It prompted Trump to tweet about his achievements with North Korea and that he was "very happy" with the progress.
North Korea has not tested any big missiles since the Singapore summit. Reports have said though denuclearization was discussed during the Singapore summit, the different interpretations of the meeting have prevented progress from taking place. While the U.S. meant denuclearization of North Korea, the latter took it as an inclusive exercise, which included the U.S. reducing its military presence on the Korean peninsula. Part of Pyongyang's nod to denuclearization was also based on lessening U.S. sanctions, which came to a halt after Washington imposed sanctions on three North Korean officials in December 2018, citing human rights abuses. In his New Year's Day speech, Kim threatened to take an alternative path if the U.S. did not ease its sanctions. This was followed by a visit to China on Jan. 8, a trip several experts saw as Kim showing his close ties to China, a traditional ally.
Meanwhile, efforts for another Trump-Kim were ongoing, with senior North Korean official Kim Yong Chol expected to visit the U.S. later in January to hold discussions with Secretary of State Mike Pompeo.
South Korean Foreign Minister Kang Kyung-wha told Yonhap the U.S.-North Korea meeting was likely to feature "full fledged discussions" on denuclearization. "Accordingly, North Korea-U.S. talks are expected to resume with a sense of speed," she told reporters Tuesday.
© Copyright IBTimes 2023. All rights reserved.