North Korea A 'Substantial Nuclear Threat' To US, Kim Jong Un Says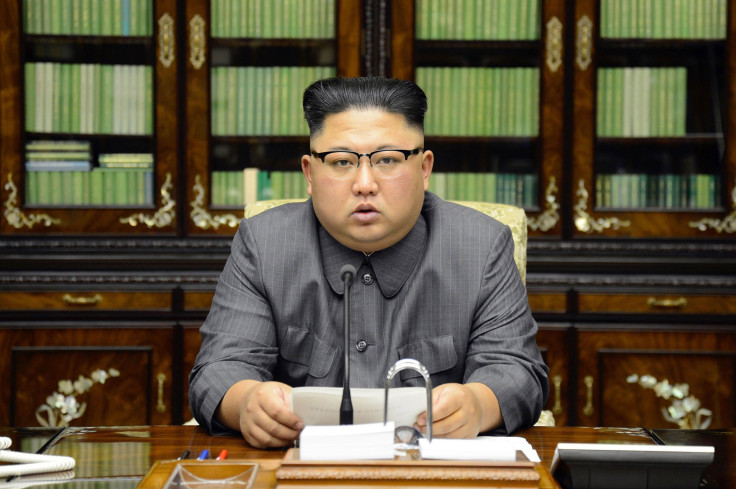 As the United Nations Security Council gets ready to vote Friday on a resolution that toughens sanctions on North Korea's weapons program, the isolated country's leader Kim Jong Un said the nation was capable of posing a "substantial nuclear threat" to the United States.
Kim's comment came after North Korea fired its intercontinental ballistic missile (ICBM) last month, which apparently puts the whole of mainland U.S. within its range, North Korea's state-run Korean Central News Agency (KCNA) reported. The North Korean leader was speaking at a conference of the ruling Workers' Party of Korea (WPK) on Thursday.
He said, "Nobody can deny the entity of the DPRK which rapidly emerged as a strategic state capable of posing a substantial nuclear threat to the U.S. … Although grave challenges that should not be overlooked face us, we neither feel disappointed nor are afraid of them but are optimistic about the progress of our revolution under this situation."
He also claimed North Korea rapidly developing nuclear force was "exerting big influence" on global leaders.
A foreign ministry spokesman of North Korea slammed President Donald Trump's National Security Strategy, which was unveiled Monday, and said it was "full of Trump's criminal nature." The spokesman added U.S. will "bitterly regret" its belligerent policy towards North Korea. "The report openly reveals Washington's aspirations to attack us," the spokesman was quoted as saying by KCNA.
The country launched its Hwasong-15 ICBM missile, which is apparently capable of reaching any location in the U.S., from the northeastern side of Pyongyang on Nov. 28. It was the third ICBM test by the country in 2017.
A scientist at the Union of Concerned Scientists, David Wright, said the missile had a potential range of 8,000 miles and added, "This is building on what they've done before. It's muscle-flexing to show the U.S. that they're going to continue to make progress," the New York Times reported.
Recent reports also claimed North Korea was testing ICBMs loaded with anthrax, which would be one of the biological agents likely to be used in a bioterrorist attack. The country denied doing any such tests with bio-weapons.
"Properly speaking, it is the U.S. stereotyped method to cook up untruths as truths, stubbornly insisting that black is white and fabricating anything for satisfying their aggressive greed," the KCNA stated. "And the U.S. itself is an empire of evils full of plots, fabrications, lies, and deceptions."
Reports said Wednesday the White House was preparing for a "bloody nose" military attack on North Korea to put a stop to its nuclear weapon program.
"The Pentagon is trying to find options that would allow them to punch the North Koreans in the nose, get their attention and show that we're serious."
The White House's plan came after President Donald Trump vowed to "take care" of North Korea's threats.
In an interview Tuesday with the CBS, White House national security adviser H.R. McMaster said the U.S. will not tolerate the risk of coexisting with North Korea.
"If North Korea has a nuclear weapon, who are you going to try to prevent getting one? Look at the regime, the hostility of this regime to the whole world," he added.
McMaster stressed Trump made it clear it is not the time to conduct talks with North Korea, and said, "And what he means is, there can't be negotiations under these current conditions. ... The problem is now that their programs have advanced so far we don't have time to do that again, and so we can't repeat the failed pattern of the past."
Yonhap reported North Korea said Washington abandoned all agreements. "The international community should be aware of Trump's scheme to set off a nuclear war on the Korean Peninsula. And it should also see his real intentions behind Washington's dialogue offer as aiming to mask the U.S.' evil intentions and how it ridicules the world," a ministry spokesman said.
A report by Harvard Kennedy School's Belfer Center for Science and International Affairs said North Korea is believed to have started its chemical and biological weapons program in the 1960s. Intelligence experts in the U.S. claim North Korea might have a stockpile of around 60 nuclear weapons. The U.S., on the other hand, has about 7,000.
© Copyright IBTimes 2023. All rights reserved.