North Korea's ICBM Attack Range Will Extend To US By 2018: Officials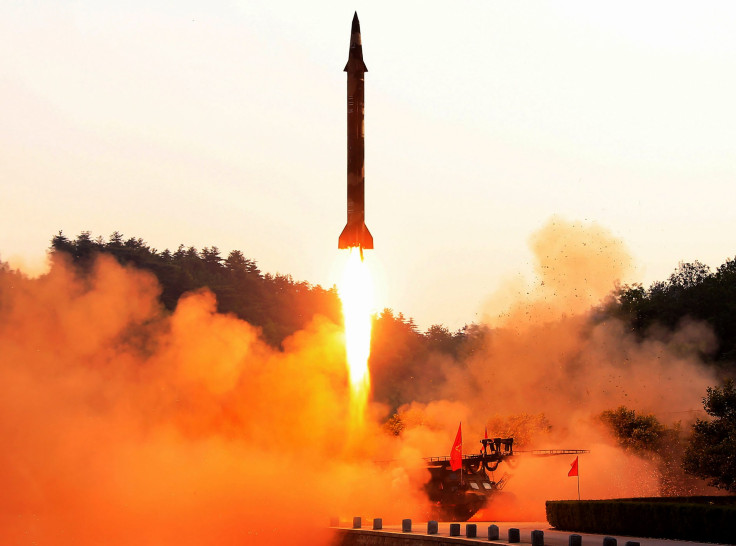 According to latest reports, after conducting its last intercontinental ballistic missile (ICBM) test less than six months ago, North Korea is currently working on an advanced form of KN-20 ICBM that could potentially strike the United States.
Anonymous U.S. officials spoke to CNN, stating that North Korean leader Kim Jong Un's regime is working to improve their missile and nuclear weapons attack capability and by 2018, it could be affixing miniaturized warhead on top of an intercontinental missile, designed to target the U.S. mainland. In the light of accelerated weapons program by Pyongyang, many people working for the Trump administration have sounded the alarm regarding an impending threat to the nation.
"In terms of a sense of urgency, today, North Korea certainly poses the greatest threat," Gen. Joseph Dunford, chairman of the Joint Chiefs of Staff, recently testified to Congress. Defense Secretary James Mattis said, "North Korea has accelerated the threat that it poses to its neighbors and the world through its illegal and unnecessary missile and nuclear weapons programs."
Additionally, advancement in North Korea's nuclear fuel, missile launchers, guidance, and targeting systems are also underway. In the meantime, U.S. remains adamant on not accepting a nuclear North Korea under any circumstances. During President Donald Trump's upcoming tour to Japan, South Korea, China, Vietnam, and the Philippines, the growing threat from North Korea is going to be a hot topic of discussion, according to CNBC.
Although North Korea is testing out various prototypes of ICBM, experts believe that it is far from perfecting the technology that can be deemed operational. "I think North Korea has definitely demonstrated improved capability in its testing the past several months," Terence Roehrig, a professor at the U.S. Naval War College, told the Korea Times. "However, I am not convinced they yet have an operational ICBM but they will continue working on it and if they do not have that capability now, they will at some point in the future.
North's goal is to develop an ICBM with a range of about 6,213 miles so that it can strike the U.S. mainland. However, in the last missile test conducted by North Korea on July 28, the ICBM reached a maximum altitude of 2,299 miles which hinted to the fact that the Pyongyang has a long way to go when it comes to reaching its military goal.
Nevertheless, David Wright, co-director of the Global Security Program at the Union of Concerned Scientists, had opined that the ICBM, launched by North Korea during its first testing (July 4), which flew to an altitude of 1,739 miles before landing in the East Sea, could have flown up to 4,163 miles if it had been launched on a standard trajectory, not at a steep angle.
Roehrig also did not believe that Kim 's regime had perfected the warhead re-entry technology, despite the two missile tests demonstrating a dummy warhead successfully re-entering the atmosphere. This is because implementing the technology when it comes to ICBM is a lot more difficult. "North Korea has a re-entry vehicle for its short and medium-range missiles, but this is a more difficult challenge for an ICBM," he said. "Guidance systems are another challenge. There are many things that have to work in the proper order for a successful ICBM capability."
© Copyright IBTimes 2023. All rights reserved.