North Korea Unlikely To Give Up Nuclear Weapons; DNI Calls Denuclearization Of Korean Peninsula 'Lost Cause'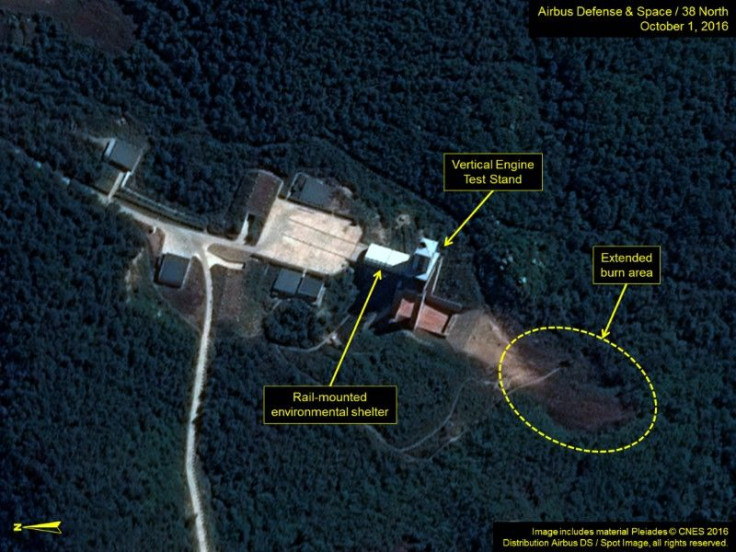 Getting North Korea to give up its nuclear weapons likely won't happen despite the State Department's determination to seek "verifiable denuclearization" of the Korean peninsula, Director of U.S. National Intelligence James Clapper said Tuesday.
"I think the notion of getting the North Koreans to denuclearize is probably a lost cause," Clapper said at the Council on Foreign Relations think tank in New York. "They are not going to do that — that is their ticket to survival."
Pyongyang has conducted a series of missile and nuclear tests, including a Sept. 9 nuclear explosion, despite international sanctions. The U.S. and South Korea said they detected two failed missile tests earlier this month.
Clapper described North Korea as paranoid and under a siege mentality.
"The best we could probably hope for is some sort of a cap, but they are not going to do that just because we ask them. There's going to have to be some significant inducements," he said.
Joseph DeTrani, a former top U.S. intelligence specialist, said North Korea is unwilling to talk with the U.S. about its nuclear program in the near future. DeTrani met with senior North Korean diplomats in Malaysia last week and told Bloomberg by email Tuesday those diplomats are convinced of the need for nuclear deterrence, "given the hostile relationship with the U.S." He said, however, it is his sense Pyongyang might be open to talks down the road.
"Getting them to denuclearize would be difficult, given where they are with their nuclear weapons, but their seeming concern about their security and sanctions that are biting might motivate them to revisit the September 2005 Joint Statement," said DeTrani, who brokered that deal, in which North Korea promised to abandon its nuclear program.
Clapper said the United States should make a better effort to get information into the country to convince the populace they are not under imminent threat, the Yonhap News Agency reported.
North Korea has said it intends to be able to launch missiles against the United States but has yet to test its KN08 intercontinental ballistic missile.
State Department spokesman James Kirby told reporters the U.S. position has not changed, despite Clapper's remarks.
"Our policy objective is to seek to obtain a verifiable denuclearization of the Korean peninsula. That is the policy; that is both the goal and what we want to see and there is a way to do that," Kirby said.
North Korea complained Monday U.N. efforts to increase sanctions as a result of the September test are "criminal" and accused the United States of being behind the effort. The U.N. has had sanctions in place against the North since 2006.
"The sanction resolutions of the U.N. Security Council are illegal criminal documents," Pang Kwang Hyok, vice director of the department of international organizations at the North Korean Ministry of Foreign Affairs, told an Associated Press TV crew in Pyongyang.
"These resolutions determined that our nuclear tests and satellite launches pose threats to international peace and security, but then the problem is why has the U.N. Security Council never taken issue with the nuclear tests and satellite launches conducted by other countries," Pang said.
© Copyright IBTimes 2023. All rights reserved.