North Korea's Growing Anti-American Propaganda Art Scene [PHOTOS]
When one thinks of North Korea, a booming art scene is likely not what comes to mind. Though people aren't clamoring to visit Pyongyang's art scene, the North Korean capital is home to a few unique works of art. The most recent addition came on Tuesday, when North Korea added a wax figure statue of the late leader Kim Jong Il to the nation's collection of art and sculptures.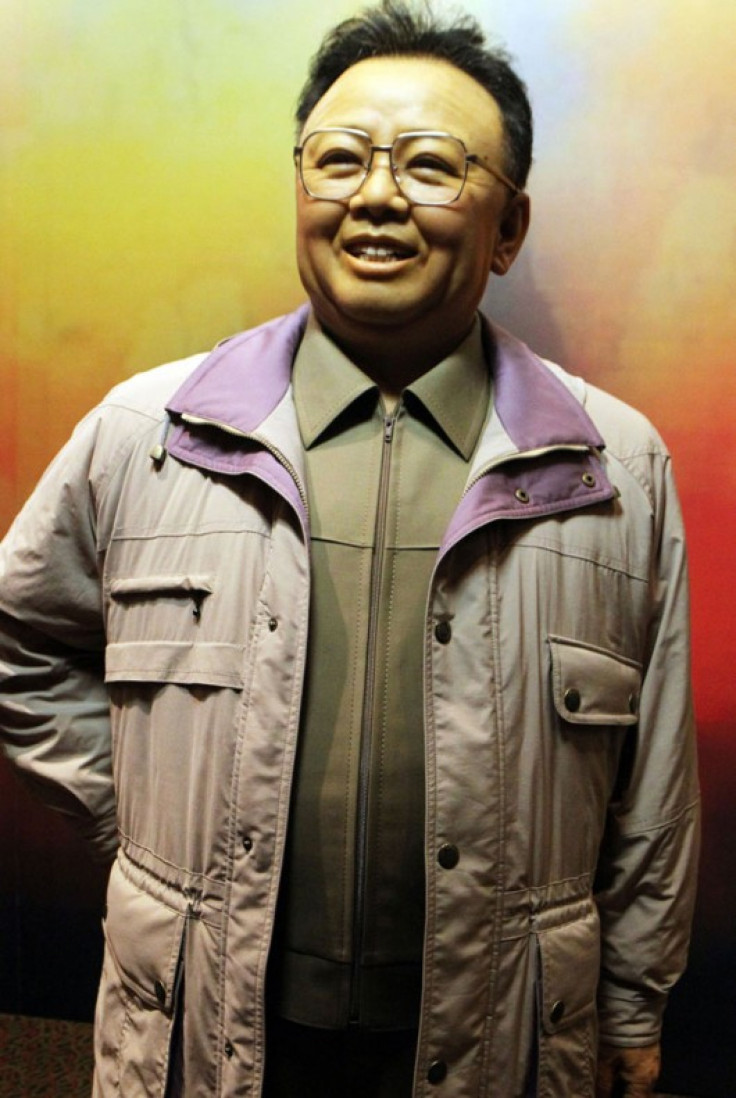 The statue, which was given to the North by its big ally, China, was made by China's Great Man Wax Museum. A gifting ceremony was even held in Beijing, at which North Korea's vice minister of science education and an additional delegation were in attendance. According to Chinese news sources, the delegation praised the Chinese people's kindness in choosing to commemorate their deceased leader. According to China Daily, the astonishingly realistic statue will be displayed in Pyongyang's International Friendship Exhibition on July 27, marking the 60th anniversary of the Korean War.
Kim's wax figure, though a nice gesture, is just one of the 20,000 statues and other pieces of propaganda art that the pariah nation already has. According to the Global Post, North Korea loves erecting statues: It has more than 80 massive statues of Kim Il Sung, known by North Koreans as the Great Leader and the country's founding father. The other several thousand statues are dispersed throughout the country as a constant reminder of the original Kim's supremacy in the country.
In April 2012, Pyongyang made an even larger addition to the country's collection, a $10 million bronze monument of the Great Leader's son, Kim Jong Il, and current leader Kim Jong Un's father and predecessor, four months after his death. As a result, similar statues of Kim Jong Il have been found around the country as well.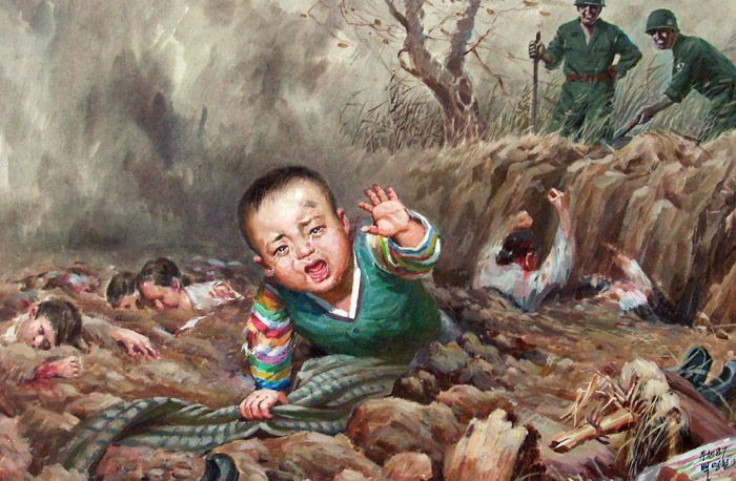 But not all of the country's art is just centered on the nation's leaders; some of it is about depicting their enemies as murderers, namely Americans. Some battlefield propaganda paintings depict gruesome scenes from what North Koreans call the "Fatherland Liberation War," also more popularly referred to as the Korean War, which took place from 1950 to 1953. Images depict soldiers with the letters "US" affixed to their uniforms pointing a gun at a young girl crying over dead bodies, in addition to other grisly scenes.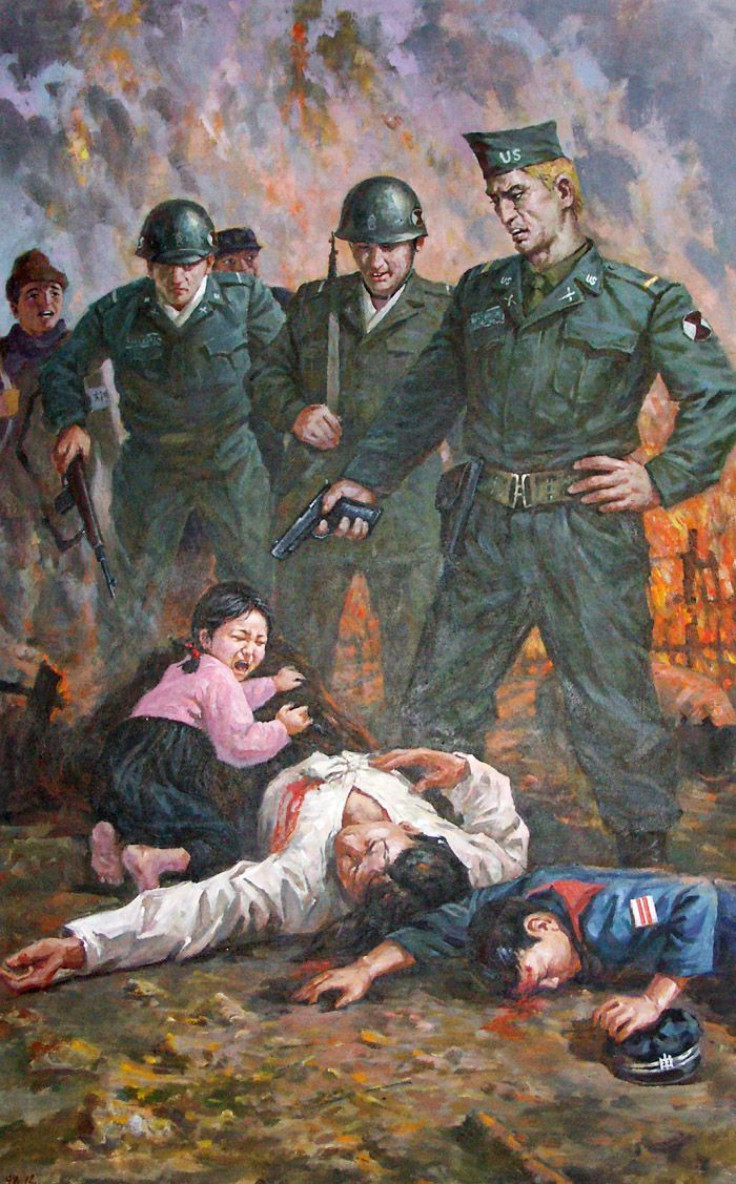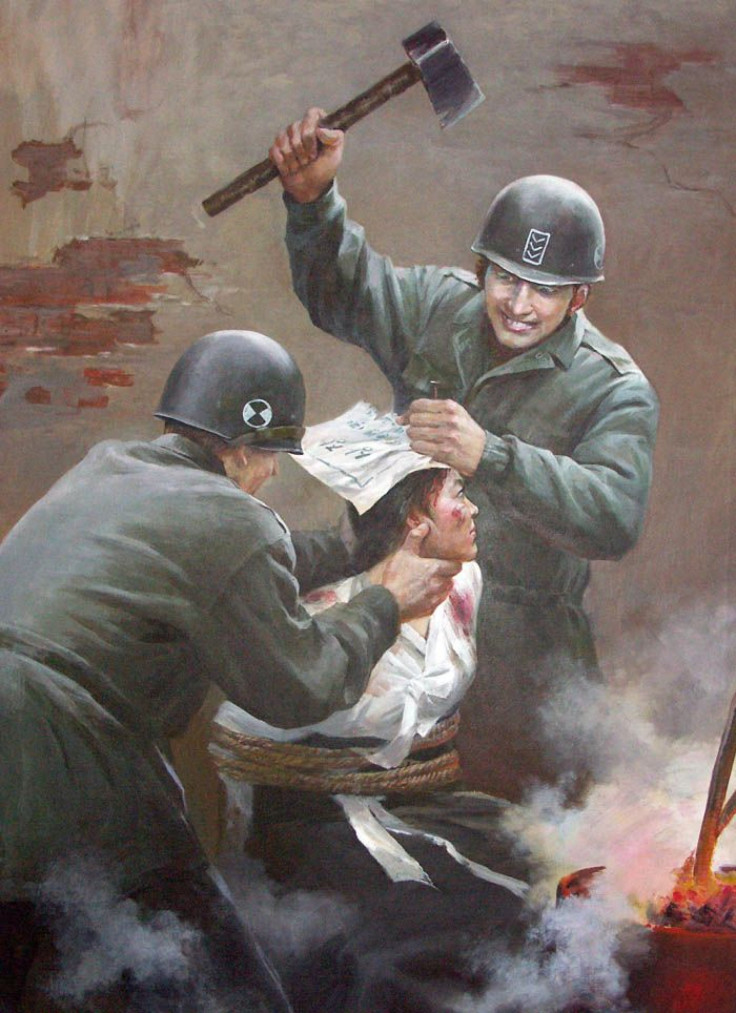 More battlefield paintings can be viewed here.
© Copyright IBTimes 2023. All rights reserved.