Norway Remembers Victims Of Breivik Massacre On Anniversary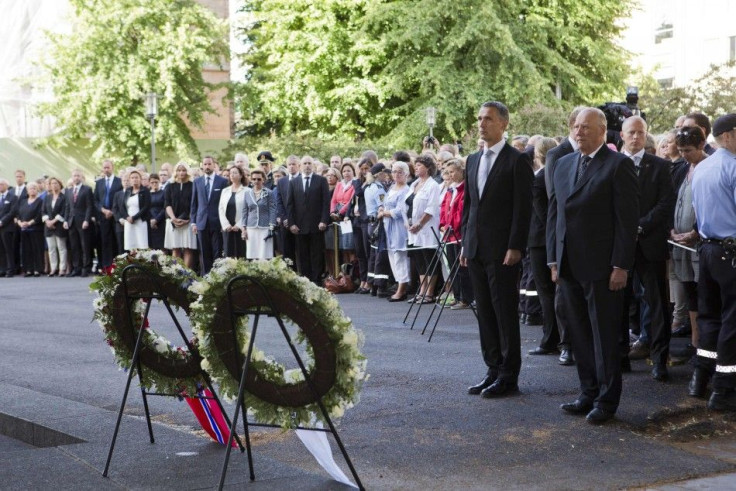 Amid tight police security, 1,500 victims and relatives visited Norway's Utoya island Sunday to commemorate the anniversary of right-wing extremist Anders Behring Breivik's rampage.
Breivik killed 69 people in a shooting spree on the island and eight others in a bomb attack against the government district in Oslo.
Many also gathered in the streets of Oslo to show respect to the victims and to place flowers in their memory in a grove outside the Oslo Cathedral, The Wall Street Journal reported.
On Utoya, members of the Labor Party youth wing bowed their heads in respect of their lost comrades as their leader asked for one minute of silence in commemoration, on the tiny, green, heart-shaped island in Lake Tyrifjorden some 40 kilometers (25 miles) northeast of Oslo.
Renate Tårnes, 22, witnessed her boyfriend Sondre Haller being shot dead in front of her last July 22. Sunday, she was back on the island, singing two songs in memory of him and the scores of other friends who were killed there.
Days and years pass, and those who live will see, she sang in front of several hundreds of party members, gathered on the slope in front of the Utoya stage, the site of many historical speeches.
It wasn't a nightmare. It was reality, said Labor youth party leader Eskil Pedersen, reminding his comrades about all the good memories they also had from the island.
In Oslo, the square outside the government block was thoroughly searched with bomb dogs before a wreath ceremony Sunday morning. A few hundred people showed up, among them the families of the eight who died there, who also had their own ceremonies later.
King Harald and Queen Sonja, the crown prince and princess, most of the country's government ministers and four former prime ministers also joined the ceremony. One of them was Gro Harlem Brundtland, whom Breivik had planned to behead on Utoya, but who left the island before he arrived.
The king, who was in tears during a church service after the terror attacks last year, laid a wreath of white roses.
Prime Minister Jens Stoltenberg said the perpetrator didn't succeed.
The bomb and the shots were meant to change Norway, he said in a speech at the wreath ceremony. The Norwegian people answered by embracing our values. The perpetrator failed. The people won. Today we commemorate the 77 who were killed.
© Copyright IBTimes 2023. All rights reserved.