A Notre Dame – Alabama BCS National Championship Game Could be the Biggest in College Football History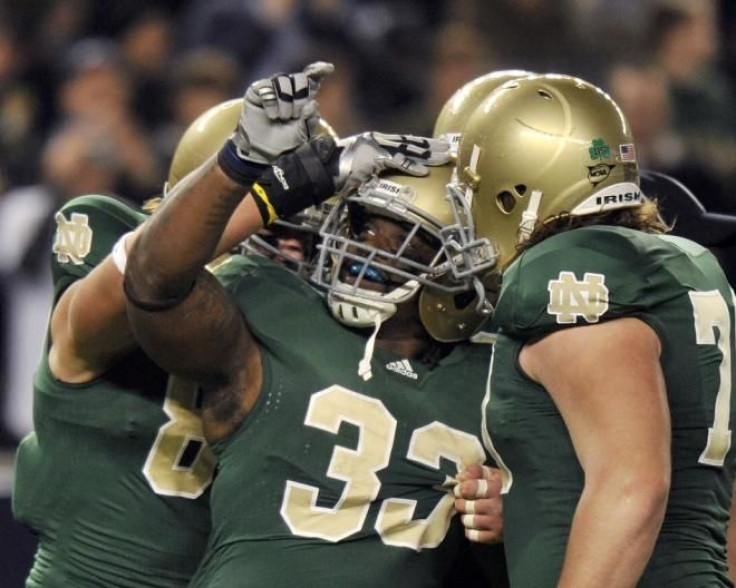 A few weeks ago, Notre Dame was considered to be the weakest undefeated team in the NCAA. Now, the Fighting Irish are the only team without a loss college football.
At 11-0, Notre Dame sits atop the NCAA, ranked No.1 in the BCS rankings for the first time in school history. The Irish made the move when Oregon and Kansas State both suffered losses on Saturday.
One-loss Alabama is at No.2 overall in both polls. With one game left on each team's regular season schedule, Notre Dame and Alabama look to be a collision course to face off in the 2013 BCS National Championship Game.
If both teams take care of business to close out their schedule, they could be a part of the biggest college football game in history. Jimmy Vaccaro, a Las Vegas bookmaker for 37 years, said the game could break records.
"Bookmakers will be pulling for a Bama-Notre Dame BCS title game," tweeted Vaccaro. "It would be the biggest handle college game we've ever booked."
The national title game will likely feature two of the biggest names in the sport. Despite their lack of recent success, Notre Dame is still one of the most popular teams in the country. Their games are still broadcast nationally on a weekly basis on NBC.
No college football team has been as successful as Alabama, since Nick Saban took over in 2007. The Crimson Tide has won two of the last three national championships. Alabama also had a Heisman Trophy finalist in each of those years, with Mark Ingram winning in 2009.
Alabama's recent success would make them a heavy favorite in a potential matchup with Notre Dame. According to Vaccaro, the Crimson Tide would open up as 10.5 or 11-point favorites, with the betting line, possibly, moving all the way up to 13 points.
Even with Notre Dame's perfect record, they would be underdogs against a number of potential national title game opponents. RJ Bell of Pregame.com reports that the national championship point spread could have Notre Dame as underdogs against eight possible opponents.
Both Alabama and Notre Dame are expected to win the final games on their schedule. Alabama is set to take on Auburn, and Notre Dame will face USC without Matt Barkley.
© Copyright IBTimes 2023. All rights reserved.