Notre Dame Vs. Alabama: Where To Watch Live Online Stream, Preview, Betting Odds, Prediction For Discover 2013 BCS National Championship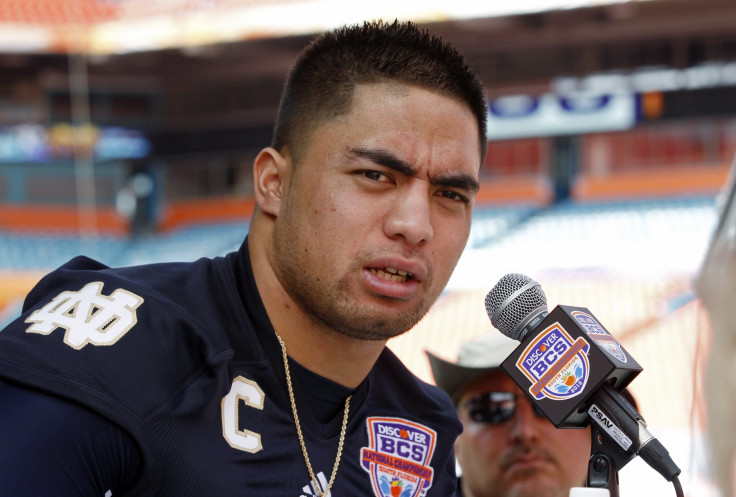 The two most storied college football programs pit their top ranked defenses against each other Monday night as the Notre Dame Fighting Irish take on the Alabama Crimson Tide at Sun Life Stadium in Miami for the Discover Bowl Championship Series National Title.
Alabama head coach Nick Saban will try to capture back-to-back national titles, a feat never accomplished, while Brian Kelly looks to complete the Fighting Irish's miraculous turnaround after so many down seasons. Saban hopes to capture his fourth career national championship, a feat accomplished by only four other coaches in history.
The Crimson Tide game plan since Saban took over has been defense and rush. Running backs Eddie Lacy and T.J. Yeldon took care of the rush, with each tallying 1,000 yards seasons and a combined 27 touchdowns.
Quarterback A.J. McCarron continued to develop throughout the year and didn't throw an interception until 10 games into the season, when Alabama fell to Johnny Manziel and Texas A&M. McCarron totaled 2,669 yards and 26 touchdowns for the Tide's 13 th ranked offense.
Tide season-tackle leader, linebacker C.J. Mosley, will try to contain all three. Mosley was named the team MVP for his timely playmaking throughout the season. It was Mosley's late tip in the fourth quarter against Georgia in the SEC title game that assured Alabama a date with the Irish in Miami.
No. 1 Notre Dame is on the verge of its first national title in 24 years, and the same winning philosophy of the Tide.
Led by Heisman finalist Manti Te'o the undefeated Irish were first in the nation allowing 10.3 points per game. Te'o led the Irish with a team-high seven interceptions and 103 tackles, while overcoming the deaths of his grandmother and girlfriend during the season.
Sophomore quarterback Everett Golson slowly matured throughout the season, and became a strong leader in the locker room, especially after Notre Dame's narrow overtime win over Stanford and a triple overtime victory against rival Pittsburgh that would've bounced them out of the BCS picture.
Golson finished the season wtih 2,135 passing yards and 11 touchdowns to five interceptions, while running backs Theo Riddick and Cierre Wood rushed for a combined 1,620 yards and nine scores.
The game kicks-off at 8:30 p.m. EDT and will be broadcast by ESPN, or you can watch their live online stream at Watch ESPN here.
Betting Odds: Alabama is favored by 9.5 points
Over/Under: 40.5 points
Prediction: The Irish are capable of pulling off an upset, but need Golson to avoid turnovers and for Riddick and Wood to have the best games of their young careers against the nation's most talented defense in Alabama. The Tide can control the clock with their rush and should pull away with a big first half, and hold off any late Notre Dame rally.
Predicted Score: Alabama 23, Notre Dame 10
© Copyright IBTimes 2023. All rights reserved.