NRA Silent After Newtown Massacre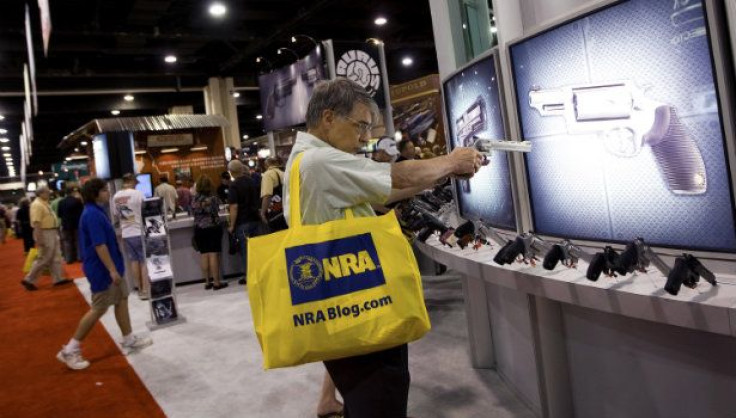 All over social media, the response to Friday's massacre in Newtown has been loud and tearful. On Facebook, Twitter, YouTube, and other platforms, users have asked why so many precious young souls had to die, and why so many defend Adam Lanza's rights to own automatic weapons.
Normally, in the face of gun criticism, Second Amendment supporters and the gun lobby are swift and vocal, uniting in rhetoric to preserve what they claim is a vital component of their individual liberty.
After the Newtown massacre, however, the NRA and other major gun rights group have been conspicuously silent. No condolences. No defiant stands. No major announcements.
Just silence.
The NRA, the nation's largest gun lobbying group, which claims 4.3 million members and who spent $24 million, according to the Boston Globe, in the last election cycle, even went so far as to delete its Facebook page. It also disabled comments on its Google+ and YouTube pages, and it hasn't tweeted since Friday, when it offered followers a chance to win a flashlight.
On the media circuit, NRA leaders have been noticeably absent. None of them hit the Sunday talk circuit.
Earlier this month, when a gunmen killed two at a mall in Oregon, the NRA resumed tweeting a day later. When a shooter murdered six in a Sikh temple in Wisconsin in August, the NRA was back on Twitter the next day.
Why silence after Newtown?
"There's absolutely nothing you can say here," Peter Shankman, who authors books about how companies can use social media, told the Huffington Post. "If I were advising them, I'd tell them to be quiet."
Shankman says at this point, any condolences would be disingenuous and sardonic.
Hogan Gidley, a Republican strategist who's worked with Rick Santorum, believes the gun group's silence is a tactical move meant to shield it from a public lashing.
''The NRA's probably doing a good thing by laying low," Gidley told the Boston Globe. "Often after these tragedies, so many look to lay blame on someone, and the NRA is an easy whipping boy for this."
As the NRA remains in the stable, possibly readying itself for the fight ahead, anti-gun groups are out in full force.
Across Twitter, hashtags like "NoWayNRA" have taken off. Outside of the NRA's lobbying headquarters in Washington, D.C. on Monday, 300 protestors gathered to decry the group and mourn the 26 lives lost in Newtown.
"These were 20 babies. I will be at every rally, will sign every letter, call every congressman going forward," Gayle Fleming, a real estate agent from Arlington, Va., told the Boston Globe.
© Copyright IBTimes 2022. All rights reserved.
FOLLOW MORE IBT NEWS ON THE BELOW CHANNELS