NYC COVID-19 Variant May Potentially Infect Vaccinated People: 'We Need To Figure It Out'
KEY POINTS
Scott Gottlieb discussed a new COVID variant that could potentially reinfect those who were previously diagnosed or vaccinated
He said a "fourth wave" is unlikely to happen with the rate vaccines are being administered
He earlier highlighted the need to continue wearing face masks at this point in the pandemic
A former head of the Food and Drug Administration (FDA) has warned that a new COVID-19 variant may be causing new outbreaks in New York City and suggested that it may be capable of reinfecting those who were previously diagnosed with the virus.
In an interview with Margaret Brennan on "Face the Nation," Dr. Scott Gottlieb, who led the FDA from 2017 to 2019 in the Trump administration, said that though it is a "good sign" that hospitalizations across New York have gone down, testing has also "plummeted" and certain parts of New York City are experiencing a surge in cases.
The doctor expressed concern over B.1.526, the scientific name for the coronavirus variant first detected in New York, and how it may be fueling new outbreaks. But he noted that there is not enough data to conclude whether it has been infecting those who have been vaccinated or potentially reinfecting those who've previously had COVID-19.
"What we don't understand with 1.526 is whether or not people are being reinfected with it and whether or not people who might have been vaccinated are now getting infected with it," the former FDA commissioner said Sunday.
"One of the concerns about this particular variant is that it has that mutation that's also in the South African variant, in the B.1.351 variant, that we know in certain cases is causing people who have already had coronavirus to get reinfected with it," he explained.
Gottlieb said 50% of new COVID-19 cases in New York are due to virus variants, with B.1.526 being the most prevalent strain. He believes the Centers for Disease Control and Prevention (CDC) should assist the city health officials in sequencing virus samples in order to get a clearer picture as quickly as possible of how the new variant is spreading.
"They need to be aggressively marketing to doctors, asking doctors to come forward and report cases when they're seeing situations where people were previously infected with COVID maybe getting re-infected," he said.
On the upside, the doctor mentioned that the country is doing well in terms of rolling out vaccines to states and cities, adding that 70 million Americans have received at least one dose -- enough to prevent a possible fourth wave from occurring. However, Gottlieb added that his predictions would likely change if research proves that a new variant has the ability to reinfect people.
"The only thing that can be a real game-changer here is if we have a variant that pierces prior immunity, meaning it reinfects people who've either already been infected or who have been vaccinated, like the 1.351 variant, older P.1 variant, the one in Brazil," he said.
Before ending the interview, Gottlieb reiterated the need to have a better understanding of B.1.526 as it could be the kind of variant that is able to bring a massive surge in cases or even a dreaded fourth wave.
"But 1.526, the reason why people are concerned about it, including me, is it could be such a variant. We need to figure it out. We don't know right now. We need to get better at determining these things," he concluded.
This comes just days after Gottlieb highlighted the need to continue wearing face masks amid the ongoing vaccinations.
"We need to be careful this month. I don't think that this is the time to start lifting ... the simpler mitigations like wearing masks, things like that," he told CNBC's "Squawk Box."
"In April and May, things may look much more clear and it may be obvious that we can take our masks off," he continued. "Right now, it's not quite as obvious."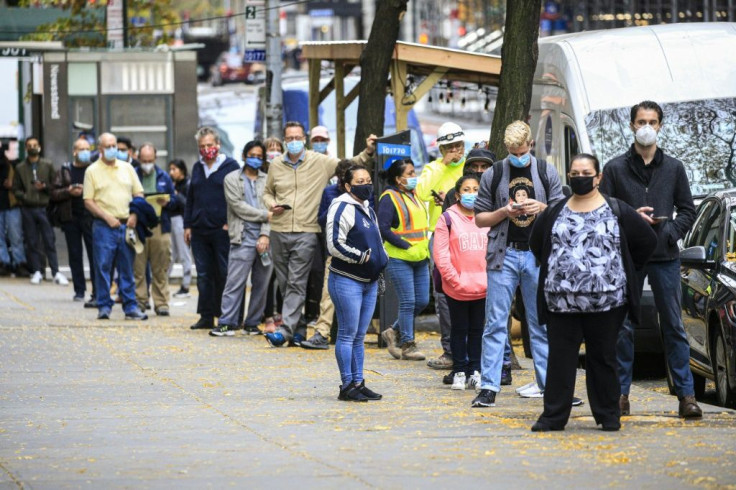 © Copyright IBTimes 2023. All rights reserved.
FOLLOW MORE IBT NEWS ON THE BELOW CHANNELS