NYC Mayoral Candidates Butt Heads Over Issues Affecting Low-Income New Yorkers [WITH PHOTOS]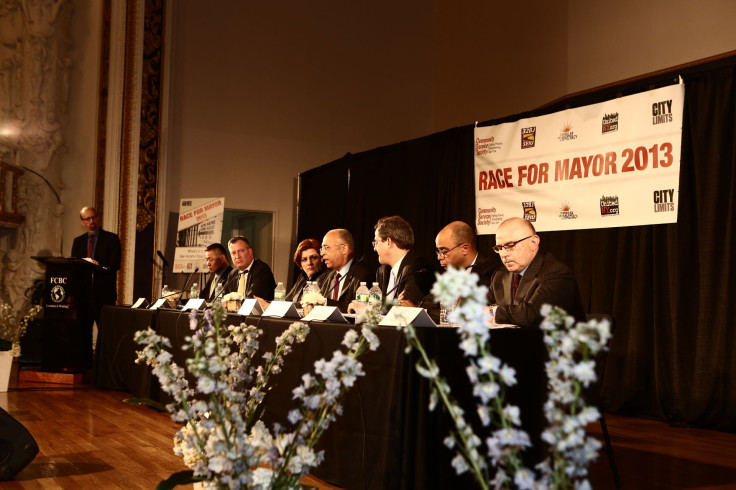 The 2013 New York City mayor's race is on.
Seven of the leading candidates -- both declared and potential -- to replace Michael Bloomberg when his third term as New York City mayor comes to a close at the end of the year sat down for a lively forum Thursday evening in Harlem to discuss issues affecting low-income New Yorkers.
And the event, moderated by WNYC host Brian Lehrer, turned out to be a rare opportunity for city residents at the lower end of the income scale to hear from their would-be mayors about their platforms for assisting people like them.
Who showed up
A few leading candidates were conspicuously absent from the event, including declared Republicans like Gristedes supermarket chain owner John Catsimatidis and former Metropolitan Transportation Authority Chairman Joseph J. Lhota and potential Democratic challengers like disgraced former Congressman Anthony Weiner and a former director of the Port Authority of New York and New Jersey, Christopher O. Ward.
The four most visible Democratic candidates, however, did show up, and the event, hosted by the Community Service Society and dubbed the Race For Mayor 2013 forum, turned out to be a rousing preview of the 2013 mayoral race.
Those four top Democratic contenders -- City Council Speaker Christine Quinn, City Comptroller John Liu, former City Comptroller Bill Thompson and City Public Advocate Bill de Blasio -- were joined at the forum by Democratic former City Councilman Sal Albanese, as well as Liberal Party candidate and newspaper publisher Tom Allon and Independent Party candidate and former Bronx Borough President and City Councilman Adolfo Carrión Jr., both of whom may run on the GOP ticket.
Workers' Issues
The majority of the forum was focused on concerns directly related to the city's working class, the stated focus of the event.
A lengthy discussion of potential increases to the living and prevailing wages (issues that would most likely be tackled at the state and federal levels, but over which the new mayor would wield a large amount of influence) drew lively responses from the audience, which packed the First Corinthian Baptist Church with a range of folks dominated by local residents and union members.
Quinn, who is seen by most observers as the leading candidate in the Democratic primary, gave a strong statement on the issue that drew some of the only heavy applause she received all night. Perceived by some as too close to Bloomberg -- who will more than likely endorse her in the 2013 mayoral race -- Quinn has an uphill battle to make inroads into low-income communities outside of her solid base in Manhattan below 96th Street.
"The first thing I would do as mayor is drop the lawsuits against the living wage and the prevailing wage laws," she said, adding, "for now I think we should be focused on getting the state and federal minimum wage to $9 [per hour.]"
But Liu, a Taiwanese immigrant who still lives in Flushing, Queens, and is attempting to overcome the difficulties posed by a continuing FBI investigation into his campaign finances, offered the boldest statement on the topic as he is the only one of the forum's four highest-profile candidates who endorsed taking immediate steps to raise the minimum wage to more than $9 per hour.
"Nine dollars pays for a lot more in Buffalo than it does in New York City," he declared as a large contingent of the audience chanted his last name. "In New York City we need a minimum wage of $11.50 or higher."
Albanese, who repeatedly brought up that he introduced one of the nation's first living wage bills -- which would have raised the rate to $12 -- while he was a member of the City Council in 1996, was also on board with a higher figure.
Thompson refused to endorse a higher amount, stating, "I agree with the president of the United States, and I think $9 is a good number."
And de Blasio also stuck to the $9 per hour figure, though he, Quinn and Thompson did each offer impassioned defenses of the principle of the minimum wage.
"Some people will throw at you that it's not the government's place to come between employees and businesses, but I think it's the government's place to ensure economic justice," de Blasio stated.
While on the topic of economic justice, the candidates also addressed the paid sick leave bill that has stalled in Quinn's City Council. Quinn was the only one of the leading four contenders to refuse to endorse legislating paid sick days for workers, arguing that the economy needs to recover more fully before she will support it.
Thompson, on the other hand, said passing the legislation is of critical importance.
"I support paid sick [days]," he said. "I believe we need to move forward right now."
Liu and de Blasio also expressed fervent support for the legislation.
Stop, Question & Frisk
One of the most divisive issues in New York City politics today is over the NYPD's controversial "stop, question and frisk" (commonly known as "stop and frisk") program, which is aimed at getting guns off the street but has been shown in studies not to result in arrests the vast majority of the times it is implemented and to disproportionately target minorities.
Again, Liu was the outlier on this issue, declaring that "stop and frisk ... needs to be ended," not simply amended.
"You can't deny that racial profiling is going on," he said. "We've got to put an end to this practice ... At the end of the day it makes everybody less safe."
Both Thompson, who is black, and de Blasio, whose wife is black, told moving stories about their shared belief that they had to discuss the controversial program with their sons because of their color, but neither of them came out to say the practice should be halted.
"I haven't said 'end stop and frisk,' but it's a policy that needs to be evaluated and refined," Thompson said.
"We need to bring down the number of stop and frisks," de Blasio stated, adding that "the overuse of stop and frisk has set back the relationship between community and police that we've worked on for years."
Quinn said that if she is elected mayor she will take steps to rein in the program.
"The number of stop, question and frisks -- off the charts, way too high," she said. "We have to continue our efforts to put a much tighter structure around when stop and frisks can happen."
But Allon outlined a defense of what he sees as the program's benefits that brought about angry yells of "they kill us" and "it doesn't work" from audience members.
"This is a safe city," he said, speaking over the jeers. "Stop and frisk has to be looked at very closely, but we can't throw it away."
Affordable Housing
The issue of affordable housing, which was touted before the forum as one of its key focuses, was nearly overlooked. But when Lehrer called for closing statements before most of the candidates touched on it, the crowd expressed loud displeasure, and he allowed each candidate 90 seconds to address the vital topic.
Thompson delivered an impassioned plea to increase affordable housing options citywide.
"What we need to do is focus on building, and building for affordability," he said. "Understand that [regarding] housing right now: We're in a crisis. People are commuting in from miles away because they can't afford to live in the city they work in."
Liu first addressed the topic in his opening remarks, calling for "a change in our economic development policy" and for the city to increase pressure on developers to build affordable housing in order for New York to better accommodate low-income residents.
And de Blasio started his opening remarks Thursday night with a Dickensian comment about the need for a range of policies to help working-class New Yorkers afford to live in their city.
"I've often said that we're living in a world of two cities, and this is a world that Mayor Bloomberg helped create," he said, adding later that "we need city policies that hold the private sector's feet to the fire. ... We need a new deal in this city."
Quinn, in her opening remarks, seconded Liu's call for major changes to the city's economic development policies, stating that "we need to reign in the Economic Development Corporation," and proceeded to lay out a comprehensive plan for increasing access to, and stock of, affordable housing units.
© Copyright IBTimes 2023. All rights reserved.
FOLLOW MORE IBT NEWS ON THE BELOW CHANNELS