Ocalan And Erdogan Seek Elusive Peace Between Turks And Kurds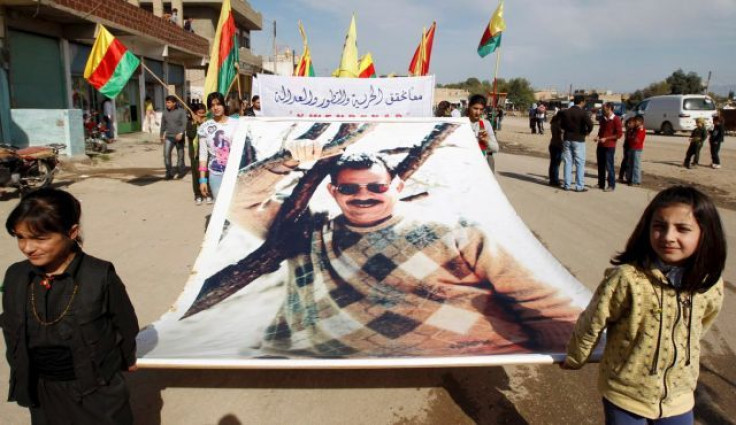 ISTANBUL -- If his party had been in power when the Kurdistan Workers' Party, or PKK, separatist leader Abdullah Ocalan was captured in 1999, he would have been executed, Turkish Prime Minister Recep Tayyip Erdogan said over a year ago.
Now he's changing his tune.
Ocalan, jailed for life in a Turkish prison, is alive. And the struggle of the Kurdish people for autonomy, which has left tens of thousands killed in a long conflict with the Turkish state, still draws breath.
The news now is that Erdogan is taking back his words and opening up a dialogue with the goal of reaching a peaceful settlement. And the man he's chosen as his counterpart is none other than the man he said he'd kill.
Entering his 14th year of solitary confinement for his role in co-founding the PKK, an organization classified as terrorist by the U.S., EU and NATO, Ocalan is serving a life sentence in a high-security prison on the island of Imrali. He had been sentenced to death after his capture in 1999 in Kenya, but that was later commuted to life in prison so that Turkey could continue the process of membership in the European Union, which forbids capital punishment.
Last year, the conflict saw a rising number of casualties; in 30 years, it has claimed up to 40,000 lives in 30 years.
As the conflict worsened, Erdogan's ruling Justice and Development Party (AKP) shifted its approach by reopening peace talks between the government, the pro-Kurdish opposition Democratic Society Party (BDP) and Ocalan himself. Erdogan would benefit politically from a deal ending such a murderous conflict, using it to catapult himself next year into a presidency with more power than it has today. His party is fighting hard for a constitutional change that would usher in the shift to a more American-style executive president.
Turkey's presidency today is mostly a ceremonial role, but under a proposal submitted by Erdogan's party to the parliamentary Constitutional Conciliation Commission, the president would have significant powers, including over the judiciary. If the proposal fails to get enough votes in Parliament, it may still be approved through a popular referendum.
In late February, the peace discussions came to a head; Ocalan met with a delegation from the BDP party, and sent back a 20-page handwritten letter suggesting a "road map" for peace.
Turkish newspapers published parts of the letter, which included a call for a cease-fire in March and a possible withdrawal of Kurdish militants from Turkey in August, to bases in northern Iraq.
"Neither we nor the state can abandon this process," Ocalan said in the letter, as quoted by BDP co-chair Selahattin Demirtas.
It's not the first time Turkey and the biggest organization fighting for Kurdish self-rule have sat down for talks. Between 2008 and 2011, government envoys conducted a secret peace process with the PKK in Oslo, Norway, which later broke down after records were leaked. The fact that the Turkish government is being open about the current peace process is a first for the public, and has raised hopes for a peaceful solution.
Erdogan's rhetoric has also played a part in swaying Turkish public opinion, traditionally opposed to deals with Kurds. In a recent address to his party, he said that he would go as far as "drinking hemlock poison" if it meant achieving peace.
The latest push in the peace process has also sparked confidence among many Kurds, according to Hevallo Azad, head of foreign and public relations at the Kurdish Federation UK, a London-based Kurdish organization.
"It is hard to know whether the Turkish media is publishing content based on what the Turkish government wants reported, but I'm strangely optimistic," Azad said.
One of those incidents of leaked materials from the talks making their way to the front pages occurred in late February, when a transcript of the meeting between Ocalan and the BDP delegation was published in the Milliyet daily. That leak threatened to break up the peace process as it did in 2011 during the Oslo talks.
Only parts of the meeting were leaked, suggesting the intent was to stall the peace process.
"I have a general problem with Ocalan's meeting notes," said Mehmet Aksoy, a Kurdish activist and public relations officer for the Halkevi Kurdish and Turkish community center in London. "Firstly, they have been edited from a four-hour meeting to a 10-minute read. You cannot analyze this and reach conclusions without filling in the gaps," he said.
The most provocative part of the transcript was Ocalan's comment that he would "wage a war [with] 50,000 people" if Erdogan can't solve the Kurdish issue.
In an analysis, journalist Cengiz Candar said those familiar with Ocalan's rhetoric will realize his comments about "waging a war" should not be taken as a threat against the state, but as a message to his own group that the peace talks will never be a surrender.
While the PKK has abandoned previous demands for autonomy, Ocalan continues to push for Kurdish rights within the framework of the new peace process. He has called for strengthening local administrations, and has asked for an end to the practice of stating ethnicity, Turkish or Kurdish, on national ID cards. He also wants a "truth commission" in Parliament to examine violations of Kurdish rights.
The damaging leaks didn't come from the AKP, if Erdogan and his deputy are telling the truth. The prime minister slammed the media for conducting a "dark operation against the government" and criticized the journalists who published the letters.
"Whoever tries to spoil the process inside the media is against me and my government," he said.
Deputy Prime Minister Bulent Arinc said the leaks would not stall the process, adding that they did not come as a surprise: "We were expecting incidents such as these when we set out on the road towards a resolution."
Still, skepticism remains on both the Turkish and Kurdish sides. "There are good, positive things being said by Kurdish politicians in the BDP, by Ocalan and by the PKK, but I don't think any of these three parties trust the AKP government and Turkish state on the whole," said Kurdish activist Aksoy.
Many Kurds are skeptical of the AKP's motives. The AKP needs BDP support for the constitutional reform, including the executive presidential system, it wants. But to win BDP approval, a new constitution must include historic steps toward Kurdish rights.
But that direction may prove unpopular with ethnic Turks, according to Turkish historian Cansu Yildirim. "Right now everything hangs in the balance," he said. "It could go both ways. If the AKP wants to succeed they need to be more transparent and win the trust of the Turks as well as the Kurds."
FOR FREE to continue reading
✔️ Unlock the full content of International Business Times UK for free
offer available for a limited time only
✔️ Easily manage your Newsletters subscriptions and save your favourite articles
✔️ No payment method required
Already have an account? Log in
© Copyright IBTimes 2023. All rights reserved.