Oil Spill In Ecuador Threatens Peru And Brazil Regions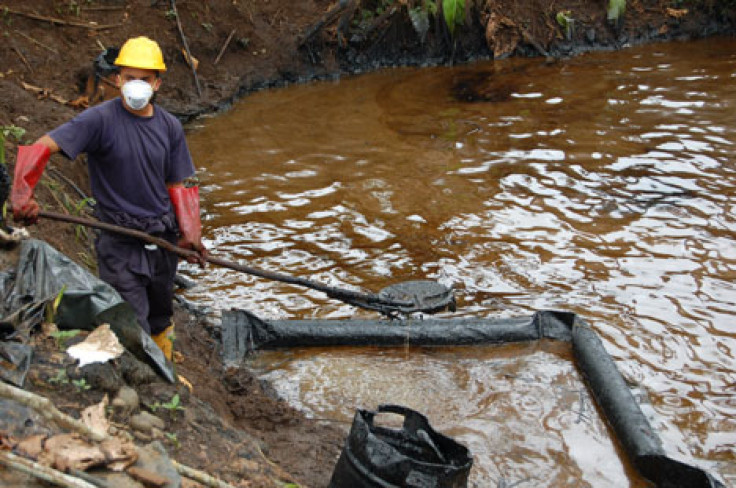 An oil spill that originated in Ecuador is streaming down the Amazon, reaching Peru and threatening Brazil. The threat prompted Brazilian authorities to declare a "state of alert" on Monday. Brazil's Foreign Ministry said its navy and other agencies have offered help to both Peru and Ecuador in case of an oil slick.
An estimated 11,480 barrels of oil leaked from a damaged pipeline on May 31 into the River Coca in Ecuador, and last week it reached the jungle region of Loreto in Peru, home to two national parks. Peruvian Environment Minister Manuel Pulgar Vidal told local newspaper El Comercio that it was a "very serious problem. If there is a serious level of affected areas, international law always gives you the possibility to establish … compensation, but first we have to look at the extent of the problem."
Over the weekend, Ecuador's President Rafael Correa even offered an apology to Peru "for the problems we have caused." As the oil stain approaches Brazil, the government is bracing itself for what may come. The authorities are not clear on the size of the spill, since they were first informed by Ecuador it was only 6,000 barrels. But as it went down the river stream it was shown to be much larger. The Brazilian Environmental Institute, the National Oil Agency and the Navy are already on guard "in case the stain does reach the country."
The Brazilian Ministry of Foreign Affairs also stated that help will be offered to both Ecuador and Peru, and Brazilian technicians and environmental experts will travel to both countries. "The embassies in Quito and Lima are in permanent contact with the authorities, and the Brazilian government will be up to the minute of what is going on," said the government in a statement, as reported by Ecuadorian newspaper La Hora.
The spill polluted drinking water in Coca, Ecuador, affecting an urban area of about 80,000 people. Petroecuador, an Ecuadorian refinery, said it has hired a specialist U.S. firm, Clean Caribbean & Americas, to begin cleanup operations.
Follow me on Twitter: @PReyMallen
© Copyright IBTimes 2023. All rights reserved.