Oldest Human Remains Found In Americas Are From Teenager Who Fell To Her Death In A Cave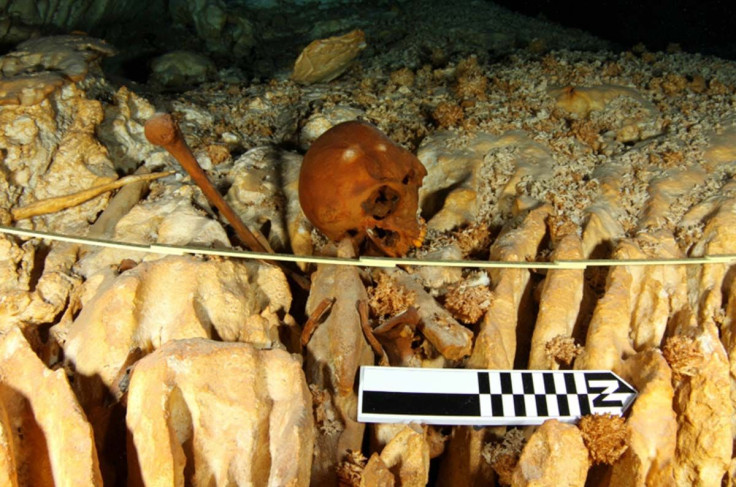 An ancient human whose skeleton was discovered in an underwater cave may have given birth before she fell to her death.
At a ripe old age of 13,000 years, her remains are the oldest human ones ever found in the Americas, according to Mexico's National Institute of Anthropology and History (link in Spanish), known by the acronym INAH. Nicknamed "Naia," the girl was 15 or 16 years old when she fell into a water-filled pit that's 180 feet deep and known as Hoyo Negro, or Black Hole. And we are learning more and more about her: Based upon recent analysis, including clues inside her public bone, experts now think Naia gave birth some months before she died.
Naia was found at Tulum, an archaeological site on the Yucatán Peninsula in southern Mexico, about two hours south of Cancún. The Associated Press reports that she was "pulled out of the cave bit by bit over the last several years."
Her nearly complete skeleton offers a lot of information to scientists, such as that she was about 5 feet tall and, when food was plentiful, weighed about 110 pounds.
Read: Inside the Mind of a Neanderthal
According to the INAH, that distinction is important — her teeth and long bones, which include strong ones like the femur in the leg, suggest she lived through periods of famine. The Mexican institute says this tells scientists that life was not easy for the early people who traveled over the now-underwater Bering Strait passage from Siberia to settle America. Rather, "It was extremely difficult and full of scarcity."
The scientists also say Naia once broke her arm, but the injury healed before she died.
See also:
Fossil of Ancient Head Shows How Humans and Neanderthals Evolved
© Copyright IBTimes 2023. All rights reserved.