Olympics 2012: Marti Malloy Wins Bronze In Judo Against Tough Odds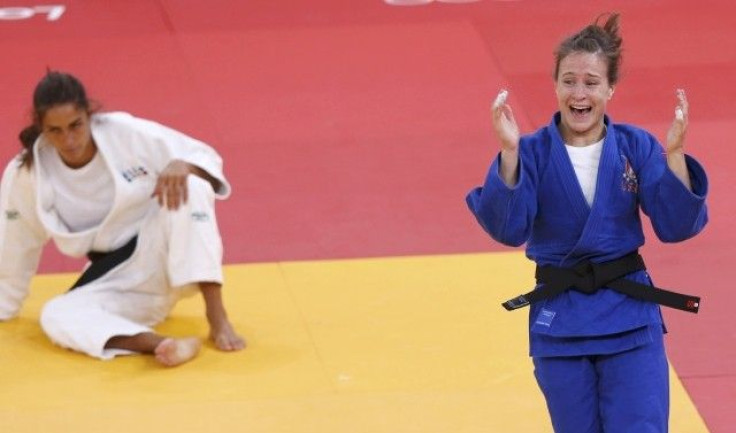 Marti Malloy may have missed out on a gold in the 2012 Olympics, but still she still made history on Monday when became only the second U.S. female Olympian to ever earn a medal in Judo.
After suffering a tough loss in the semi-finals to Corina Caprioriu of Romania, Malloy needed to have a resilient performance in order to rebound and earn a bronze medal.
Just over an hour after her semi-finals loss, Malloy found herself squaring off with the 2008 Olympic gold medalist Giulia Quintavalle of Italy.
Against tough odds, Malloy defeated the former gold medalist by ippon, the highest score a judo fighter can achiever, and earned bronze in the 125.7 pound weight class. The Washington-state native demonstrated the importance of being able to quickly shake off a tough loss, and proceed with confidence to the next match.
Even after earning an impressive bronze medal, Malloy still remains hungry.
"I'm definitely not going to stop doing Judo," Malloy told Liam McHugh of NBC Sports. The 26-year-old bronze medalist plans to continue to work towards taking the next step as a Judo competitor.
After a tiring performance in a long Olympic judo tournament, Malloy plans to relax and watch the rest of the Olympic events. Malloy expressed specific interest in observing the freestyle and Greco-Roman wrestling, sports that share similar aspects to Judo.
Malloy also expressed her interest in meeting former soccer star Brandi Chastain, who she describes as "such a nice lady."
© Copyright IBTimes 2023. All rights reserved.