Opinion: 49ers-Raiders Fight Shows Glaring Sports Fan Violence Problem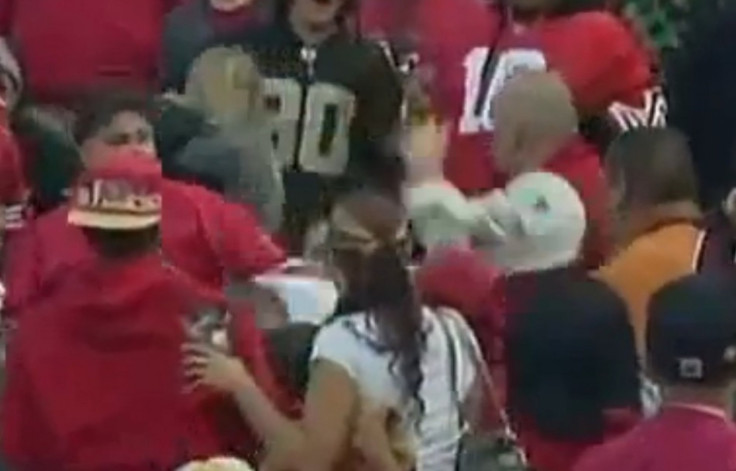 As a sports fan, you have to wonder - why bother going to the game anymore?
Tickets cost a lot, the prices of food, parking and amenities are even worse and the weather may not cooperate. Meanwhile, you can sit at home with a 50-inch HD screen, all of the food you could ask for at a reasonable price and watch the game from the comfort of your living room. Talk about a no brainer.
That's not the only thing that may keep me at home though. There's also the issue of fan violence at sporting events. As bad as the costs and discomfort of being squished in a stadium with 70,000 other people are, fan violence is much worse.
Going to games shouldn't feel like signing up for an amateur UFC fight, but that's the way it's starting to feel in certain cases.
The most recent case came about in Candlestick Park in San Francisco when the 49ers and Raiders faced off in a preseason game. Yes, preseason - as in the games don't count.
During the game, several fights broke out in the stands and in the parking lot. Two of the fights have been spread virally via YouTube videos and have made headline news. In one instance, there was a shooting. Two victims are now in the hospital, with one of them in a life threatening state.
Overall 39 people got arrested during the game. Because of the fights, the 49ers and Raiders are cancelling their annual preseason game. Tailgating is also being cancelled by the 49ers as well.
Unfortunately, the problem goes beyond the 49ers-Raiders scuffle. In Southern California, at a Los Angeles Dodgers-San Francisco Giants game, Giants fan Bryan Stow was attacked in the parking lot after the game by Dodgers fans. He has been in a medically induced coma ever since.
A simple YouTube search of fans fight brings up thousands of likewise videos at football, baseball, basketball, hockey and even tennis matches. This is not a singular incident problem. It's everywhere and it needs to be solved.
California Assemblyman Mike Gatto needs to be applauded for taking the first step. Gatto recently introduced legislation to deter assaults and fighting at sporting events.
With the two most recent prominent examples, the combatants were reportedly fighting for at least a couple of minutes until authorities stepped in. This is problem number one.
Security at these stadiums needs to be ramped up. If there are 1-2 security guards in each section, put four in there. Make sure there are uniformed officers in at least one section. Police officers need to do a better job patrolling the parking lots as well.
There are only so much police officers and security guards can do and that's why beer sales need to be limited at these events. At NFL games, beer sales are cut off by the end of the third quarter. It's time to make it the end of the second quarter. At baseball games, it's the middle of the 7th inning. It's time to make it the middle of the 5th inning. Will money be lost? Yes. But violence may be avoided.
If this doesn't work? Maybe it's time to ditch alcohol at the games altogether. Or perhaps, maybe tailgating needs to be eliminated like the 49ers have done. Most fans wouldn't like these actions but the truth is something needs to be done.
No one should feel unsafe at a ball game and it's time to act on that.
© Copyright IBTimes 2023. All rights reserved.