Opposition Activist's Murder Shakes Venezuela Before Election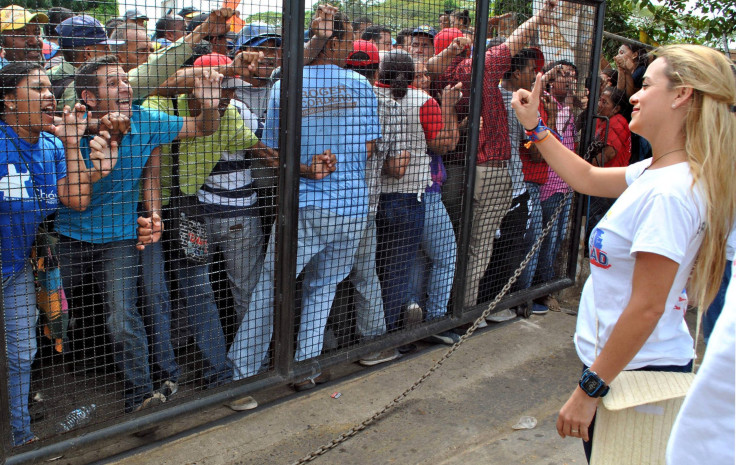 CARACAS (Reuters) - Venezuela opened an investigation on Thursday into the murder of a local opposition leader days before a legislative election, stirring fears of renewed political violence in the volatile South American OPEC nation.
Luis Diaz, a leader of the opposition Democratic Action party in Guarico state in Venezuela's central plains, was shot toward the end of a public meeting Wednesday night, the latest of several violent incidents during the campaign.
The Public Prosecutor's Office said two of its prosecutors, aided by police investigators, would lead the probe.
"There was a burst of 10 shots and he fell on the floor covered in blood," said Lilian Tintori, wife of jailed opposition leader Leopoldo Lopez, who was on stage near Diaz when he was shot.
Democratic Action is part of an opposition coalition contesting a Dec. 6 vote for a new National Assembly.
Polls show the ruling Socialists could lose the legislature for the first time in 16 years.
The high stakes have raised anxiety of a flare-up in political violence. Opposition protests last year sparked violence nationwide, killing 43 people and injuring hundreds.
Both President Nicolas Maduro's government and the opposition accuse each other of harboring a violent agenda.
South American regional bloc UNASUR, which has sent a mission to observe the election, condemned the killing.
"We call on the relevant national authorities to carry out an exhaustive investigation of this awful incident," it said.
The United States also condemned the murder and called on Venezuela's government to protect all candidates.
Democratic Action's national leader, Henry Ramos, originally pointed the finger at the Socialist Party for Diaz's death.
The Venezuelan government, however, said preliminary investigations suggested paid killers had murdered Diaz in a fight between gangs. State ombudsman Tarek Saab said police had identified a presumed "intellectual author" of the crime as a member of Diaz's rival union.
"Ramos' accusation is reckless," Maduro said, condemning the killing.
Tintori alleged she too had been the victim of two attempted attacks on Wednesday, including the dismantling of brakes on a plane her team was using.
The Democratic Unity coalition said three other opposition politicians had also been victims of aggression recently, including Henrique Capriles, who lost the 2013 presidential vote to Maduro after the death of former leader Hugo Chavez.
"The killing of Luis Manuel Diaz provides a terrifying view of the state of human rights in Venezuela," said rights group Amnesty International.
© Copyright Thomson Reuters 2023. All rights reserved.