Oregon-UCLA 2014: Prediction, Betting Odds And Preview For Pac-12 Football Game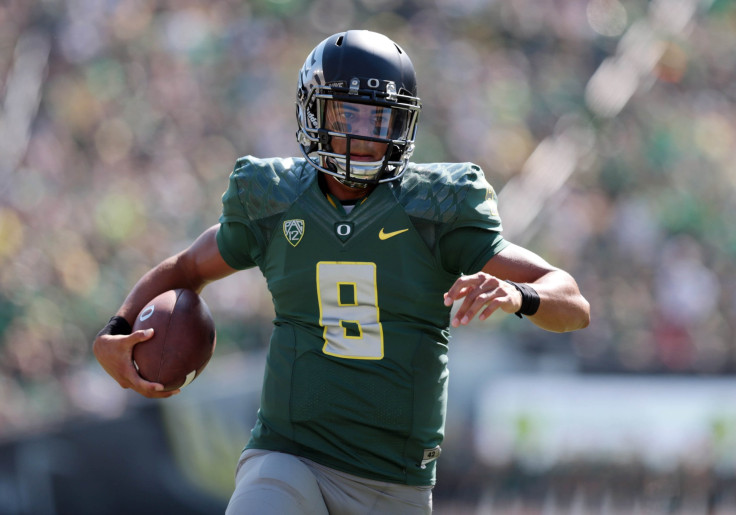 Neither the No. 12 Oregon Ducks nor the No. 18 UCLA Bruins could envision a Pac-12 blemish this early in the season or the need for a conference victory at this point either. But now both squads are in danger of falling out of the Pac-12 and College Football Playoff races.
Before the season began, many marked this game as a potential Heisman Trophy moment for either Oregon's Marcus Mariota or UCLA's Brett Hundley, now they'll be fighting for their respective seasons.
The rivals will meet Saturday afternoon at the Rose Bowl, with the winner keeping their national title hopes alive and the loser likely out of the running. Oregon plummeted 10 spots in the national rankings following their upset loss to Arizona, and the Bruins also slipped 10 spots after failing to erase visiting Utah's 10-point first-half lead.
The Ducks suffered their first loss of the season last week after falling to Arizona for the second straight year. Held scoreless in the first quarter for just the second time all season, the Ducks ninth-ranked offense struggled to score all game and went 4-for-14 on third down.
Oregon's defense also surrendered more than 30 points for the second straight week, allowing the Wildcats to score on three straight possessions to the start the second half.
Arizona may have found the best way to contain the Ducks is to make preseason All-American quarterback and Mariota one-dimensional. The junior went 20-for-32 for 276 passing yards and two touchdowns, but was limited to a season-low one yard rushing. Mariota did lead two successful scoring drives for touchdowns to tie the game at 24, but his fumble on Oregon's final possession erased any chance of a victory.
The Ducks are still averaging more than 200 rushing yards a game, but were held to a season-low 144 yards by the Wildcats and failed to score a rushing touchdown for the second straight game following the narrow seven-point victory at Washington State.
Hundley and the Bruins also nearly staged a 10-point comeback against the Utes. Hundley foun Devin Fuller on a 93-yard bomb early in the fourth quarter and his 40-yard strike to Eldridge Massington put the Bruins up by one point with less than five minutes remaining. But the UCLA defense subsequently allowed a 10-play, 63-yard Utah drive that killed the clock, and Utes kicker Andy Phillips launched a 29-yard field goal through the uprights.
Hundley went 16-for-21 for 269 yards with those two touchdowns and one interception, but was terrorized by Utah's Pac-12-best pass rush throughout the game. He was sacked 10 times, and now faces a Ducks defense that's third in the conference with 16 sacks, with two each from linebackers Tyson Coleman and Tony Washington.
Like the Ducks, UCLA also struggled on third down, converting five of their 12 attempts last week. UCLA's defense continued its troubles against the run, allowing 242 rushing yards, despite the presence of top linebackers Myles Jack and Eric Kendricks.
That pair will be responsible for trying to contain Mariota outside of the pocket, and Ducks running backs Royce Freeman and Thomas Tyner. Freeman leads Oregon with 346 rushing yards and five touchdowns and Tyner complements with 221 yards and one score.
Betting Odds: Oregon -2.5 points
Over/Under: 71 points
Prediction: Oregon 34, UCLA 27
© Copyright IBTimes 2023. All rights reserved.