Oregon vs. Arizona: Start Time, TV Channel, Prediction And Betting Line For 2014 Pac-12 Football Championship Game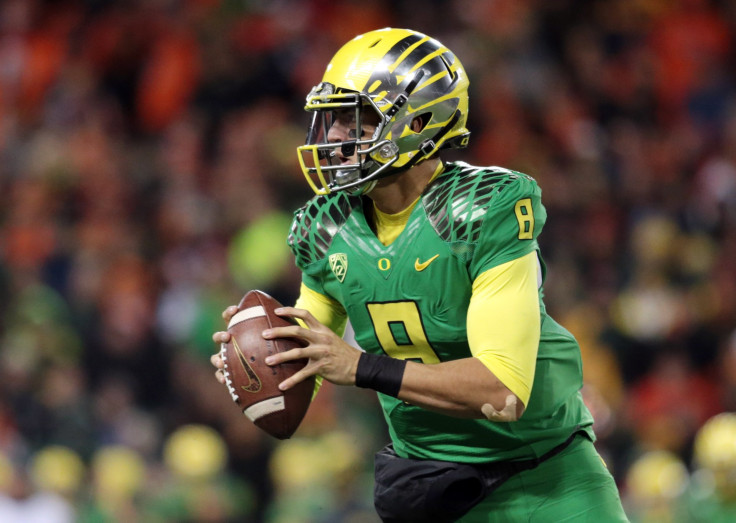 The No. 3 Oregon Ducks (11-1, 8-1 Pac-12, No. 2 CFP) locked up a spot in the Pac-12 Championship game nearly a month ago, and waited all this time to find out they'll face the recent thorn-their-side No. 8 Arizona Wildcats (10-2, 7-2 Pac-12, No. 7 CFP).
Arizona has won two straight over powerhouse Oregon, including earlier this season when they forced two fumbles out of quarterback and Heisman Trophy-hopeful Marcus Mariota and smashed the Ducks defense for 495 total offensive yards in the 31-24 victory.
But as the teams rev up for Friday night's pivotal matchup at Levi's Stadium in Santa Clara, the Ducks might hold the edge with a spot in the College Football playoff on the line.
Oregon is currently second in the CFP rankings, and can ill afford a second-loss this season with Ohio State and Baylor hoping to move up before the final rankings are revealed Sunday.
Following their scintillating 51-37 victory over Utah's stacked defense, and their tiebreaker win over Stanford, the Ducks were assured of a chance at their first Pac-12 title in three years. It's a return to the relatively recent norm for Oregon, who claimed three straight conference crowns from 2009 to 2011.
Arizona does have a slim outside chance of making the first postseason in college football history, but they'd need to beat the Ducks by a wide margin, and hope for losses from Ohio State, Baylor, TCU and Florida State to garner enough favor from the selection committee.
Instead the Wildcats can claim their first conference title since 1993, while putting Oregon's national title hopes in jeopardy.
Beating the Ducks a third straight time will prove difficult, but Arizona's had more success containing Mariota than most schools in the Pac-12. The junior's thrown three interceptions against the Wildcats, the most against any opposing defense in his career. Arizona's also kept the elusive Mariota in the pocket, allowing 70 yards rushing and no touchdowns in three games. Mariota's averaging 62.6 rushing yards per game and gaining 7.1 yards per attempt this season alone.
Still Mariota's just as capable of taming Arizona through the air. He's completed a career-high 36 touchdown passes to two interceptions this season, and he's connected on 68.6 percent of his attempts. And as good a job as the Wildcats have done against Mariota, they're ninth in the Pac-12 in pass defense, allowing 275.2 yards per game and 25 touchdowns this season.
Mariota also has plenty of talent helping him lead the nation's fourth-highest scoring offense. Freshman running back Royce Freeman's racked up 1,185 yards and 16 touchdowns, and fellow freshman receiver Devon Allen is second on the team with 36 receptions and tied for first with six touchdown catches. Junior receiver Byron Marshall tops the receiving corps with 56 receptions for 791 yards and five touchdowns.
That's a ton of offensive talent to shut down for a third straight win, but recently Arizona's put together stellar offensive performances behind some rising freshman of their own.
In the last two weeks the Wildcats scored 42 points on ranked Utah and Arizona State, with freshman running back Nick Wilson totaling 396 yards and six touchdowns. Wilson's rushed for more than 100-yards in four straight games, and seven total times this season. First-year quarterback Anu Solomon also tossed two touchdowns against the Sun Devils, and for the season he's tallied 27 touchdowns to seven interceptions.
Start Time: 9 P.M. ET
TV Channel: FOX
Point Spread: Oregon -14.5
Over/Under: 74 points
Prediction: Oregon over Arizona, 44-35
© Copyright IBTimes 2023. All rights reserved.