Oscar De La Hoya's Next Fight: Opponent, Date, Rules For Boxer's Return
Oscar De La Hoya is returning to the boxing ring more than a decade after his last fight. The six-division champion will face former UFC star Vitor Belfort in an exhibition boxing match.
De La Hoya and Belfort are scheduled to fight on Sept. 11, likely in Las Vegas, The Athletic first reported. While the bout isn't official yet, the fighters have agreed to an eight-round fight with each round lasting two minutes.
Triller will broadcast the fight. The weight limit for De La Hoya is 175 pounds, according to Ariel Helwani, and Belfort can weigh as much as 190 pounds.
The rules are similar to the recent exhibition match between Floyd Mayweather and YouTuber Logan Paul. Paul was allowed to weigh 25 pounds more than the boxing legend for their eight-round bout. No official winner was announced, but Mayweather was unable to score a knockout against the much younger Paul.
At 48 years old, De La Hoya is only four years older than Belfort. The MMA star has a 26-14 career record with 18 knockouts. Belfort retired three years ago after suffering his fourth loss in seven fights.
De La Hoya last fought in December 2008, when he was defeated by Manny Pacquiao.
One of the greatest boxers of his generation, De La Hoya had a 39-6 record. There has long been speculation that De La Hoya would come back for another fight.
In the past, De La Hoya has challenged UFC star Conor McGregor. Instead, he'll settle for a fight with Belfort, who has a 1-0 professional boxing record.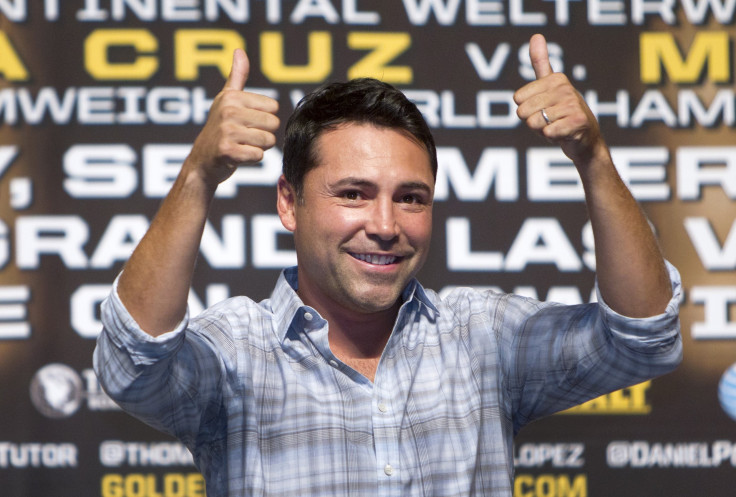 © Copyright IBTimes 2023. All rights reserved.