Oscar Pistorius Case Summary: Key Evidence As Closing Arguments Loom In Murder Trial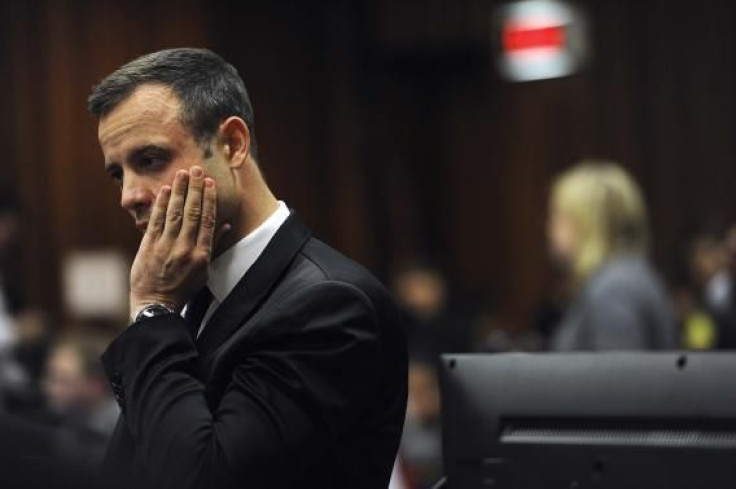 It's been nearly a year and a half since South African sprinter Oscar Pistorius shot and killed girlfriend Reeva Steenkamp in his Pretoria home. The Olympian went on trial for murder in March, and has pleaded not guilty to charges that could carry a sentence of life in prison.
After months of testimony, the facts of the case have been presented to Judge Thokozile Masipa, who will ultimately decide Pistorius's fate. The double-amputee admits to shooting a gun four times through a bathroom door in his home, killing Steenkamp, who was on the other side. However, the defense and the prosecution disagree upon many of the details surrounding the shooting.
Pistorius claims that he accidentally killed his girlfriend, whom he thought was in bed when he fired shots at about 3:17 a.m. on Valentine's Day. While he knowingly fired a gun through the door, the 27-year-old insists that he thought he was shooting an intruder. There were multiple questions that surrounded his claim, such as why an intruder would lock themselves in a bathroom, or why did Steenkamp not identify herself from the bathroom, and why wasn't Pistorius completely aware of her whereabouts before he fired shots?
According to famed prosecutor Gerrie Nel, Pistorius knew exactly what he was doing. Throughout the trial, the prosecution has been looking to prove that the couple had gotten into an argument, and Pistorius intentionally murdered his girlfriend.
Even if it's determined that Pistorius didn't knowingly shoot Steenkamp, he could be found guilty of other charges. Pistorius could be convicted of culpable homicide, discharging firearms in public, and an illegal ammunition charge.
Closing arguments are scheduled to begin on Aug. 7. Below is a summary of the key evidence in the murder case.
Witness Testimony
A few of Pistorius's neighbors have indicated that the couple did, indeed, have an argument, before Steenkamp was shot. Michelle Burger and Charl Johnson testified to hearing a woman scream, prior to shots being fired. They both then recalled Pistorius calling for help. Dr. Johan Stipp, another neighbor of Pistorius, claimed to have heard a woman's screams, as well.
Defense attorney Barry Roux has insisted that the witnesses did not hear a women scream. He claims it was the voice of Pistorius, whose level of distress caused him to sound like a woman. Roux questioned Burger, asserting that she heard Pistorius scream before he broke down the door with a cricket bat. Burger stood firm, insisting she heard yelling before gun shots, signaling an argument between the couple.
Another married couple that lives by Pistorius testified to hearing just a man screaming in a high-pitched voice. Eontle Nhlengethwa told the court that she was awoken to a loud noise, followed by Pistorius's screams. Nel determined that both Eontle and her husband Michael slept through the gunshots, and only heard Pistorius breaking down the door with a cricket bat, followed by his cries for help.
Pistorius in Court
Throughout the case, Pistorius has been an emotional wreck. He broke down crying multiple times, including when he took the stand and gave his own account of the night in question. Pistorius even vomited in court when pathologist Gert Saayman described Steenkamp's fatal injuries.
On the stand, Pistorius expressed regret for accidentally killing his girlfriend, claiming he's had trouble sleeping since the event. He detailed how his family has been the victim of multiple break-ins and violent crimes, which led to him shooting what he thought was an intruder.
Nel questioned Pistorius, demanding he take responsibility for his actions, attempting to force him to admit that his initial statement to the authorities was not entirely true. Pistorius told police that he screamed for help on his balcony, but a large fan likely would have blocked the defendant from doing so. Pistorius also told the court that he meant to kill what he thought was an intruder, even though he initially said he wasn't trying to kill the person on the other side of the door.
Expert Testimony
At the start of the trial, there had been some debate about whether or not Pistorius was wearing his prosthetic legs at the time of the shooting. The prosecution had alleged that Pistorius put on his prosthetics, indicating a premeditated murder. However, ballistics expert Christian Mangena testified that Pistorius was not wearing artificial limbs during the incident, because of the trajectory of the bullets.
It appeared that Pistorius's claim that his girlfriend was in bed by 10 p.m. might have been discredited, as Saayman deduced that Steenkamp last ate no more than two hours before her death. Prof. Christina Lundgren later testified that there could have been several reasons why food was found in Steenkamp's stomach, even if she had her last meal several hours before she was killed.
Mental Health Evaluation
Towards the end of the trial, much of the focus has been on Pistorius's mental health. Dr. Merryll Vorster testified that the accused suffers from general anxiety disorder, which could have affected him when he shot Steenkamp. Vorster explained that Pistorius's upbringing and the amputation of his legs at a young age have forced him to feel threatened.
Upon hearing Vorster's testimony, Nel filed a motion for Pistorius to undergo an independent psychiatric evaluation. He was sent to Weskoppies Psychiatric Hospital, where it was determined that he was not mentally incapacitated when he shot Steenkamp, making him completely responsible for his actions.
Pistorius's Character
In addition to trying to discredit Pistorius's account of the night in question, the prosecution has tried to paint the Olympian has a trigger-happy man who has a fascination with guns. Boxer Kevin Lerena was called to the stand to talk about an incident in which Pistorius fired a gun at a Johannesburg restaurant, putting a hole in the floor. Two other acquaintances have alleged that Pistorius fired a gun through a car sunroof in 2012, and video of Pistorius shooting a watermelon was also discussed in court. His ex-girlfriend, Samantha Taylor, testified that Pistorius had a temper and carried a gun with him at all times and would sleep with it next to his bed.
Pistorius has appeared extremely remorseful in court, but some reports have indicated that the double-amputee is not sincere. He has denied a claim by South African columnist Jani Allan that he has taken acting classes. He's also been accused of making a harsh remark to a friend in court to a friend of Steenkamp's.
Just days after the defense rested, Pistorius was involved in a fight at a nightclub. The two sides have differing accounts of what led up to the altercation.
© Copyright IBTimes 2023. All rights reserved.
FOLLOW MORE IBT NEWS ON THE BELOW CHANNELS