Oscar Pistorius' Lawyer: Leaked Re-Enactment Video Showing Killing Of Girlfriend Obtained 'Illegally'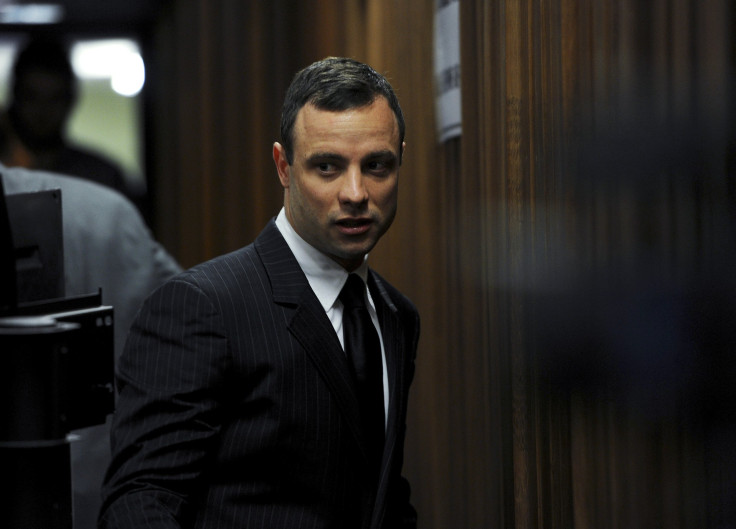 Oscar Pistorius' lawyers have condemned an Australian news channel for airing video showing the South African paralympian re-enacting the shooting of his girlfriend, model Reeva Steenkamp. The legal team are claiming that it was obtained "illegally," according to reports.
The footage was reportedly filmed in October 2013 by The Evidence Room, a U.S. company specializing in forensic animation. Pistorius' lawyer Brian Webber reportedly said that the usage of the video breached a nondisclosure agreement made with the Ohio-based company. The video that aired during the "Sunday Night" show reportedly shows the double-amputee Pistorius walking without his prosthetic legs with his hand clenched, apparently pretending to hold a gun.
"We wish to make it very clear that the material that has been aired was obtained illegally and in breach of the nondisclosure agreement with The Evidence Room," Webber said, in a statement, according to CNN. "Its usage also constitutes a breach of privilege as this material was produced for trial purposes on the instructions of a commissioner, and the ownership of the copyright vests in the commissioner. No permission for the disclosure thereof has been given."
Webber reportedly accused Channel 7 of not only obtaining the video illegally but also violating "an undertaking" that it would not air the video until the trial, which started in early March, concluded.
The broadcast of the material is "a staggering breach of trust and an invasion of the family's privacy," the lawyer reportedly said.
According to CNN, Mark Llewellyn, the executive producer for "Sunday Night," said in a statement: "We would not have run the footage if we thought we had obtained it illegally."
Pistorius and his defense team have argued that the sprinter mistook Steenkamp for an intruder when he shot and killed her on Valentine's Day 2013 at his home in Pretoria. Pistorius faces 25 years to life in prison if found guilty of premeditated murder, and he could also face years in prison if convicted of murder without premeditation or negligent killing. He's free on bail.
© Copyright IBTimes 2023. All rights reserved.
FOLLOW MORE IBT NEWS ON THE BELOW CHANNELS