Oscar Pistorius Sentencing Hearing: Olympic Athlete Deemed Unfit To Testify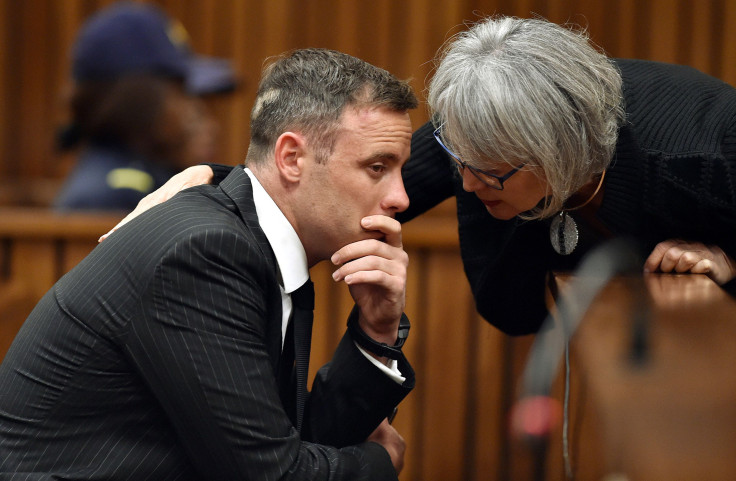 South African athlete Oscar Pistorius was deemed unfit by a clinical psychologist to testify at his sentencing hearing that began Monday.
The double-amputee Olympian was convicted of murdering his girlfriend Reeva Steenkamp. He shot her four times through a locked toilet door in February 2013. He has maintained that he had mistaken Steenkamp for an intruder.
Clinical psychologist Professor Jonathan Scholtz reportedly said, "His condition is severe. His mood was anxious and depressed." Scholtz had interviewed the athlete in 2014 during the murder trial and again in May.
Defense lawyer Barry Roux argued for some leniency while prosecutors depicted the 29-year-old athlete as an arrogant figure with a sense of entitlement and a love for guns, the Associated Press reported.
He was initially sentenced to five years in prison for manslaughter but an appeals court rejected the verdict and convicted him of murder.
Pistorius faces up to 15 years in prison for murder but experts have said that he may receive a lighter sentence due to his time in jail and other factors like his mental health, disability and good behavior.
The hearing is expected to last several days with the final sentence to be announced by Judge Thokozile Masipa later this week.
Before the start of the sentencing hearing, Pistorius' family released a statement saying they did not know "what the future holds for Oscar after this week." The "Blade Runner" as he was popularly known made history in 2012 by being the first amputee sprinter to compete in the Olympics.
He had intended to end his career at the upcoming 2016 Olympics to be held in Rio de Janeiro.
© Copyright IBTimes 2023. All rights reserved.