Oysters Can Get Herpes And Die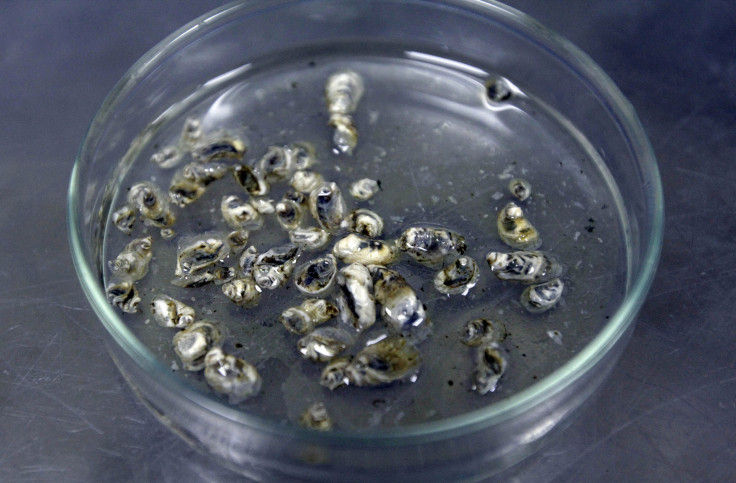 A fatal herpes virus has become a threat to oysters worldwide, reported The Conversation Sunday.
The virus Ostreid herpesvirus 1 (OsHV-1) jeopardized the world's most popular oyster species, Pacific oysters (Crassostrea gigas). Pacific oysters once had a better ability to resist infectious diseases, but when OsHV-1 appeared in the 1990s, the ability weakened. Herpes can be fatal to Pacific oysters, but OsHV-1 microvariant— mutant variants which may be stronger than the original strain— are particularly dangerous for oysters.
OsHV-1 microvariants were first detected in France in 2008 when 80 to 100 percent of infected oyster beds were killed. In the years after this outbreak, OsHV-1 killed millions of oysters in European countries. Different microvariants of the virus infect Pacific oysters in New Zealand and Australia as well.
Oyster growers in the United States expressed increasing concern about OsHV-1 microvariants spreading to their oysters. A 2005 report detailed how the herpes virus was detected in Pacific oysters in Tomales Bay, California. Due to the spread of OsHV-1 worldwide, it may eventually reach U.S. waters. Once OsHV-1 is detected in water, large numbers of oysters die during the summer when water temperatures rise. Not all oysters die of herpes, but OsHV-1 can remain latent within oysters and re-emerge after stress sets in.
A new genetic tool developed for oyster farmers can help prevent diseases in oyster crops. The genetic screening chip, developed by scientists at the University of Edinburgh's Roslin Institute, will collect a sample from each oyster to help farmers breed oysters that can resist herpes. The chip was made for two species: the Pacific oyster and the European flat oyster, reported Phys.org.
"Oysters are one of the most important group of species for global aquaculture with more than 600,000 tonnes produced each year," said Dr. Ross Houston, lead researcher of the University of Edinburgh's Roslin Institute. "This chip is an enabling tool for genetics and breeding research in oysters, and we are working with the industry to implement this technology with the goal of improving health and yield of stocks."
© Copyright IBTimes 2023. All rights reserved.
FOLLOW MORE IBT NEWS ON THE BELOW CHANNELS