Pakistan Army Chief Calls For Kashmir Glacier Troop Withdrawal After Deadly Avalanche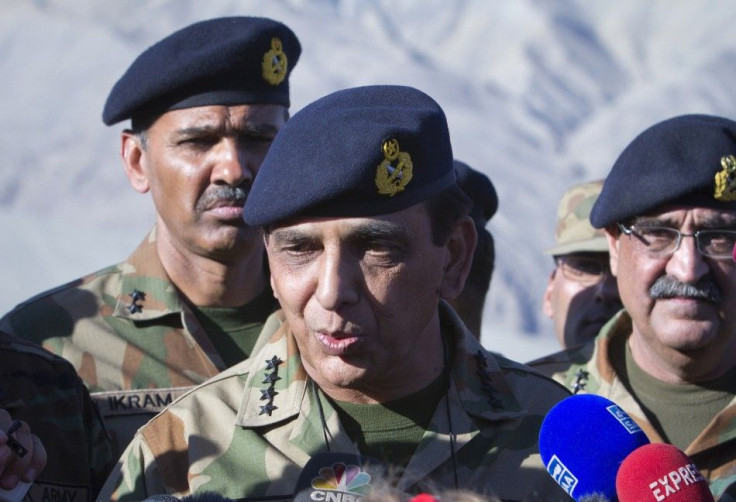 The head of Pakistan's military, General Ashfaq Kayani, called for the demilitarization of the Siachen Glacier, in the disputed Kashmir region, on Wednesday.
Kayani was in the area with President Asif Zardari surveying the damage of an April 7 avalanche that buried 139 people, 125 of whom were Pakistani soldiers.
Kayani noted the avalanche in his claim that the occupation of the glacier has been environmentally harmful and has been costly in resources and lives.
I think this is one good enough reason that this area should not be militarized, he told reporters.
This conflict should be resolved, but how it is resolved [is what] the two countries have to talk about, a peaceful co-existence between the two neighbors is very important so that everybody can concentrate on the well-being of the people.
We hope and wish that the issue is resolved, so that both countries do not have to pay this cost, pay this price, he added.
Kashmir has been claimed in full by both India and Pakistan since its partition in 1947, and the countries have gone to war over the region twice.
No survivors or bodies have been recovered, and the rescue effort has been hindered by harsh weather and terrain. Yet Kayani assured the search would not be suspended until everyone is found.
We will continue to make all efforts. Whether it takes 10 days or 10 months or if it takes three years, we are not going to give up on this, he said. If we have to dig out this mountain, we will dig it out.
The army has posted the names of those missing online.
The avalanche covered some areas, including the Pakistani battalion headquarters, in 200 feet of snow and rocks.
India and Pakistan have been engaged in a face-off over the Siachen glacier since Indian troops first occupied it in 1984.
Some 10,000 to 20,000 Pakistani and Indian troops are stationed on the glacier, some at altitudes as high as 22,000 feet above sea level.
Over 8,000 lives have been lost at what has been deemed as the world's highest battlefield. Tellingly, more have died due to weather and terrain than gunfire.
High-level Pakistani and Indian officials are currently working out a tentative peace plan, as relations between the two nations become slightly less strained, Reuters reports.
© Copyright IBTimes 2023. All rights reserved.