Pakistan Forms Commission To Protect Journalists As Reporters Routinely Face Attacks And Death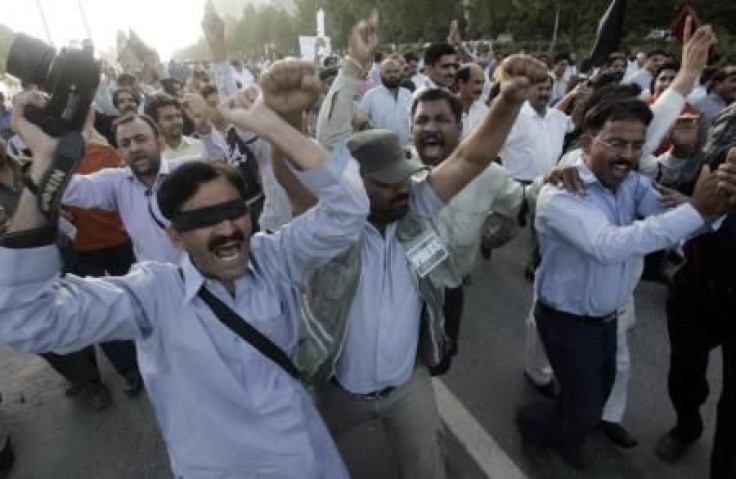 The Prime Minister of Pakistan Nawaz Sharif has formed a commission to safeguard the rights and security of journalists in one of the most dangerous nations of earth for the Fourth Estate. "This commission will propose measures to be adopted by the government to protect journalists in the field and to ensure their well-being," Sharif was quoted as saying on Wednesday by Dawn, an English language Pakistani daily, during a meeting with the head of the U.S.-based Committee to Protect Journalists (CPJ). "This would be a commission comprising… media persons, public figures and government members. I want to make Pakistan a journalist-friendly country where not only national but international media community should feel safe, secure and respected." The commission, Sharif added, will also seek ways to monitor the prosecution of crimes committed against journalists.
The decision to form a commission comes only weeks after six men were convicted for the murder of Wali Khan Babar, a Pakistan television journalist working for GEO-TV who was shot dead in Karachi in January 201 while driving in his car on his way to work. A special anti-terrorism court sentenced four men to life imprisonment, while two other defendants were sentenced to death in absentia. The Guardian reported that it was the first time in a decade that a conviction arose in connection with a journalist's death. Prior to his murder, Babar was threatened for having exposed official corruption, extortion, political turf wars, targeted killings, electricity theft and land-grabbing in Karachi during the course of his journalistic duties.
CPJ officials attending Wednesday's meeting with Sharif praised his efforts to bring Babar's killers to justice, but called for more investigations of other reporters who died in mysterious circumstances. The Babar murder case in particular involved a serpentine and tragic chain of events. Following his death, two police officers, a police informant and even the brother of another officer were killed during the investigation into the reporter's passing. In 2012, the sole witness willing to testify in court was himself murdered, while the two original prosecutors in the case fled the country after they received threats.
Pakistani police said the murder of Babar, as well as the subsequent killings of people involved in the investigation, were organized by the Muttahida Qaumi Movement (MQM), Pakistan's third-largest political party, which dominates the city of Karachi. (MQM has repeatedly denied any involvement in the murders). "These convictions [of Babar's killers] mark a significant step in addressing the deep-rooted culture of impunity surrounding the murders of journalists in Pakistan," Bob Dietz, the Asia program coordinator for CPJ, said in a statement. "They indicate what can be achieved when the country's legal system commits itself to pursuing justice."
Before the Babar episode, perhaps the most famous incident of a journalist suffering death in Pakistan was Daniel Pearl, the American reporter from the Wall Street Journal who was kidnapped and beheaded by Al Qaeda figures in 2002. That was the only other murder of a journalist in Pakistan that led to any partial convictions by the culprits.
CPJ estimated that at least 46 journalists have been killed in Pakistan over the past decade. Meanwhile, the assaults and killings of reporters continue. On March 7, at least 20 people barged into the offices of Chingari, an Urdu-language daily newspaper based in Mirpur, in Pakistan-administered Kashmir, and beat the editor, Shahid Mahmood Mirza. The attackers planned on burning him to death but fled before they could douse him with oil. Mirza subsequently explained to local media that he thinks the attack was spurred by reports he published on illegal construction at a nearby plaza. According to eyewitnesses, a member of a politically influential family led the attack on Mirza.
© Copyright IBTimes 2023. All rights reserved.
FOLLOW MORE IBT NEWS ON THE BELOW CHANNELS