Pakistan's Press Is As Aggressive As Ever - So Why Was The NYT's Declan Walsh Expelled?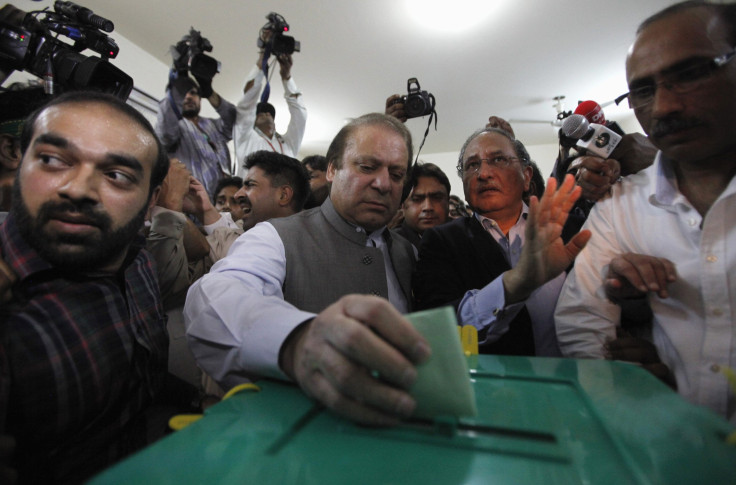 Declan Walsh's sudden expulsion from Pakistan last week, on the eve of national elections, shocked many who found the New York Times Islamabad chief's coverage a rare beacon of fairness in a vibrant cacophony of critical, often partisan, media voices.
Nine years in Pakistan, spent at two of the biggest English-language newspapers – first at the Guardian, then, since January 2012, the Times – earned the bearded, auburn-haired reporter the respect of colleagues around the world.
So, when a half-dozen policemen and a plainclothes officer from the Interior Ministry delivered a two-sentence letter last Thursday informing Walsh that his visa was revoked for his "undesirable activities," friends and press freedom advocates alike were surprised -- this wasn't the sort of thing supposed to happen in Pakistan.
"The reason Declan is considered valuable to people in this business – he's a very calm, cool, rational reporter, and the sort of dispatches he's been doing are straight reporters," Fasih Ahmed, the editor of Newsweek Pakistan, said. "They're not op-eds, he's not attacking anybody, and they're just facts."
But the mystery remains: Why was Walsh kicked out? And who wanted him gone?
The timing of his expulsion, amid the brouhaha of election results coverage, seems to be a ploy to drown criticism of his visa cancellation in a sea of other stories.
But as many looked to this as a sign that Pakistan's press freedom is deteriorating -- Paris-based Reporters Without Borders ranked the country No. 159 on its press freedom index, eight slots below last year -- Pakistani media watchers said Walsh's ouster was an anomaly.
"It's completely inaccurate to take this as an indication that there is anything wrong with the degree of freedom that professional journalists have here," Ahmed said.
Former Prime Minister Nawaz Sharif, leader of the Pakistan Muslim League, is close to gaining the parliamentary majority needed to return him to power as Saturday's general election ballots are counted up this week. Walsh's ouster came as a particular shock, with international media attention heaped on the violence-stricken South Asian nation.
And, in recent years, the country's domestic media have exploded as newspapers and television and radio broadcasters have propagated in nearly every local language, mainly English and Urdu. Pugnacious and irreverent as much of the British press on which Pakistan's media has been modeled, Pakistan's front pages and airwaves are often filled with criticism and speculation aimed at government officials.
"They publish and they run and they air scurrilous attacks that often have nothing to do with the president, the prime minister, the army commander," Ahmed said in a telephone interview from Lahore, where he lives. "In this media environment, I'd put my store in what Declan has to say."
"You'd be hard-pressed to make the case that there is oppression or lack of media freedom" in Pakistan, he added.
Bob Dietz, the Asia program coordinator for the Committee to Protect Journalists, or CPJ, also said Walsh's forced exit is strange in a country with a "really vibrant, feisty, aggressive press corps."
"It's maturing really well -- it used to be partisan, it used to be tied to party politics, and it still very often is," Dietz said. "But more and more we see news organizations realizing they have a really important role to play and are stepping up to meet that."
Among those Dietz held up as examples was Dawn, one of several national, English-language newspapers.
In an editorial on Sunday, the paper condemned Walsh's expulsion, calling on the interim government to respect the press's right to "be free to report facts without any let or hindrance created by any quarter."
"Mr. Walsh's visa was canceled at a time when the country was preoccupied with Saturday's general elections, and those who did not want him here knew this was an opportune time to strike," the paper wrote. "Previously, attempts were made to deny him a visa extension, but with the intervention of the political government the matter was resolved."
Ahmed said a bureaucrat in the Interior Ministry, stewing over something Walsh had written previously, probably issued an edict to send him back to the United Kingdom. Both he and Dietz know Walsh and expressed blunt surprise about the incident in separate interviews.
Walsh may have also made himself some enemies in Pakistan's right-wing press, some of whom may have published stories questioning his identity and his activities in the country, Dietz said. His colleague Matthew Rosenberg was baselessly accused in 2009 by The Nation newspaper of being a Central Intelligence Agency spy with ties to the private security firm Blackwater. Rosenberg now works in the Times' Kabul bureau.
"We're not seeing that coming down in Declan's case, at least not yet," Dietz said.
But Ahmed said he believes Walsh's visa will soon be reinstated.
"He's going to be back, I can pretty much guarantee you that," he said. "That's my feeling, I know only what I've read, but he's going to be back. This is something that's unfortunate and not justified, and I don't think it's sustainable."
For now, the Times' executive editor Jill Abramson has written to Pakistan's Interior Minister Muhammed Habib Khan, saying: "We respectfully request that you overturn this decision and allow Mr. Walsh to remain in Pakistan."
For now, Walsh is in London, continuing to cover the country to which he devoted nearly a decade.
He was unavailable for an interview on Monday afternoon, a Times spokeswoman said in an email.
"He is on deadline right now," she said.
FOR FREE to continue reading
✔️ Unlock the full content of International Business Times UK for free
offer available for a limited time only
✔️ Easily manage your Newsletters subscriptions and save your favourite articles
✔️ No payment method required
Already have an account? Log in
© Copyright IBTimes 2023. All rights reserved.