Paris Live Updates: Everything We Know About Islamic State Terrorist Plot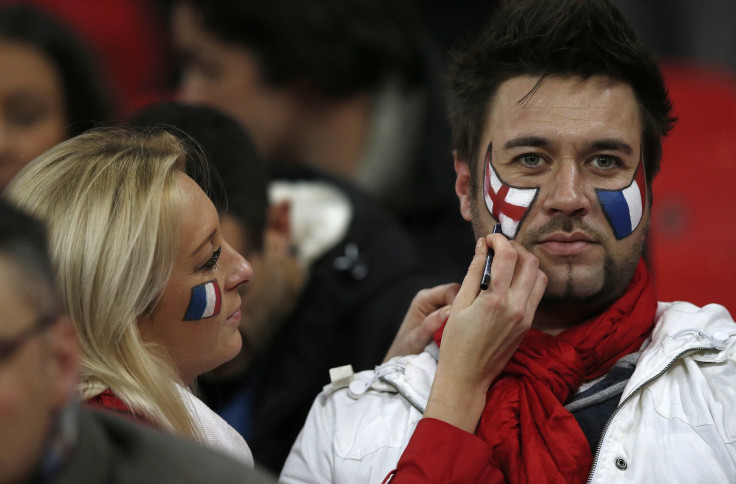 UPDATE: 4:01 p.m. EST -- Before a group of Islamic State fighters killed and wounded hundreds of people in Paris Friday night, they sent each other a message: OK, we're ready. CNN reported Tuesday that investigators in Paris had recovered a cell phone belonging to one of the attackers. It could provide details about how the attack was carried out. The story was developing late Tuesday.
UPDATE: 3:46 p.m. EST -- Some political analysis from the BBC ahead of France's elections next month: "The Paris attacks have triggered a major shift rightwards for President Francois Hollande - he is stealing thunder from the opposition by adopting many of their own anti-terror proposals."
UPDATE: 3:10 p.m. EST -- England and France honored the 129 people killed in a series of terrorist attacks Friday night in Paris during Tuesday's international football friendly at Wembley. The capacity crowd of 90,000 planned to sing "La Marseillaise" -- the French national anthem -- in front of the Duke of Cambridge and Prime Minister David Cameron. Before the game, English speakers practiced the French song, and the lyrics were shown on the big screens before the game. The words to the song can be found here.
UPDATE: 2:10 p.m. EST -- The brother of a terrorist suspected of helping to carry out a Paris terror attack Friday night has called on him to turn himself into authorities. Mohamed Abdeslam, the brother of 26-year-old Salah Abdeslam, told French TV BFM Tuesday that his brother was devout but showed no signs of being a militant.
Abdeslam said: "Of course I call on him to turn himself over to the police. The best would be for him to give himself up so that justice can shed all the light on this." Abdeslam added: "We think of him and we wonder where he is."
Salah Abdeslam and his brother stayed at a hotel in the southeastern Paris suburb of Alfortville and rented a house in the northeastern suburb of Bobigny in the days before the attacks, a French judicial official told The Associated Press. He is suspected of shooting dozens of people in Paris Friday night.
UPDATE: 1:20 p.m. EST -- A Daily Mail cartoon that appears to compare Syrian refugees to rats has been blasted as offensive by social media users. The cartoon published Tuesday shows a group of people walking over the European border as rats run by their feet in the same direction. The Daily Mail did not respond to request for comment from The Independent, the publication reported Tuesday.
UPDATE: 1:10 p.m. EST -- Attorney General Loretta E. Lynch told Congress Tuesday the administration could weed out any security threats through "significant vetting" of Syrian refugees. President Barack Obama's plan to bring 10,000 refugees into the country next year has been blasted by Republicans after a terror attack in Paris Friday night.
Lynch said at a House Judiciary Committee hearing that the plan presents "challenges," but there is a "significant and robust" process to identify possible terrorists. The administration, she said, "will make every effort to vet every refugee coming into the United States."
But Robert W. Goodlatte, the Virginia Republican who chairs the committee, said the plan would leave the country vulnerable to terrorism, the New York Times reported.
UPDATE: 12:39 p.m. EST -- An unidentified suspect directly involved in the Paris massacre remains at large four days after the attacks, according to French officials, the Associated Press reported. A Paris police statement Tuesday said officials have conducted 104 police raids and seized six firearms since a state of emergency was declared on Saturday. Police say that these arrests and raids are targeting "people, arms and objects likely to be linked to activities of a terrorist nature."
UPDATE: 12:34 p.m. EST -- A suicide bomber who attacked a soccer stadium in Paris Friday night was an "unambitious loner who failed his exams." Bilal Hadfi was "not very religious" and did not have many friends, The Telegraph reported Tuesday. He attended school in affluent Diest at the Koninklijk Technisch school, a technology college about 40 miles to the east of Brussels.
Brigitte Collige, the school's head teacher, said Hadfi attended the school for five or six months in 2013. "He was studying IT, but he didn't like that kind of thing and he wanted to be a truck driver. At the end of the year he didn't pass his exams so the next year he went to a different school in Brussels," she said. "When he was with us he didn't have a lot of friends. We are so shocked by the news that he was involved in the terrorist attack. We never thought he would do something like that."
UPDATE: 12:03 p.m. EST -- France's Culture Minister Fleur Pellerin said Tuesday the nation would create a multi-million fund to support performance halls hosting concerts and other live events, Variety reported. The money will go toward enhanced security measures and to help small performance halls that are not insured against cancellations. Musicians including U2, Prince, Foo Fighters, Cold Play and Marylin Manson cancelled concerts across France and Europe after terror attacks that killed 129 people in Paris Friday, including 89 victims at the Bataclan concert hall where Eagles of Death Metal was performing. Northern Irish punk band Stiff Little Fingers, however, said they will play their scheduled gig in Paris on Tuesday night, the Irish Times reported.
Meanwhile, French environment minister, Ségolène Royal, who also oversees transportation issues, said Tuesday she supported installing metal detectors in train stations across France. "It is something that is done for international trains, and I think that it should also be done for trains in France," Ms. Royal told the i-Télé news channel.
UPDATE: 11:50 a.m. EST -- Spirit Airlines removed four passengers offer a flight from Baltimore Tuesday after one who appeared to be Muslim viewed what another passenger thought was an Islamic State video, a government source said. Nothing suspicious was found in the passengers' baggage, Reuters reported. The incident occurred as Flight 969 from Baltimore-Washington International Airport to Chicago O'Hare International Airport was taxiing to the runway.
UPDATE: 11:32 a.m. EST -- France has asked its European neighbors for help against the Islamic State group after the militants claimed responsbility for a terrorism attack Friday in Paris that wounded and killed hundreds. But it's unclear which European countries will step up. Italian Defence Minister Roberta Pinotti said Tuesday Italy won't take military action against ISIS in Syria. Still, she said Italy has vowed full cooperation with France.
"Italy has guaranteed France the maximum level of cooperation of our country," Pinotti was quoted by Ansa as saying after a meeting of EU defense ministers.
European Union nations Tuesday unanimously backed France's request for military support after the nation invoked a previously unused part of the bloc's treaties to seek help. "France cannot do everything, in the Sahel," Defence Minister Jean-Yves Le Drian told a news conference in Brussels where he invoked the EU's Article 42.7 mutual assistance clause.
UPDATE: 11:18 a.m. EST -- The evacuation effort at and around the Eiffel Tower Tuesday afternoon is the result of a bomb threat, according to a new report.
It was immediately unclear who issued the threat.
The landmark was closed earlier Tuesday because employees there were concerned over security there, the New York Times reported. Workers there wanted additional security measure installed at the tower, such as a screening process for visitors. The Eiffel Tower was set to reopen at 6 p.m. local time, but that schedule was established prior to the bomb threat.
UPDATE: 11:10 a.m. EST -- An area near the Eiffel Tower in Paris was reportedly evacuated Tuesday, though the reason behind ordering people away from the landmark was immediately unclear. The Eiffel Tower and other tourist attractions and museums, which had been closed in the wake of last Friday's terror attacks in Paris, reopened Monday.
In the U.S., politicians were apparently acting swiftly to confront the divisive topic of states accepting Syrian refugees arriving to the country. In particular, the issue of cross-checking the refugees against possible ties to the Islamic State militant group, which has claimed responsibility for Friday's attack in Paris, has risen to the forefront and is likely to be a topic of discussion Thursday in the House of Representatives, according to a new report.
UPDATE: 10:55 a.m. EST -- Russia continued Tuesday its aerial attack on Islamic State strongholds in Syria, launching 34 airstrikes at key targets and hitting more than a dozen, a high ranking Russian military official said. The Islamic State militant group, also known as ISIS and ISIL, has claimed responsibility for the coordinated terror attacks in Paris last Friday the left at least 120 people dead and hundreds more injured, many critically.
"During a massive airstrike today, 14 important ISIL targets were destroyed by 34 air-launched cruise missiles," Russian General Staff chief Gen. Valery Gerasimov said, reported Sputnik News. "The targets destroyed include command posts that were used to coordinate ISIL activities in the provinces of Idlib and Aleppo, munition and supply depots in the northwestern part of Syria."
Forty towns in Aleppo province were "liberated," the result of images and signals from 10 Russian satellites, Gerasimov added. The country released video footage from its airstrikes operation.
UPDATE: 10:35 a.m. EST -- After more than a dozen U.S. governors said this week they would not accept Syrian refugees, the International Rescue Committee urged them to reconsider Tuesday. "Banning Syrian refugees will not make America safer; it will make refugees more desperate. Syrian refugees are fleeing violence -- including by ISIS -- and are seeking safety for themselves and for their families," the agency said.
Many Americans have debated this week on social media the pros and cons of accepting refugees pushed out of Syria amid a four-year civil war there.
UPDATE: 9:45 a.m. EST -- A pregnant woman who was filmed hanging from a window ledge at the Bataclan concert hall during Friday's terrorist attack in Paris was rescued by a man running from the gunmen, according to Sky News. Her rescuer, Sebastien from the city of Arles in southern France, told a French newspaper how he pulled the "exhausted" pregnant woman back into the building, while the gunshots rang out inside.
Sebastien told the French newspaper he was at the bar in the concert hall when he heard the first gunshot. Then the lights went out and when they came back on, he saw men carrying automatic rifles. "These guys were shooting at anyone they met. The first who fell were those in the bar," he reportedly told La Provence newspaper. "Everyone was lying on the ground. The terrorists were shooting on sight. I saw the guy next to me being shot in the head."
Sebastien sprinted from the scene, looking for an emergency exit behind the stage, but he couldn't find one. "I had to go over dead bodies, wounded people, my clothes were covered in blood," he reportedly said. "I took the chance to escape behind the stage when I saw one of them reload his weapon. But there was no emergency exit."
That's when he ran upstairs to a room that led onto the balcony of the concert hall, where he heard a woman, who has not been named, yell "Help, help, I'm pregnant, catch me if I fall!" The woman was pregnant and hanging from one of the window ledges of the balcony. Clinging to an air vent, Sebastien went through another window and hauled the woman back inside. The woman's friend told Sky News she is safe and well.
UPDATE: 9:25 a.m. EST -- The United States hasn't aggressively pursued the Islamic State group because it wants the militants to weaken Syrian President Bashar Assad, Russian Foreign Minister Sergey Lavrov said Tuesday. Instead, the U.S. and its coalition are only attacking ISIS just enough to ensure the group doesn't seize power of Syria, Lavrow claimed in an interview with the Vesti.doc program on Rossiya-1 television.
"The problem around the U.S.-led coalition is that despite the fact that they declared its goal in fighting exclusively the Islamic State and other terrorists and pledged not to take any action against the Syrian army (life has proved they never went back from their words), analysis of the strikes delivered by the United States and its coalition at terrorist positions over the past year drives us to a conclusion that these were selective, I would say sparing, strikes and in the majority of cases spared those Islamic State groups that were capable of pressing the Syrian army," he said, according to Russian state media. "It looks like a cat that wants to eat a fish but doesn't want to wet its feet. They want the Islamic State to weaken Assad as soon as possible to force him to step down this or that way but they don't want to see Islamic State strong enough to take power."
Russia supports keeping Assad in power, while the U.S. wants a new Syrian government. Both the U.S. and Russia have conducted airstrikes over Syria in recent months and vowed to wipe out ISIS.
UPDATE: 9:13 a.m. EST -- A Belgian man accused of plotting terrorist attacks that wounded or killed hundreds of people in Paris last week had been targeted by Western airstrikes in the Islamic State stronghold of Raqqa, Syria, last month, the New York Times reported Tuesday. The man, Abdelhamid Abaaoud, 27, a fighter for the Islamic State, remained on the loose Tuesday as European officials searched for him and more clues to the terror plot carried out by ISIS.
UPDATE: 9:07 a.m. EST -- Belgian officials have identified the alleged getaway drivers involved in deadly attacks in Paris last week that left hundreds wounded or dead. Hamza Attou and Mohammed Amri reportedly gave 26-year-old Salah Abdeslam a ride from Paris back into Belgium early Saturday, Belgian prosecutor spokesperson Eric Van Sypt told NBC News. The men were charged with participating in a terrorist activity, Belgian officials said Tuesday. Witness testimony and video footage help officials track them down. Their vehicle was stopped for a border check on Saturday morning but was allowed to drive on, Van Sypt said.
UPDATE: 8:58 a.m. EST -- There is no evidence that Islamist terrorists have been pretending to be refugees as a means to enter Germany, the country's top police official said Tuesday. "There is a threat level that should be taken seriously, but we have no concrete indications of planning for an attack," said Holger Muench, president of the BKA federal police, reported Reuters. "So far, we have no indication that a terrorist has entered Germany as an asylum seeker in order to perpetrate an attack."
UPDATE: 8:50 a.m. EST -- Italy has taken steps to prohibit the usage of drones during next month's Catholic Holy Year, citing its concerns over the Islamic State group following Friday's terror attacks in Paris. The militant group, which is also known as ISIS, could use the unmanned aerial vehicles to launch a terror attack, Italian officials said Monday, reported the Local.
Spain announced Tuesday it would not participate in anti-ISIS airstrikes but would still support the fight against the militant group. "At this moment Spain is not planning on bombing Syria," Interior Minister Jorge Fernández Díaz said, according to the Local.
UPDATE: 8:33 a.m. EST -- The man arrested Tuesday in Germany along with two women in connection with Friday's terror attacks is reportedly not Salah Abdeslam, one of the main suspects being sought by police for his alleged role in the deadly series of events last week. They are being identified by German news outlet Spiegel Online as Kamal A., Lava M. and Didem A.
The three suspects are foreign nationals, according to a police spokseman, who added that it was "much too early to go into detail," the Associated Press reported.
Belgium will send hundreds of military personnel to its "major cities" for security purposes in the wake of Friday's terror attacks in Paris, according to the AP. The country, which has elevated its terror threat, was involved in the terror investigation because multiple raids were executed there, including Brussels, in the search for terror suspects. Abdeslam is a native of Belgium.
Original story:
Three people were reportedly arrested Tuesday in Germany near the western district of Aaechen in connection with the Paris terrorist attacks, which killed at least 129 people Friday and wounded hundreds more. German police detained the trio just in the town of Alsdorf, according to the German Press Agency, or dpa. A journalist tweeted that police arrested two women and one man.
The suspects were taken into custody at around 9:30 a.m. local time near the border with the Netherlands, the Local reported. Law enforcement reportedly got a tip about the suspects' location and acted on it by stopping a vehicle the three were riding in near what has been described as a job center. Authorities were still searching for a fourth suspect near the town of Baesweiler.
Meanwhile, French investigators have discovered two safe houses in Paris suburbs allegedly used by some or all of the terrorists responsible for Friday's attacks. The first is a room at l'Appart city d'Alfortville, a hotel in southern Paris, which was apparently littered with hypodermic needles and pizza boxes, according to French newspaper Le Point.
The hotel room was booked from Nov. 11 to 17 under the name Salah Abdelslam, who is currently wanted in connection with the terrorist attacks and is still at large. Police said Abdelslam is the brother of the suicide bomber who detonated explosives at the Comptoir Voltaire café.
A French newspaper released a video Tuesday that purportedly shows the hotel room scattered with leftover pizza, chocolate madeleines, syringes and needles. Although the hotel is not equipped with CCTV, police apparently found DNA at the site and are running tests to determine whether the needles were used to make explosives or for hypodermic injections, Le Point reported.
Exclusivité Le Point.fr - Attentats de Paris...
by LePoint
The cover of the latest issue of the satirical magazine Charlie Hebdo features a cartoon figure riddled with apparent bullet holes while drinking Champagne. The cover's headline has been translated as, "They have guns, we have Champagne." The image apparently leaked to the media ahead of the magazine's regular publishing schedule of Wednesday.
Charlie Hebdo's editorial offices in Paris were targeted in January of this year by Islamist terrorists, killing a dozen people in an apparent protest over the magazine's caricature of the prophet Muhammad, a holy figure in Islam.
FOR FREE to continue reading
✔️ Unlock the full content of International Business Times UK for free
offer available for a limited time only
✔️ Easily manage your Newsletters subscriptions and save your favourite articles
✔️ No payment method required
Already have an account? Log in
© Copyright IBTimes 2023. All rights reserved.