Paris Saint-Germain's Champions League Hopes In Peril As Kylian Mbappe Suffers Injury
KEY POINTS
PSG clinched the Coupe de France title after winning against Saint-Étienne on Friday
PSG's Champions League chances took a significant hit after Kylian Mbappe suffered a suspected season-ending ankle injury
Thomas Tuchel called out Saint-Étienne's physical play on Mbappe, Neymar, and Thilo Kehrer
Paris Saint-Germain clinched the Coupe de France title via a 1-0 win against Saint-Étienne in front of 5,000 spectators at the Stade de France on Friday. The feat, however, did not come without a heart-rending blow that was Kylian Mbappe's ankle injury. The French giants, while in celebratory mode from their latest win, are likewise agonized with Mbappe potentially missing out the rest of the season, which, in the process, would put their Champions League hopes in serious jeopardy.
The 21-year-old star forward went down hard at the 26th minute of the match after taking a scary tackle from Saint-Étienne's captain Loïc Perrin, who was immediately ejected after a VAR review. The dangerous play sparked a scuffle between players from both clubs as Mbappe was forced to leave the field in tears. Moments later, he returned on the pitch, albeit with no signs of returning to play as he was seen walking on crutches with a brace around his right ankle.
The injury, though, did not stop the France international from celebrating with his teammates after capturing the Cup - thanks to Neymar, whose lone goal of the match proved enough to secure the victory.
"It went crack," Mbappe said of his injury as he spoke with France President Emmanuel Macron during the trophy ceremony. When Macron asked him if anything was broken, Mbappe responded: "No, I don't think so."
With scans immediately set on Friday night, an ESPN report said PSG is already preparing for the worst as the club fears the World Cup winner might have suffered ligament damage from the horror incident.
The injury is obviously a significant blow to PSG's bid in the Champions League, forcing Thomas Tuchel to call out Saint-Étienne's physical play not only on Mbappe but also on Neymar and Thilo Kehrer.
"It was complicated with all the fouls to Thilo Kehrer, Neymar, and Mbappé," Tuchel said during the post-match interview, via the Guardian. "In the last three matches against St-Étienne, they get a red card in the first 30 minutes. I don't know what is being said in their dressing room. It is horrible, I can't understand it."
PSG will look to secure a domestic treble as they take on Lyon next in the Coupe de la Ligue final on July 31 before facing Atalanta in the Champions League quarterfinal in Lisbon on August 12.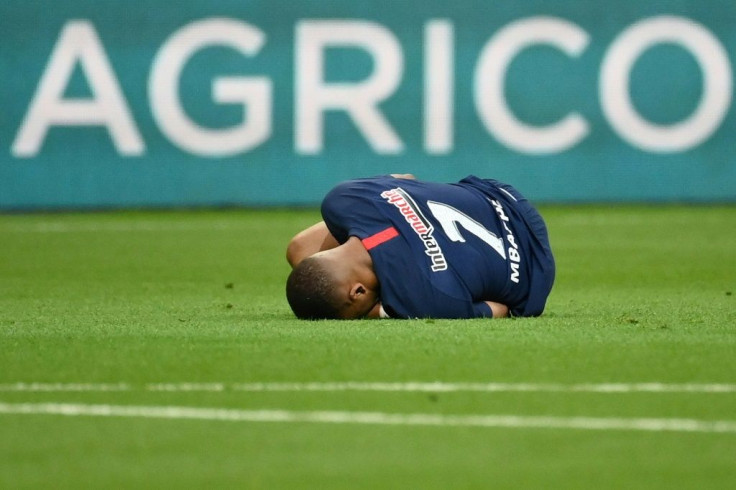 © Copyright IBTimes 2023. All rights reserved.