Patrick Ewing Teams Up with Michael Jordan: Hired By Charlotte Bobcats As Associate Head Coach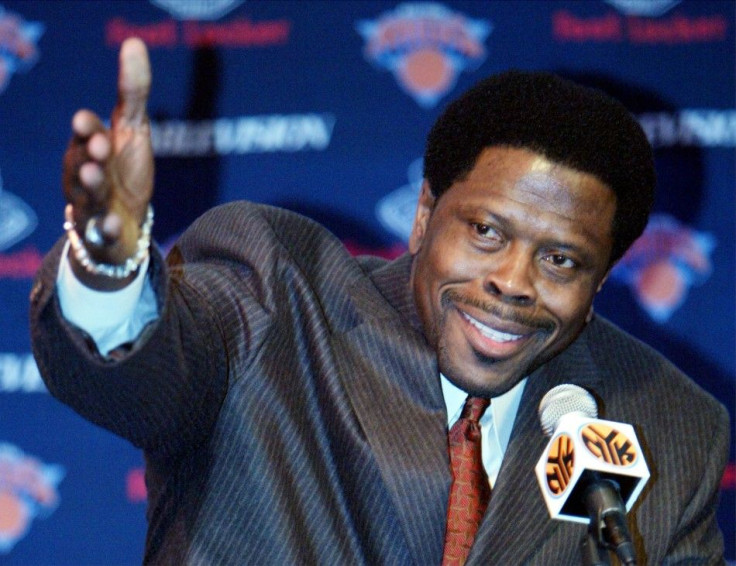 New York Knicks basketball legend Patrick Ewing is set to join the Charlotte Bobcats as their new associate head coach, a source close to the matter told Yahoo! Sports.
According to the source, the NBA Hall of Famer has reached an agreement in principle with the Bobcats, which are owned by Michael Jordan, a longtime friend and former rival of Patrick Ewing. The hiring has not yet been officially announced.
Ewing will be working for first-year head coach Steve Clifford. A couple of weeks ago, it was confirmed by ESPN that Clifford had scored the head coaching job for the struggling squad, reportedly inking a three-year $6 million deal.
This isn't the first time Ewing has nabbed a coaching gig in the NBA, having worked as an assistant coach for the Houston Rockets from 2003 to 2008, as well as the Orlando Magic from 2008 to 2012. During each stint, he worked under Steve Clifford.
Ewing interviewed for the then-vacant head coaching job with the Bobcats last year, before being personally told by Jordan that he would not be selected for the position, says Yahoo! Sports. Ewing eventually lost out to Mike Dunlap, who had a brief and controversial tenure with the organization.
As The Inquisitr points out, the move represents a reunion of sorts for Ewing and Michael Jordan, who were teammates on the legendary 1992 USA Olympic "Dream Team" that took the Barcelona games by storm, easily winning the gold medal.
The two greats were storied rivals throughout the '90s, as Jordan's Bulls and Ewing's Knicks routinely squared off in tough, closely contested games both in the regular season and the playoffs. Their rivalry even stretches back into the '80s, where Jordan's University of North Carolina Tar Heels defeated Ewing's Georgetown Hoyas at the 1982 NCAA Division I Championship game.
Ewing first burst onto the NBA scene as a member of the New York Knicks in 1985, winning the Rookie of the Year award for that season. He would go on to lead the Knicks to multiple playoff appearances in the ensuing years, yet he never managed to win the elusive NBA Finals.
He stayed with the Knicks until 2000, when he was traded to the Seattle SuperSonics (now known as the Oklahoma City Thunder), and eventually the Orlando Magic in 2001. After spending a year with each team, Ewing retired in 2002. He was inducted into the Naismith Memorial Basketball Hall of Fame in 2008.
© Copyright IBTimes 2023. All rights reserved.